The Rococo Style: Let Them Eat Cake
Rococo… The word just rolls off the tongue with a whimsical flourish, not unlike the style of 17th and 18th century architecture, decoration, fashion, and art it reflects. Rococo arrived on the heels of the Italian Baroque period (1595-1750). Italian Baroque architecture featured tormented use of materials, while its art often depicted violent, religious themes shrouded in rich chiaroscuro darkness and Catholic Reformation propaganda, as illustrated by Artemisia Gentileschi's (1593-1653) painting, Judith Beheading Holofernes. French Rococo (1715-1793) blossomed during the reign of King Louis XV, and reached its pinnacle under the reign of King Louis XVI and Queen Marie Antoinette. The over-the-top masculine intensity of the previous era gave way to an equally over-the-top femininity. Louis XV by Hyacinthe Rigaud. © Public Domain Upon the death of
King Louis XIV
, in 1715, the long held idea that the king was empowered by God came under question, and a new kind of secularism evolved. Louis XIV's heir, Louis XV, was only five years old. The "regency", led by the Duc d' Orléans, ruled France until Louis came of age in 1723. The transitional Regency style (1700-1730) turned away from the Sun King's formality towards comfort and pleasure. The manifestation of God's messenger became the mischievous cherub. As the architect, writer and professor, Witold Rybczynski, has written, "Rococo style epitomized the society that prayed AND played." Rococo was an organic movement towards a light-hearted, pastoral, rose-tinted view of the world. The term Rococo is derived from the Portuguese word, "barroco", which means "irregular pearl", and "roc" from the French word "rocaille", a method of decorating fountains and grottos that dates back to the Italian Renaissance. Using this technique, artisans mixed seashells, pebbles, and other organic materials with cement creating marine-inspired pieces. Rococo designers were not only enthralled with shells, but also with foliage and intricately designed scrollwork, often finished with gilt. Anything that could be decorated was. The whimsical nature of Rococo appealed to Louis XV's mistress, confidant and advisor, Jeanne-Antoinette Poisson (1721-1764), better known as
Madame de Pompadour
. Often known as the  "godmother of Rococo," she was responsible for promoting Paris as the European capital of fashion, music, art, and design. Greatly influenced by The School of Fontainebleau (1528-1630), known for its unique interior design style in which all the elements created a seamless composition, Madame de Pompadour also brought the ideas of privacy, and comfort to bourgeois Parisian houses. Louis XV even modified Versailles to be a more secluded, private home. The Palace of Versailles. © Andreas H./ Pixabay
SUBSCRIBE
ALREADY SUBSCRIBED?
BECOME A BONJOUR PARIS MEMBER

Gain full access to our collection of over 5,000 articles and bring the City of Light into your life. Just 60 USD per year.

Find out why you should become a member here.

Sign in

Fill in your credentials below.
Rococo… The word just rolls off the tongue with a whimsical flourish, not unlike the style of 17th and 18th century architecture, decoration, fashion, and art it reflects. Rococo arrived on the heels of the Italian Baroque period (1595-1750). Italian Baroque architecture featured tormented use of materials, while its art often depicted violent, religious themes shrouded in rich chiaroscuro darkness and Catholic Reformation propaganda, as illustrated by Artemisia Gentileschi's (1593-1653) painting, Judith Beheading Holofernes.
French Rococo (1715-1793) blossomed during the reign of King Louis XV, and reached its pinnacle under the reign of King Louis XVI and Queen Marie Antoinette. The over-the-top masculine intensity of the previous era gave way to an equally over-the-top femininity.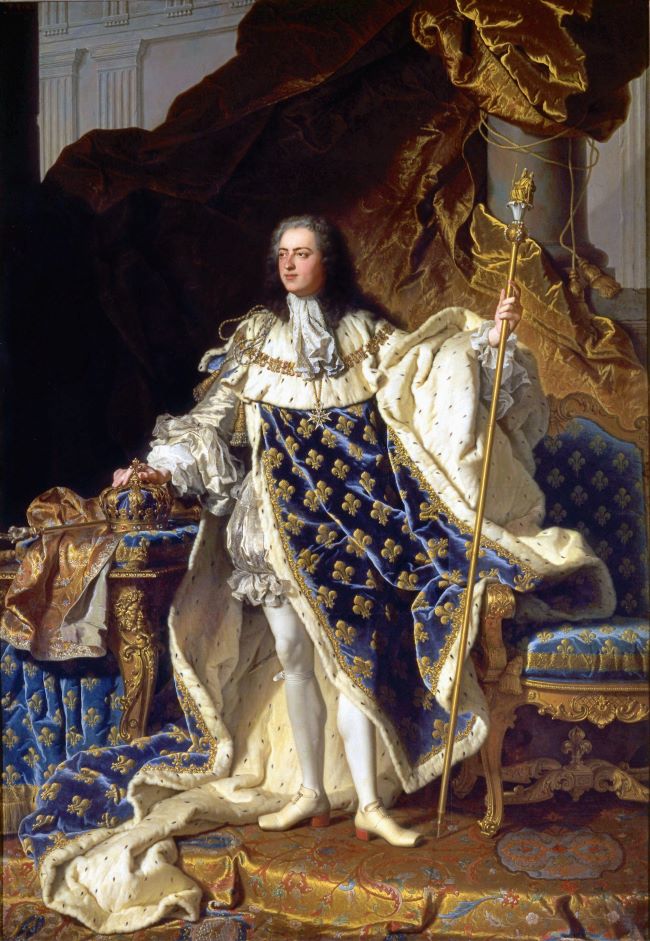 Upon the death of King Louis XIV, in 1715, the long held idea that the king was empowered by God came under question, and a new kind of secularism evolved. Louis XIV's heir, Louis XV, was only five years old. The "regency", led by the Duc d' Orléans, ruled France until Louis came of age in 1723. The transitional Regency style (1700-1730) turned away from the Sun King's formality towards comfort and pleasure. The manifestation of God's messenger became the mischievous cherub. As the architect, writer and professor, Witold Rybczynski, has written, "Rococo style epitomized the society that prayed AND played."
Rococo was an organic movement towards a light-hearted, pastoral, rose-tinted view of the world. The term Rococo is derived from the Portuguese word, "barroco", which means "irregular pearl", and "roc" from the French word "rocaille", a method of decorating fountains and grottos that dates back to the Italian Renaissance. Using this technique, artisans mixed seashells, pebbles, and other organic materials with cement creating marine-inspired pieces. Rococo designers were not only enthralled with shells, but also with foliage and intricately designed scrollwork, often finished with gilt. Anything that could be decorated was.
The whimsical nature of Rococo appealed to Louis XV's mistress, confidant and advisor, Jeanne-Antoinette Poisson (1721-1764), better known as Madame de Pompadour. Often known as the  "godmother of Rococo," she was responsible for promoting Paris as the European capital of fashion, music, art, and design. Greatly influenced by The School of Fontainebleau (1528-1630), known for its unique interior design style in which all the elements created a seamless composition, Madame de Pompadour also brought the ideas of privacy, and comfort to bourgeois Parisian houses. Louis XV even modified Versailles to be a more secluded, private home.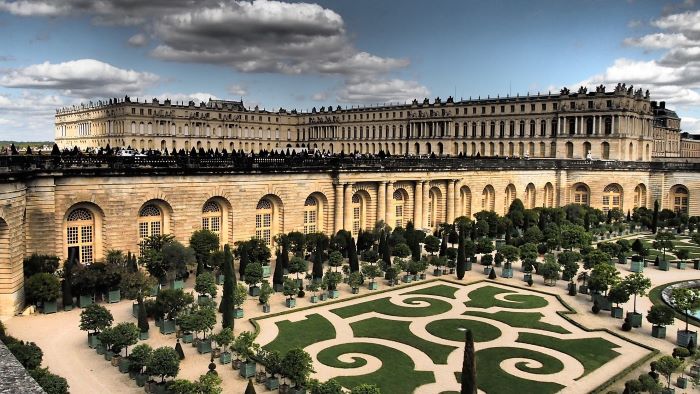 Rococo style is almost never found on the exterior of buildings. Previously, the exterior of buildings was mirrored on the interior, as though the buildings were turned inside-out. Rococo was the first style to be developed for interiors. At this time, living spaces became more defined. No longer was one room utilized for eating, sleeping, and entertaining. The upstairs rooms became private places for rest and the downstairs areas were designated for guests, such as the Salon de la Princesse in the Hotel de Soubis in Paris (now the National Archives), a masterpiece by architect Germain Boffrand (1667-1754) and the painter Charles Natoire (1700-1777).
With new interior spatial arrangements came the need for new interior decor. Overall scale was downsized. Artists of all genres were free not only to create great murals for palaces, but also to make smaller, more intimate pieces that could be displayed in French homes such as clocks, picture frames, mirrors, mantel pieces, candlesticks, marquetry tables, and upholstered chairs.

Painting was an essential part of the Rococo movement in France. It is considered one of the most influential French art movements, rivaled only by Impressionism. While Baroque paintings were redolent with rich colors and deep shadows, Rococo paintings used an effervescent, pastel palette. The three best-known Rococo painters are Jean-Antoine Watteau (1684-1721), François Boucher (1703-1770), and Jean-Honoré Fragonard (1732-1806). They influenced all elements of design.
Watteau was considered the father of the Rococo period in painting. Born in Valenciennes, a provincial village in Belgium that became part of France in 1678, he moved to Paris where he made a living producing copies of works by Titian and Veronese. He joined the studio of Claude Audran, a renowned decorator, where he met and became friends with Claude Gillot, known for his decorative theater scenery. As a result, Watteau's work often comprised people in costume against theatrical backdrops lit up with artificial light.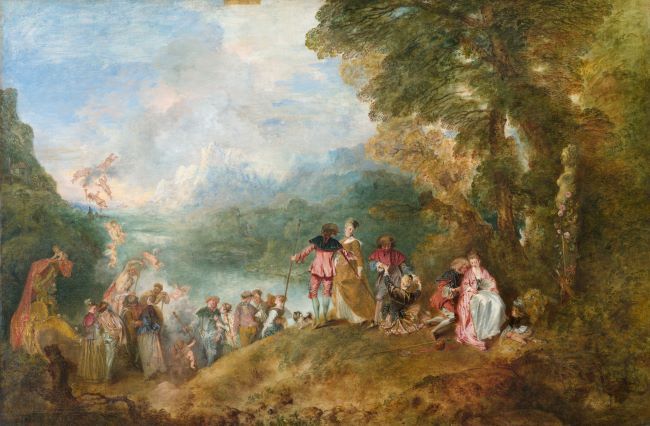 Watteau's Embarkation for Cythera (1717) depicts aristocratic couples on Cythera, a mythological island of Love. Also known as the father of the Fête galante, a genre of paintings which depicted the fête champêtre, or garden party, popular among the aristocratic class. Dressed in costumes, his subjects would wine, dine, and engage in amorous pursuits within pastoral gardens and parks featuring hovering cupids and Greek goddesses, blending fantasy with reality. Painting both decorative works and fine arts, Watteau's subjects attracted a wealthy clientele including the newly emerging collecting class, making him quite successful during his lifetime.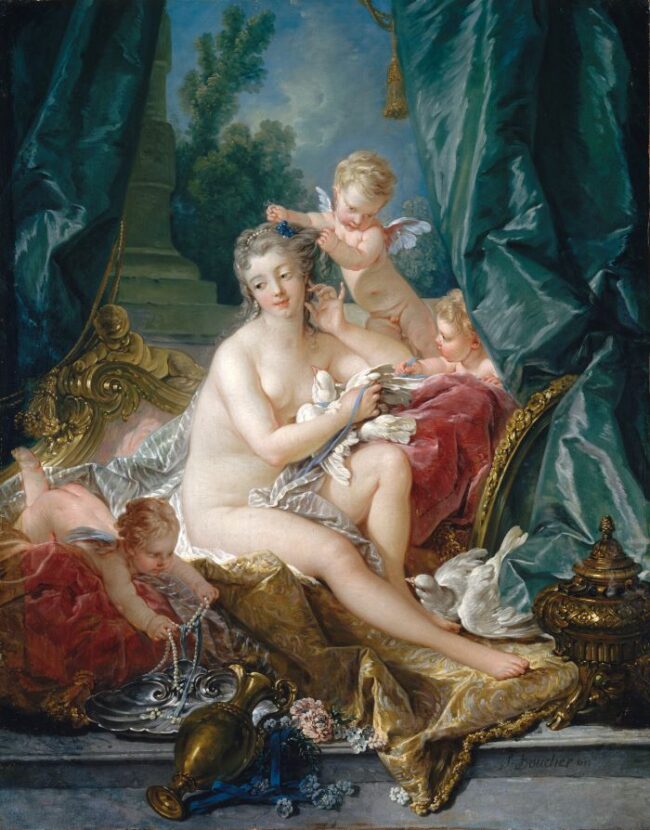 Influenced by Watteau, François Boucher became the most renowned artist of the later Rococo period. Noted for combining aristocratic elegance with erotic treatments nudes, as seen in his The Toilet of Venus (1751), he was equally influential in decorative arts, theatrical settings, and tapestry design. Boucher was appointed First Painter to the King in 1765, and painted many portraits of Madame de Pompadour, with whom he enjoyed a long time association. He is also renowned for his brilliant tapestry work.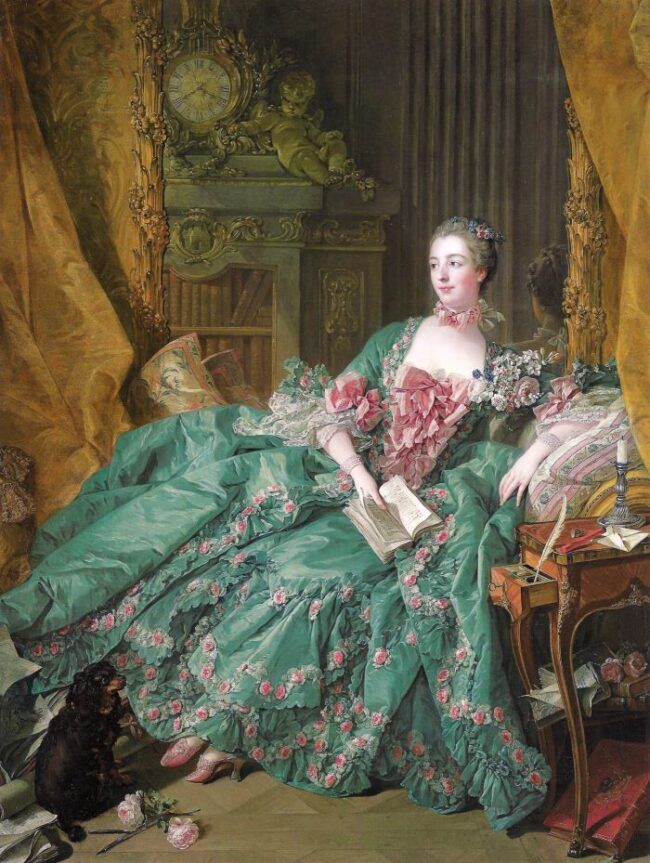 Jean-Honoré Fragonard, a student of Boucher and the still-life master Jean-Siméon Chardin (1669-1779), is known for creating the quintessential Rococo painting, The Swing (1767). Featured is a woman set in a swirl of green foliage, wearing a pale pink dress, playing on a swing while flirtatiously flinging off her show. It is light-hearted, yet sensuous, overly embellished and allegoric. During the early 1770s Fragonard received many commissions both from the royal government and from private citizens. One of his most important patrons was the Comtesse du Barry, Louis XV's last mistress, who commissioned several decorative paintings for Louveciennes, her château near Paris. During and after the French Revolution, his paintings fell out of favor. From 1794 to 1797 he helped to create and administer the new National Museum, established by the Revolutionary government in the palace of the Louvre.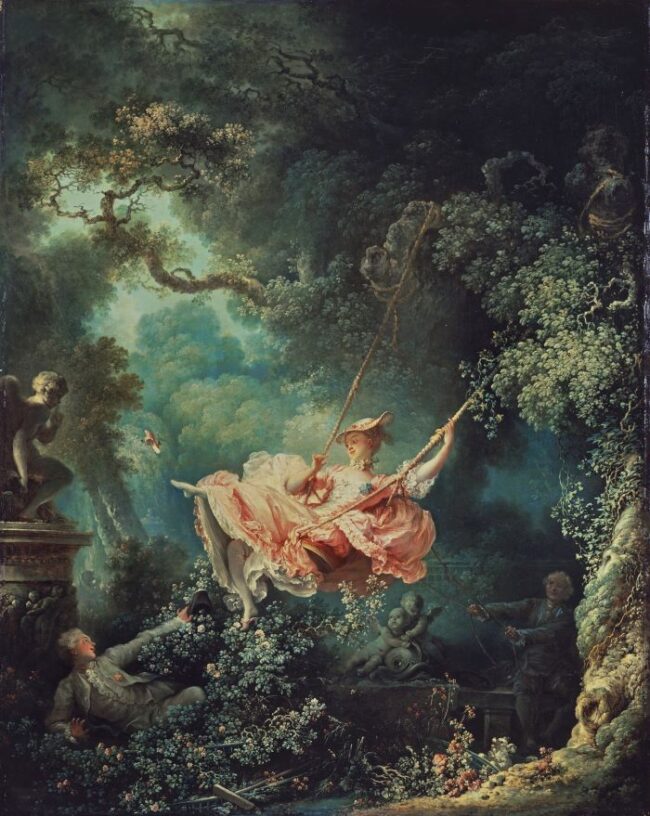 Madame de Pompadour died in 1764, followed 10 years later by King Louis XV. The next in line, Louis XVI, would be the last of the House of Bourbon to rule France. After decades of the extravagances of war and aristocratic opulence, the French people abolished the monarchy in 1793, when both King Louis XVI and his wife Queen Marie Antoinette were beheaded. With their deaths, the era of Rococo died. To understand the pinnacle of Rococo, there is nothing more illuminating than the filmmaker, Sophia Coppola's movie Marie Antoinette.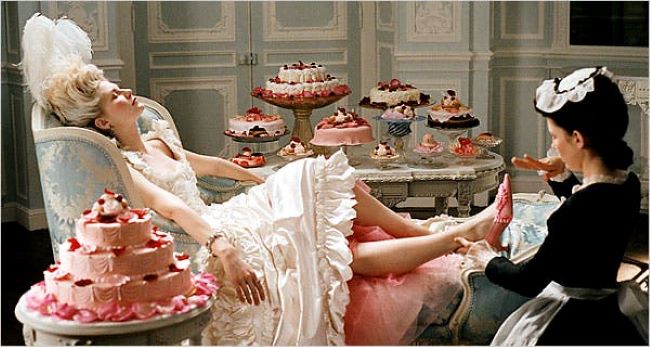 Did Marie Antoinette really say, "Let them eat cake"? The simple answer to that question is "no." When confronted with the news that Parisian peasants were starving and too poor to afford bread, she is thought to have said, "Qu'ils mangent de la brioche" (Let them eat brioche). While this sweetened bread is more expensive than an average baguette, it isn't the multi-tiered, beautifully iced and decorated gâteaux you might have imagined the queen had in mind. However, the translation doesn't change the point, still suggesting that the French queen was arrogant and out-of-touch with the average French citizen.
Lead photo credit : Versaille © emilydixon18 Pixabay
More in french women, Palace of Versailles, Paris, women in art, women in history
---
---
Comments