Where Americans Love to Eat, or Someplace New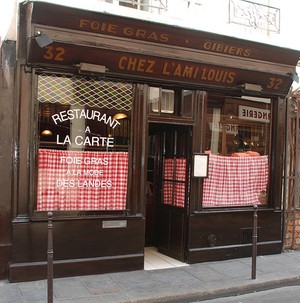 As an avid Paris restaurant print medium and internet discussion consumer for 20 years, I've been squirreling away impressions about where my fellow Americans love to eat. And finally I'm ready to reveal the conclusions of this most decidedly unscientific and over-generalized "research." First are the old, and very old favorites of Anglophones, places like l'Ami Louis, Aux Lyonnais, Chez Ami Jean + l'Astrance, where, especially the first two, one ate at 30 or 40 or even 50 years ago. Two of my best friend/colleagues are still eating at the places they frequented as university students and others, like my late pal Johnny Apple, order the same meals they did decades ago. Said friends are always astonished that there are actually other good restaurants situated just a few meters from their old haunts. Next are the expensive and starred places, often on the same list, since there's a reciprocal relationship between prices and ratings, with flowers, wines, napery and numbers of fawning staff serving as bridges between the two. Again, I have friends who tell me with great anticipation how they (or their concierge) have managed to secure reservations at 10 starred places in 5 days. To know their names one has merely to Google Palace hotels or pick up a red Michelin but a glance at say Chow France reveals the current favorites to be Le Meurice, Les Ambassadeurs, Frechon & Le Cinq. Finally, this bunch of friends, correspondents and food-nuts loves going to the "hot" places which means the lists of places the New York Times or glossy print monthlies come up with. Here, for example, I'll reference this month's Travel & Leisure where the "hot" ones include MBC, KGB, Frenchie + Yam'Tcha. What's missing from this picture? Well, the neighborhood, Mom and Pop and recently opened places that are too fresh to be summarized by the Anglophonic press. As I revealed elsewhere "I realize that over the past 20 years I've transitioned from practically eating only in places tried (by Anglophonic critics and food-nuts) and true, to practically eating only at one or more of the five+ new restos that open each week in the city." How did this happen? Well, when I became seriously interested in food I had two guide/mentors with impeccable sources of information and they would feed their "intelligence" and observations to me so that I had an up-to-date list of hot spots not yet on the Anglophonic print medium radar. But then the junior member of this team started suggesting we pop into places he had merely "auditioned" by sidling up to the menu and surreptitiously recording its highlights into a handheld recording "device." From that I made the leap to trying places not yet "auditioned" and found that while there were stinkers and clinkers, there were also gems to be discovered. So, my new crusade is a bit like Gaiter & Brecher's "Open the Bottle Night" but it involves an invocation to "Take a plunge and try one of those 'neighborhood, Mom and Pop and recently opened places that are too fresh to be summarized by the Anglophonic press.'" My pick of such a place this month is: Le 122: Bistrot d'Hier et Aujourd'hui 122, rue de Grenelle in the 7th (Metro: Solferino) T: 01.45.56.07.42 Closed weekends, open for lunch Mondays-Fridays, dinner weekdays except Thursday and has an "afterwork apero-dinatore" from 6:30-10 PM except Thursdays. Lunch formula at 16,50, menu-carte at 35 and 20 €. ©2009 John A. Talbott
http://johntalbottsp…talbotts_paris/
Photo: Flickr Creative Commons
/F.X.Enderby (landed)
SUBSCRIBE
ALREADY SUBSCRIBED?
SUBSCRIBE NOW TO SUPPORT BONJOUR PARIS

Support us for just $60 a year

Sign in

Fill in your credentials below.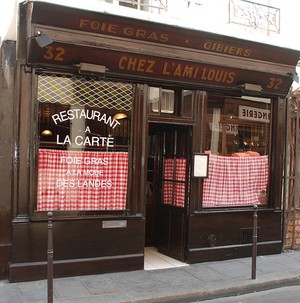 As an avid Paris restaurant print medium and internet discussion consumer for 20 years, I've been squirreling away impressions about where my fellow Americans love to eat. And finally I'm ready to reveal the conclusions of this most decidedly unscientific and over-generalized "research."
First are the old, and very old favorites of Anglophones, places like l'Ami Louis, Aux Lyonnais, Chez Ami Jean + l'Astrance, where, especially the first two, one ate at 30 or 40 or even 50 years ago. Two of my best friend/colleagues are still eating at the places they frequented as university students and others, like my late pal Johnny Apple, order the same meals they did decades ago. Said friends are always astonished that there are actually other good restaurants situated just a few meters from their old haunts.
Next are the expensive and starred places, often on the same list, since there's a reciprocal relationship between prices and ratings, with flowers, wines, napery and numbers of fawning staff serving as bridges between the two. Again, I have friends who tell me with great anticipation how they (or their concierge) have managed to secure reservations at 10 starred places in 5 days. To know their names one has merely to Google Palace hotels or pick up a red Michelin but a glance at say Chow France reveals the current favorites to be Le Meurice, Les Ambassadeurs, Frechon & Le Cinq.
Finally, this bunch of friends, correspondents and food-nuts loves going to the "hot" places which means the lists of places the New York Times or glossy print monthlies come up with. Here, for example, I'll reference this month's Travel & Leisure where the "hot" ones include MBC, KGB, Frenchie + Yam'Tcha.
What's missing from this picture? Well, the neighborhood, Mom and Pop and recently opened places that are too fresh to be summarized by the Anglophonic press.
As I revealed elsewhere "I realize that over the past 20 years I've transitioned from practically eating only in places tried (by Anglophonic critics and food-nuts) and true, to practically eating only at one or more of the five+ new restos that open each week in the city." How did this happen?
Well, when I became seriously interested in food I had two guide/mentors with impeccable sources of information and they would feed their "intelligence" and observations to me so that I had an up-to-date list of hot spots not yet on the Anglophonic print medium radar. But then the junior member of this team started suggesting we pop into places he had merely "auditioned" by sidling up to the menu and surreptitiously recording its highlights into a handheld recording "device." From that I made the leap to trying places not yet "auditioned" and found that while there were stinkers and clinkers, there were also gems to be discovered.
So, my new crusade is a bit like Gaiter & Brecher's "Open the Bottle Night" but it involves an invocation to "Take a plunge and try one of those 'neighborhood, Mom and Pop and recently opened places that are too fresh to be summarized by the Anglophonic press.'"
My pick of such a place this month is:
Le 122: Bistrot d'Hier et Aujourd'hui
122, rue de Grenelle in the 7th (Metro: Solferino)
T: 01.45.56.07.42
Closed weekends, open for lunch Mondays-Fridays, dinner weekdays except Thursday and has an "afterwork apero-dinatore" from 6:30-10 PM except Thursdays.
Lunch formula at 16,50, menu-carte at 35 and 20 €.
©2009 John A. Talbott
http://johntalbottsp…talbotts_paris/
Photo: Flickr Creative Commons/F.X.Enderby (landed) [Steve Szczepanski]
More in culinary tourism, culinary travel, Dining in Paris, France cuisine, French food, John Talbott Paris, Michelin, Neighborhood, Paris, Paris bistros, Paris bistrot, Paris cuisine, Paris restaurants, Restaurant reviews
---
---