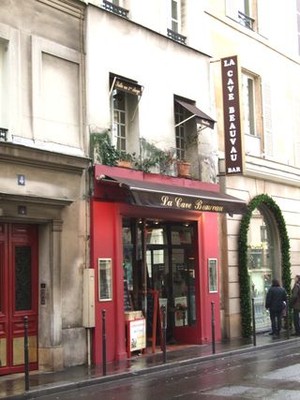 In prior essays I've tagged the perfect bistro and perfect restos in Paris for my readers, and I think I've just tumbled on the "perfect" wine bar with a full food menu. What do I mean by this? Well, there are lots of neat wine bars in town, and lots of wine bistrots that serve platters of charcuterie and cheese.  But moving up to hot dishes, especially ones involving fish, takes one to a new level. When this was written I'd just come back from the Cave Beauvau and let me tell you why it qualifies for this rare category. First, it has wines selected by the house (in this case Stephane Dellrere, the expatron of Gavroche and Le Duc de Richelieu) and the wine selection is enormous, by the glass, carafe and bottle, ranging from 1.9 to 70 Euros. One enters and like a Japanese sushi bar where everyone on the staff bows and shouts "Irashaimase!" or is it "Bonsai!" (which means long life, not what you thought it did from those John Wayne films).  Anyway, the host greets everyone equally warmly.  Welcome! The owner and waiters are as if in a 1950's French movie about bistros; rush-rush; deliver stuff; rush-rush, clear stuff, etc. Then the menu, eg carte, it's full, not just a few terrines and charcuterie but lots of firsts: oysters outside, a jambon sur l'Os and prosciutto to carve behind the bar, lots of terrines and rilettes, warm artichokes and cod and jambon persille and well, everything. And seconds aren't a few measly nods to reheated foods but at least 4 beef-steaks, steak tartare and for Colette scallops. Desserts included several tartes laid out in full view and a groaning cheese board. In Michael Steinberger "Au Revoir to All That" he agrees with others that French food is stuck in a thirty-year time-warp.  In generalizing, he's mistaken, but about places like the Cave Beauvau, he's correct.  As with L'Ami Louis, which is ten times more pricy, this place could be a hold-over from the 1950's. So this month, in this category: My pick is: La Cave Beauvaus 4, rue des Saussaies in the 8th, Metro: Madeleine or Miromesnil) T: 01.42.65.24.90 Open lunch Monday-Saturday and dinner Thursday and Friday A la carte about 25-30 €. ©2009 John A. Talbott
http://johntalbottsparis.typepad.com/john_talbotts_paris/
SUBSCRIBE
ALREADY SUBSCRIBED?
BECOME A BONJOUR PARIS MEMBER

Gain full access to our collection of over 5,000 articles and bring the City of Light into your life. Just 60 USD per year.

Find out why you should become a member here.

Sign in

Fill in your credentials below.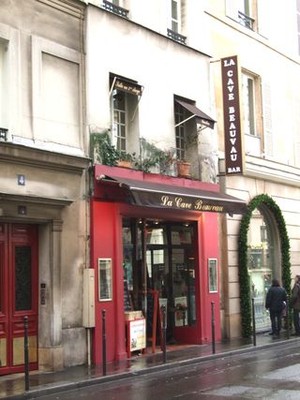 In prior essays I've tagged the perfect bistro and perfect restos in Paris for my readers, and I think I've just tumbled on the "perfect" wine bar with a full food menu.
What do I mean by this?
Well, there are lots of neat wine bars in town, and lots of wine bistrots that serve platters of charcuterie and cheese.  But moving up to hot dishes, especially ones involving fish, takes one to a new level.
When this was written I'd just come back from the Cave Beauvau and let me tell you why it qualifies for this rare category.
First, it has wines selected by the house (in this case Stephane Dellrere, the expatron of Gavroche and Le Duc de Richelieu) and the wine selection is enormous, by the glass, carafe and bottle, ranging from 1.9 to 70 Euros.
One enters and like a Japanese sushi bar where everyone on the staff bows and shouts "Irashaimase!" or is it "Bonsai!" (which means long life, not what you thought it did from those John Wayne films).  Anyway, the host greets everyone equally warmly.  Welcome!
The owner and waiters are as if in a 1950's French movie about bistros; rush-rush; deliver stuff; rush-rush, clear stuff, etc.
Then the menu, eg carte, it's full, not just a few terrines and charcuterie but lots of firsts: oysters outside, a jambon sur l'Os and prosciutto to carve behind the bar, lots of terrines and rilettes, warm artichokes and cod and jambon persille and well, everything.
And seconds aren't a few measly nods to reheated foods but at least 4 beef-steaks, steak tartare and for Colette scallops.
Desserts included several tartes laid out in full view and a groaning cheese board.
In Michael Steinberger "Au Revoir to All That" he agrees with others that French food is stuck in a thirty-year time-warp.  In generalizing, he's mistaken, but about places like the Cave Beauvau, he's correct.  As with L'Ami Louis, which is ten times more pricy, this place could be a hold-over from the 1950's.
So this month, in this category:
My pick is:
La Cave Beauvaus
4, rue des Saussaies in the 8th, Metro: Madeleine or Miromesnil)
T: 01.42.65.24.90
Open lunch Monday-Saturday and dinner Thursday and Friday
A la carte about 25-30 €.
©2009 John A. Talbott
More in Bonjour Paris, culinary travel, Food Wine, French wine, John Talbott Paris, Paris bistros, Paris bistrot, Paris cafes, Paris cuisine, Paris restaurants, Paris tourist tips
---
---