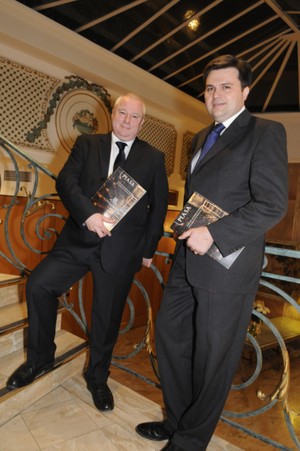 The cellars of the legendary La Tour d'Argent restaurant, created in 1582, the year William Shakespeare married Anne Hathaway, run for miles beneath its left-bank location. Those lucky enough to be invited are met by a blue uniformed flunky and escorted, through double-locked iron gates, into the dark, damp, musty warren of alleyways where 450,000 bottles of the worlds' rarest and costliest French vintages lie.
A fascinating glimpse into the cellars is available this month when French auction house PIASA put 18,000 bottles under the hammer. Estimates vary from several hundred to several thousand euros per lot; the sale expected to fetch north of 1 million euros.
Throughout the evening, and four day-time auction sessions, the wines, and spirits, selected by Chef Sommelier David Ridgway will go to the highest bidders. Ridgway, the highly respected British-born wine guru has been at La Tour d'Argent since 1981 when the cellars were half the size they are to-day. "The wines not only celebrate the unequalled bredth of Tour d'Argent's cellars but also pay homage to France's profoundly diversified and rich wine tradition", he says. "Bottles from famous Chateaux are offered alongside wines from excellent but far less well known origins, all carry the Tour d'Argent stamp, none have ever been offered to the market", explains Ridgway. He talks me through the sale in his tiny subterranean office, the walls decorated with wooden wine boxes, just off the labyrinthine cellars, bricked up during WW11 to save the contents from Hitler.
"Why is La Tour d'Argent selling their wines?" I enquire. "Well, the collection is a bit like me, it's getting too weighty, the wine list weighs 9 kilos", grins Ridgway, patting his embonpoint."When I started here almost thirty years ago people used to drink a lot more wine, I'd say we used to sell 25,000 bottles a year and were open every day. Now we're shut in August, two weeks in February, Sunday and Monday, so 450,000 bottles is too much wine. Some may say it's the straightened times, but we'd be auctioning anyway, we've duplicates in the cellars and need to keep our volumes down, these are wines that are ready to enjoy. You know, vines need pruning in order to grow stronger, presenting this selection for auction will enable us to strengthen the business and introduce new growers, new regions. 30 years ago there was only Bordeaux and Burgundy, to-day there's  Alsace, Côtes de Rhone, Languedoc-Roussillon, Loire Valley, Provence, Corsica, the South-West to choose from", Ridgway reflects. "The sale's about gems you'll find nowhere else, some from small growers, all aged and kept here, many offered at the prices we paid" he adds.
Among the Bordeaux highlights of the sale feature Chateau Latour (1975, 1982, 1985, 1988, 1989, 1990, 1984), Chateau Lafite Rothschild (1970, 1982, 1997), Chateau Cheval Blanc 1928, 1949, 1966, Chateau Margaux (1970, 1990) . From the Burgundy region Meursault Clos de la Barre Lafon (2004) Puligny Montrachet Referts Sauzet (1992) Volnay Santenots Leroy (1969) Vosne Romanee Jayer (1988) and Ridgway highly recommends 6 magnums of Puligny-Montrachet "Combettes" Boillot 1992 (white) as well as Porto Vintage "Nacional", Noval 1963 and, from the Loire Valley, Vouvray "Le Haut Lieu" Huet 1919.
The spirits section offers Bas Armagnac Jouanda (1934) Rhu Bally 1947, Grande Fine Champagne Monnet (1858) and the oldest bottle in the sale, Fine Champagne Clos de Griffier, 1788, dates back to the Cafe Anglais founded in 1815. When the owner of the Cafe Anglais' daughter married the owner of La Tour d'Argent in 1913 she brought wines from Cafe Anglais in her dowry. The proceeds of Clos de Griffier will be donated to charity.
La Tour d'Argent opened in 1582, a handsome pile opposite Notre Dame, between the Seine and the Bernardins monastery. It was built using typical stone from the Champagne region which gave it silvery reflections, hence the name "Silver Tower". A high-society address from the start, Louis X1V, Mme de Sévigné, Philippe d'Orleans and the Duke of Richelieu had their favourite tables by the windows. In 1890 chef Frederic Delair created the recipe for Duck Tour d'Argent and decided to number each bird, a terrific marketing ploy.
In 1890 Edward V11 Prince of Wales ate number 328. In 1921 Thomas Rockefeller No. 51,327, in 1979 Roman Polanski enjoyed 554,711 and more recently Bill Gates No. 1079006. The millionth duck was eaten in 2003, the year Claude Terrail's son Andre took over the restaurant. No. 500,000 was launched from the roof with a tag on its' leg that offered the finder dinner for two.
The ground floor is now a museum, the main exhibit a table beautifully set as it was in 1867 when Tsar Alexander 11 and the King of Prussia dined together. Elsewhere are cabinets spilling over with memorabilia, walls of photographs, including a charming one of the Queen and Prince Philip (duck No.185,397) leaving the restaurant in May 1948. Recently they were on duck 1081,530.
When André Terrail took over the restaurant in 1910 he created an entirely new chapter in the history of La Tour d'Argent. He married Augusta Burdel, daughter of the owner of the tres chic Cafe Anglais, at the time the union was seen as the marriage between the quais and the boulevards.
By 1947 André Terrail was ready to hand over the silver keys to his son the tall elegant polo-playing Claude, whose signature blue cornflower matched his eyes. Terrail, born on the 4th floor of La Tour in 1917, launched a second restaurant in Tokyo's New Otani hotel, still thriving to-day, and saw La Tour celebrate it's 400th anniversary in 1982. He died in 2006, having run the restaurant for sixty glorious years, and is suceeded by his son Andre.
A tall handsome, intense young man, Andre Terrail shut the restaurant for three months and gave it a €4 million facelift. "We concentrated on the kitchens, the offices and re-designing the menus with chef Stéphane Haissant, we feel that what goes on in the "coulisses" (backstage) is just as important as the front of house", he explains showing me over three floors of state-of-the-art steel and glass spaces where there's a special cold-room just for the ducks, bred organically at the restaurant's farm in the Challans region. There's also flat screen TV's; perhaps the ducks will try to escape? To check if Michelin Man is in the building (the restaurant had 3 stars, it has 1 at the time of writing) or someone is stealing the ash-trays? "They do, they do, all the time confirms the gentleman in the Tour's La Comptoir boutique opposite. A solid silver duck tumbled out of a customer's mink coat recently. "Don't know how that happened", she said.
Ratatouille the Pixar animated movie is based loosely on La Tour d'Argent. It tells the story of a Paris sewer rat who takes up residence in a once great restaurant and transforms it by inspiring the kitchen to greatness. Stéphane Haissant, at the restaurant since 1996, sees the irony, now executive chef, Haissant's determined to inspire his team of 45 to recuperate the missing stars.
Andre Terrail sees his work as fine tuning the restaurant to the needs of an ever evolving clientele, working closely with Ridgway and Haissant. Before joining the family firm he was with LVMH, New York, and top restaurants and hotels in France including Lenôtre, Paris and the Savoy Hotel, London, he has a Bachelor of Science in Business Management from Wellesley College USA and lives in Paris. "People definitely come here for the wine, sometimes arriving long before lunch or dinner to taste. Each week Mr Ridgway selects about 21 wines he thinks will be interesting matches with the dishes. These days people tend to order just one white or red wine, although the other day a couple got very excited and ordered four bottles because they were so eager to taste. At La Tour we serve wines that are full symphonies, there's no lift music here!"
"And what do you think Monsieur Claude Terrail would think of the wine auction I ask the three. "Well we don't think he would be too pleased, he would have asked me why I bought so much in the first place", reflects Ridgway. I ask Ridgway to divulge his favourite wine. "The one I'm tasting tomorrow; wine is realy just a product made for drinking, we mustn't make a religion ot it ", he grins. And if he could be a bottle? "Something white", is all he'll say.
PS. Since the time of writing PIASA reports that this happened:
"In yesterday's sale of wines from the cellars of La Tour d'Argent, a bottle of 1788 vieux cognac Clos du Griffier, offered to benefit Association Petits Princes, a Paris-based charity which makes the dreams of children with severe illnesses come true, sold for €25,000. The cognac was purchased by a French collector who lives in London and was part of the auction "Les vins de la Tour d'Argent – Vente unique et d'exception" which presented 18,000 bottles of wines and spirits from the cellars of the famous Parisian restaurant.
The total sale realised 1,542.767€ and don't worry there's still lots left in the Tour d'Argent cellars.
Enquiries about the sale to:
PIASA  T: +33 (0) 15 33 41 010
La Tour d'Argent,
15 & 17 Quai de la Tournelle,
75005, Paris, France
T: 01 40 46 71 27
Lunch 65€ + wine
Tasting Menu or Menu Surprise 160€ + wine
Or A La Carte