Saint James Paris
There's a new look to the historic and handsome Saint James Paris, just behind avenue Foch, Paris. Bambi Sloane, whacky and talented decorator had the intelligence to use the theme of hot-air balloons, first launched on this site by the Montgolfier brothers in 1783. Throughout the club, wallpaper, by Maitena Barret, is based on the original wall-coverings by manufacturer Jean-Baptiste Réveillon, evoking those daring young men in their flying balloons.
In the garden, three Montgolfier structures look as if they're about to take off. In fact they're part of the restaurant, which moves outside in summer. Cyrille Robert (ex-Les 3 Marches, Versailles, Ledoyen, Jules Verne, etc.) is the main man in the kitchens.
A charming man, he's been at Saint James for the last 13 years, so he understands what members and their guests require.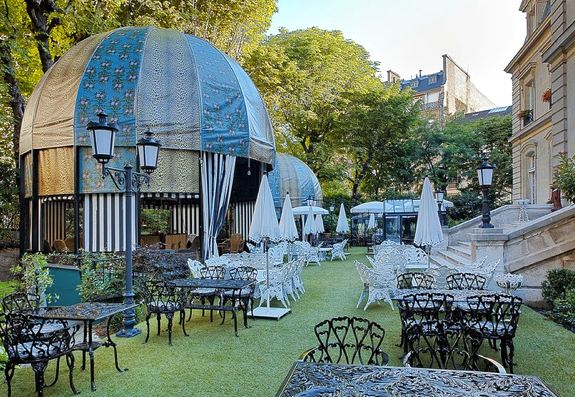 "My dishes are gourmand et génereux," he smiles. He insists his menu is a "menu" and not literature. "That's all in the Saint James' magnificent library," he says.
Fresh herbs are picked daily from the potager to garnish starters such as Tourteau en habit vert, King Crab, Crème glacée wasabi. Carpaccio d'espadon mi-cuit, légumes croquants. And mains: Bar à la vapeur, sarriette et asperges vertes. Filet de boeuf d'Aubrac grillé, pomme vonassienne. Tartare de daurade royale, légumes primeurs. To drink red or white Château Hostens Picant 2004 or 2005 (3o€).  And, to finish, Vacherin fraises des bois, meringue à la violette. Brousse de brebis, baies de goji, fine gelée abricots.
It's a fabulous address with château attitude—any minute Steed and Emma from The Avengers will appear to take lunch, dinner or a cocktail maison. "One of your better ideas Mrs Peel, Steed will say." Saint James Paris should be taken without moderation. Because you're worth it.
Tél: 01 44 05 81 81
43, avenue Bugeaud, Paris 16th
Métro:: Porte Dauphine
Spa Gemology: Members only
Membership fee 1,600€ per annum
Rooms & Suites from 360-800€
Restaurant open to public from Mon-Sat dinner
Lunch formula 53€ changes daily
Sunday Brunch 43€    Children 6-12 years 26€  Under 6 no charge
Bar open to public Mon-Sat 7pm-12midnight
Average Spend in restaurant 75€ + wine
A'Trego in Cap d'Ail
A'Trego, Cap d'Ail is the result of the meeting of three memorable men. Philippe Starck, Cyrille Regottaz, former manager of Jimmy'z, the legendary Monaco nightclub, and Corrado Agusta, from the motorbike dynasty. They set out to create a landmark on Cap d'Ail; the outcome is a giant contemporary three-story grey edifice housing two restaurants, a terrace and Cargo de Nuit, a members' bar, already buzzing with le tout Monaco.
On the terrace: chic snacking and cocktails. The restaurant on the main deck has an open kitchen that overlooks the sea with uninterrupted views. Mahogany floors, grey wood, books on tables, tchotchkes, the walls covered with memorabilia and photos. A reproduction of the good ship A'Trego on a creaky wooden table. A long silver table d'hôte with candelabra, read: a dialogue of Starck design and vintage flea market finds. Tradi-Modern. Yes, you want to say, "Let's party."
Wearing the whites is chef Laurent Sturbois, no stranger to the taste of the locals. Formerly at Hotel Columbus, he's fed more Grand-Prix racing drivers than you've had hot dinners. And he'll be welcoming them to A'Trego with a locavore menu and products showcasing the bounty of Provence. "As well as quelques extravagances." Such as Les truffes râpées sur une brouillade d'oeufs et pain grillé. Carpaccio de melon & fines tranches de loup mariné, condiments Riviera aux baies de grenade for starters. Mains of fresh-caught loup à la plancha, émulsion d'huile d'olive bio, aubergines fondantes. Or the jet-set favorite, Tartare de boeuf….."oui mais assaisonné devant vous! Accompagné selon votre envie." Desserts include O Calorie – Gelée de menthe fraîche, soupe de framboises, Espuma de fromage blanc à la Stévia. Macaron exotique. Deconstructed Tarte Citron. A perfect match for Provence red, white or rosé wines or Perrier-Jouët Champagne, as served at the Monaco royal wedding.
Why is it called A'Trego? Because the space was once home to Monsieur A'Trego the local fisherman. "Today we've created our poetic version of a fisherman's hut, on the sea, for love, friends and sun. A'Trego is an extraordinary space, certainly our dream is realised, perhaps yours will be too," grins Starck. "Come, we're going to eat, drink and sing." And with that he breaks into song.
Access:
At just 20 metres from Monaco, A'Trego is accessible, on foot or by car, from the Principality. Or by helicopter, the heliport is nearby and on the yacht, just sail into the Cap d'Ail Port (reserve at the Captainerie in advance: 04 93 78 28 46). Stay at the excellent Riviera Marriott, Cap d'Ail is the best advice. www.marriott.com Tél: 04 92 10 67 67
Port de Cap d'Ail
Tél: 04 93 28 58 22
Average Spend for 3 courses: 55€ + wine
Shut Sunday night
Qui Plume la Lune
St. James' chef, Cyrille Robert, suggested I discover Qui Plume La Lune, just opened, by his friend Jacky Ribault. Named for the 1998 film by Christine Carrière, chef Ribault says it's a reflection of his life, with its ups and downs, highs and lows. He's worked with the greats, including Passard, Legendre, Gagnaire and pastry-maven Pierre Hermé, to whom he dedicates a dessert macaron. Robert's concept is no starters, just a show-stopping amuse-bouche that changes daily: yesterday it was a juicy crevette sautée, coulis de mangue, fresh almonds, pourpier d'été. Coulis de persil plat. (see photo). "Get serious straight away" is Ribault's concept.
On his all-organic menu, Thai and Japanese influenced dishes, and also grand classics, revisted in his minimal (generous portions) unique style: vegetables from Annie Bertin, fish, poultry and meat from Samuel Nahon and Alexandre Drouard of Terroir d'Avenir. Bread from Christophe Vasseur. Don't miss the dessert fruit tart, hidden beneath barbe à papa (candy floss). Wonderful selection of wines (natural as well) from the cave underneath this pretty recycled space which spans two streets. At the rear is the open kitchen, formerly a butcher's shop. A great address if you're visiting Merci or wandering around Place des Vosges. Bernard Pacaud from L'Ambroisie eats there—if it's good enough for him….
Tél: 01 48 07 45 48
50, rue Amelot, Paris 11th
Métro: Bastille,
Lunch formula 23€
Dinner 33/43/53€ + A La carte
Shut Sun-Mon – August, re-opens 1st September
Frenchie Wine Bar
How to get a reservation at Frenchie. "I always reserve for the next dinner when I'm leaving the restaurant," reveals Marie. "But now the wine bar's open, at least I can get a Frenchie-fix in between visits." Gregory Marchand must have more fans than George Clooney, and he can cook, what else? A lovely self-effacing talent, hopes are that Greg'll take over the entire rue de Nil, then we all stand a chance of getting a reservation. Frenchie Wine Bar serves market-fresh cuisine, accompanied by wines enthusiastically chosen and described by Laura Vidal and Aurélien Masse. Décor's recycled shloch, dishes include an addictive Buratta, petits pois, menthe, salade tomate cerise, pastèque, ricotta salata, fèves (24€) Tête de cochon braisée, coco de Paimpol, pomme verte (10€). Jambon Iberico de Bellota, tomato bread (17€) Foie gras, chutney de cerise (14€) Napoléon cheese, miel à la truffe d'été (9€). Pot au chocolat or Panacotta, framboise, verveine (7€).
No telephone
6, rue de Nil, Paris 2nd
Métro: Sentier
Open Mon-Fri 7pm-10.30pm
Shut 22 July-23 August
Margaret Kemp is a Cordon Bleu graduate who spent a year traveling the world, working and watching in the kitchens of top chefs from Sydney, Australia via Bangkok, Hong Kong, California, New York and France. She reports for BonjourParis on the latest European trends, restaurants and hot spots. Please click on her name to see her weekly stories dating back to 2003 . . . et merci, Margaret.
You are reading PREMIUM CONTENT sent to Premium Members who are first to read BUZZ about top chefs at restaurants in France, London, Monaco and other culinary capitals. First to know means first to go… and it can be impossible to get into top restaurants, clubs and galleries once "everyone" hears about them. If you're serious about saving time and money during your precious travel, consider an annual Premium Membership and associated benefits that move you to the front of the queue.
Would you like to write a Paris or France travel story published here? Submit an article.
Subscribe for free and never miss a story. Search our library with 7,200+ stories and 50 original stories published monthly. BonjourParis has been a leading online France travel and French lifestyle site since 1995.

Please use our link to the world's largest online retailer, Amazon.com.
View our Top 100 Bestselling Amazon.com Items. (Wait for Amazon.com widget to load)
Want more? View our recommended France-themed books & items. Most recent listings at last pages.
Save an additional 5% on Auto Europe car rentals:

Auto Europe is your best choice for car rentals in France and Europe. Most competitive rates, no drop fees.
Bookmark & use our link for a 5% code discount here:  Auto Europe Car Rental
Don't overlook Auto Europe for international flights, click Auto Europe Flights