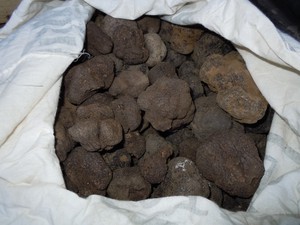 Why did you feel obliged to return to Noves?
Well, it was either the Auberge would close or I took over as my father was ill and couldn't continue. As a family member I couldn't see all those years of culinary glory disappear.
What is the history of Auberge de Noves?
My grandparents, Robert and Suzanne Lalleman, already owned La Petite Auberge, Sauveterre, where Suzanne's cuisine was much appreciated and, wanting a bigger house, bought the Noves auberge in 1953, it had been empty for 200 years, so was in a state of absolute ruin. The construction of the RN7 road to the South brought a glittering clientele, my grandparents and subsequently my parents, created an elegant stylish concept that won three Michelin stars.  The chapel, once the HQ of a sect of schismatic Catholics from the Atlantic side of France, is now transformed to rooms.
You grew up in Noves, why did you leave?
I clashed with my father André. He's a formidable man who wanted it all done done his way, I wanted to bring everything into the 21st century. One of the founders of Relais & Chateaux, Father's extremely literary, he's read all Shakespeare's works, in English!  I respect and admire him, he still lives upstairs, comes down every day, but is not the man he once was. My mother doesn't live here anymore.
Where did you go?
I went to England and helped Raymond Blanc launch Le Manoir aux Quatre Saisons. And then I travelled the world from Asia to Argentine to Zambia, studying cooking techniques and learning my craft. I also worked in France, it was Alain Chapel who impressed me, I feel very lucky to have been at Mionnay, while he was alive, his talented son Romain is continuing to do a great job to-day. In 2009 I worked in Paris at "Dinner in the Sky" another incredible experience, feeding diners hoisted up above the Tuileries Gardens. From my travels I learned that cuisine does not begin and end in France; it's planétaire, enriched by Asian, Spanish, Italian and American cultures.
Do you compare your situation to that of AnneSophie Pic?
Yes, in a way, although Anne Sophie had to put up with the fact that she was a woman in a man's world. I admire what she's achieved in recuperating the three Michelin stars, Pic's a wonderful maison, I should know I've worked there!
Is this your intention?
Of course I would like to get the stars back. We'll see what happens.
How do you describe your cuisine?
In rhythm with the seasons, using the bounty of  incredible local suppliers.
For my olive oil I never stray further than Vallée des Baux and my friends Christian and Laurent Rossi at the Moulin Saint-Michel.  Most of the vegetables come from my neighbours gardens. One of my menus is called "Le Menu des Voisins". Cheese comes from little producers and from Madame Deal who is "MOF" (Meilleur Ouvrier de France).
Every Saturday from November to March (the truffle season) I'm at Richerenches for the market. It's very interesting, there's a main road where truffles and local artisan products are sold to the public. Then there's the side street where truffle buying and selling from the boots of cars goes on in a very serious way, to professionals. There's a woman who has excellent truffles which she collects from her garden just up the hill. She's delighted with the extra cash. Last week I paid 500€ a kilo!
In January, on the Sunday of Saint Antoine, a Truffle Mass is held in the little village church. This traditional  event, celebrated here for 50 years, begins with a procession of the Brotherhood of the Knights of the Black Diamond. At this Truffle-Mass Sunday, the church collection is for truffles instead of cash! I always have lunch chez Jeannot, an incredible character who's worked with Michel Rostang, he owns a busy village bar/brasserie, makes the best truffle omelettes in the world; he's just in the process of handing over to his son, says he wants to come back next time as a truffle! www.escapade-resto.blogspot.com
What's your signature dish?
Definitely shoulder of lamb cooked in a salt and herb crust.
How old were you when you knew you wanted to become a chef?
Probably about six, my grandfather gave me a chefs toque when I was born. I have two sisters who were never really interested in the hotel or gastronomy, so it's all up to me to carry on to the next generation.
A few words about wine?
Above the Auberge fireplace, engraved in 1948 by a "compagnon" (qualified artisan) it reads: "Qui boit bon vin, fait bien la besogne" (he who drinks good wine works well). Wine has always been a passion in the family. There's Bordeaux vintages in the cellars bought by my grandfather; about 45,000 bottles down there: I have a great relationship with the local winemakers such as Didier Fabre of the historic Chateau Mont-Redon, Chateauneuf du Pape.
Domaine du Devès,
Route de Châteaurenard,
(10 mins from TGV station Avignon)
13550 Noves-en-Provence,
21 rooms & 2 suites from 150€-400€ + breakfast 22
Half board from 195-288€
Shut 4 January-11 February
Restaurant Shut Mon-Tues between May-October
Lunch 35€  – A La Carte between 65-115€ + wine
T: 04 90 24 28 28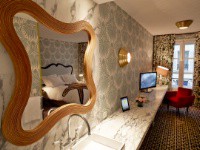 Meanwhile back in Paris:
Excellent start to 2011 for super-chef Jean-Franҫois Piège as he launches the 15-room, marble bathroom marvel that is Hotel Thoumieux. Stunning decor's by architect/designer India Mahdavi, expect i-Pads: i-Home, LED Screens, free mini-bar and Illy coffee machines. "It's a wonderful new adventure, I'm creating a country house hotel in town, the type of place where I want to stay, showcasing the art of welcoming guests", says Piège. It's his new young concept to match Thoumieux the brasserie, and his deffo up for a star in March apartment style gastro-resto. Expect to pay 200-300€ a night which includes hot croissants from his patisserie en face. More details in a future BUZZ.
79 rue Saint-Dominique, 7th
Metro: Ecole-Militaire
T: 01 47 05 49 75
Readers are constantly asking for authentic and out of the ordinary experiences when they come to Paris. Experience Paris – our newest travel partner – can arrange unique experiences in Paris and throughout France. When you contact Larry, please use the code BJ001.