When Is a Rose Really a Rose? Les Parfums de Rosine at Palais Royal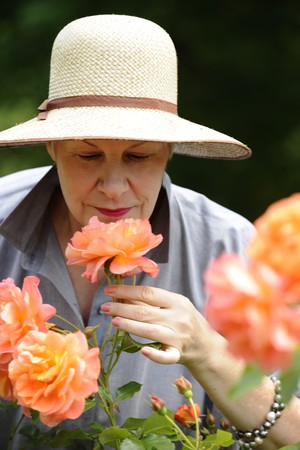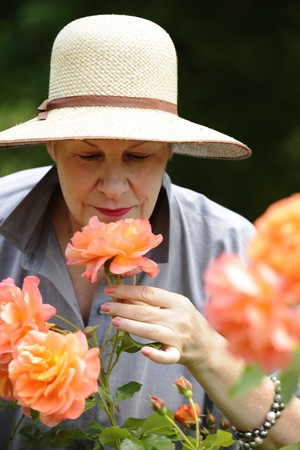 For Marie-Hélène Rogeon, the creator of the exquisite fragrance line Les Parfums de Rosine, a rose is a rose, no matter what the season is. From the windows of her gracefully decorated boutique overlooking the regal Palais Royal gardens and shopping arcades in Paris, whether it's winter or summer, Marie-Hélène's muse is a rose. All roses. Any rose. Roses are the queens in Marie-Hélène's kingdom.
I was privy to all this "coming up roses" passion from the moment I entered Les Parfums de Rosine and met Marie-Hélène. After a local florist delivered a gorgeous arrangement of roses for the boutique, we were ready to embark on a magic carpet of roses to learn about Les Parfums de Rosine and the history of fragrance in Marie-Hélène's family.
What many of us don't know is that in the hands of a master fragrance alchemist like Marie-Hélène, every rose has a different scent, naturally. That's right. Roses on bushes, roses with thorny stems…all roses smell different from one another. More than 7,500 different breeds of roses all have a distinct smell. This is only half the story behind Marie-Hélène's fascination with a flower that was first cultivated in China 5,000 years ago and was the source of conflict in the fifteenth century in England during the "War of the Roses." Perhaps the best-known romantic power of roses is that Cleopatra had her living quarters filled with the petals of roses so that when Marc Antony met her, he would long remember her for such opulence and be reminded of her every time he smelled a rose. Her scheme worked!  Remember that Valentine's Day is around the corner.
Not surprisingly, Marie-Hélène's great-grandfather, Louis Panafieu, created eau de cologne for Emperor Napoleon III. From an early age, a fascination with fragrances and their exquisite perfume bottles began to shape her life. Fed up with the commercialism of the perfume industry, Marie-Hélène used her rose garden in Picardy as her inspiration and laboratory and decided to open her own boutique in the Palais Royal and bottle her own fragrances, portraying real stories and created for independently-thinking women. Twenty years later, she has a line of more than twenty rose-based fragrances, perfumed candles, soaps and body creams.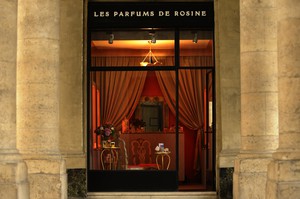 All Les Parfums de Rosine products are based on natural essences, and tons of dried rose petals, coming from different countries (Bulgaria and Turkey) and also locally (Grasse), are used to make the products. The perfumes from Rosine are available in eau de parfum, a concentration between perfume and eau de toilette, that lingers on the skin.
For women, the eau de parfums can be classified in two families of scent, one which is fresh and zesty and the other which is powdery and woody. For men, there is a woodsy and oriental scent, Rose d'Homme, and a woodsy, fresh scent with Twill Rose.
Each fragrance is named after a story or a feeling that is simultaneously translated into a fragrance, based upon the particular scent of a rose to which is added natural essences of, say, jasmine, iris, Peru Balsam (the ingredients in La Rose de Rosine, a voluptuous and velvety fragrance) and packaged in a bottle with a colored silk twill cord and tassel to reflect the emotion the fragrance evokes.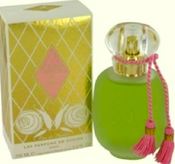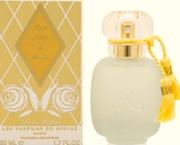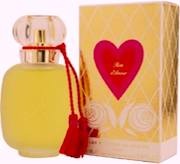 For her, fragrances like Rose Essence and Rose Absolue are the quintessential rose scents in her universe. Un Zest de Rose is a fresher fragrance; Rose d'Amour is more sensual. Clair Matin is the latest perfume in her repertoire, using roses from the first rose bush she planted in her garden: a vigorous briar rose with a tangy "dewy" scent.
Happiest in her kingdom where she is an alchemist who plants, cuts, prunes, and selects a rose for its fragrance which will be at the heart of her next creation, Marie-Hélène is a fragrance artisan who carries on the tradition of French perfume making.
Les Parfums de Rosine
105, Galerie de Valois, Paris 1st
Isabelle Kellogg has written several stories for BonjourParis about fascinating people and places of France, which you can read by clicking on her name to view her profile.

Subscribe for
FREE

weekly newsletters with subscriber-only content.
BonjourParis has been a leading France travel and French lifestyle site since 1995.
Readers' Favorites: Top 100 Books, imports & more at our Amazon store
We daily update our selections, including the newest available with a pre-release of 30% discount. Find them by starting here at the back of each section, then work backwards page by page.
Chanel, Dior, Christian Louboutin…choose your fashion icon and click on an image for details.
Click on this banner to link to Amazon.com & your purchases support our site….merci!
Leave a reply
Your email address will not be published. Required fields are marked *