Recipe: Flan au Chou-Fleur (Cauliflower Flan)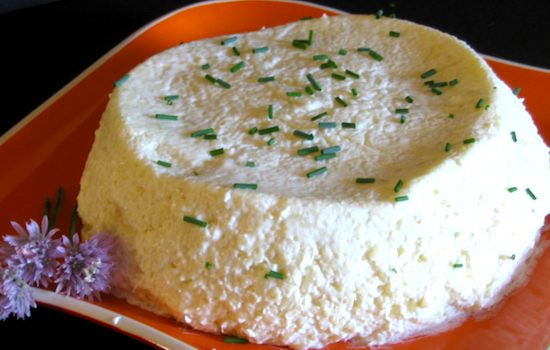 Flan au Chou-Fleur ~ Cauliflower Flan
A French recipe for cauliflower flan made with puréed cauliflower florets flavored with Roquefort cheese.
INGREDIENTS:
1 cup small cauliflower florets
1 cup light cream
2 Tablespoons butter mixed with 2 Tablespoons Roquefort
2 egg yolks
1 egg
For garnish: 2 tomatoes, peeled, seeded and diced
salt and freshly ground black pepper
PREPARATION:
Preheat oven to 300F. Butter 6 ramekins. Line a baking sheet with 2-3 layers of paper towels.
1. Bring a saucepot of salted water to a boil. Add the cauliflower florets and blanch for 5 minutes or until tender.
2. Drain them in a colander and transfer them to the bowl of a food processor.
3. Add the cream and blend until smooth. Season with salt and pepper.
4. Add the butter/Roquefort mixture and purée again until smooth. Bring some water to a boil while finishing the flans.
5. Add the yolks and the egg and process for about 5 seconds, just long enough to incorporate the eggs.
6. Fill the ramekins with the cauliflower and set them into the prepared baking dish. Pour in about an inch of boiling water and place them into the preheated oven.
7. Bake until the custards have set.
TO SERVE:
Remove the custards from molds and place onto individual serving plates. Season with salt and pepper and garnish each flan with about 1 tablespoon of the diced tomatoes.
Et voilà!
Debra Fioritto contributes delicious French recipes to Wednesday issues of BonjourParis. Click on her name to read more about her Tour de Forks culinary tours or to collect the many recipes she has shared here.
PHOTO CREDIT: Photo provided by Debra Fioritto

Subscribe for
FREE

weekly newsletters with subscriber-only content.
BonjourParis has been a leading France travel and French lifestyle site since 1995.
Readers' Favorites: Top 100 Books, imports & more at our Amazon store
Update your library…click on an image for details.
Thank you for using our link to Amazon.com…we appreciate your support of our site.
Leave a reply
Your email address will not be published. Required fields are marked *