Napoleon's Imperial Jewels: Legion of Honor Museum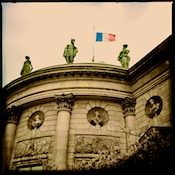 Le Musée national de la Légion d'honneur is now exhibiting a must-see historical first: the first public display of the entire collection of French Emperor Napoléon III's Ecrins impériaux or "Imperial Diplomatic Splendors from the Second Empire." Most people entering Le Musée d'Orsay pass the adjacent Musée national de la Légion d'honneur (National Museum of the Legion of Honor) without noticing. What a shame; the museum's permanent collection is worth a visit anytime but a temporary exhibition going on now makes this unnoticed gem a destination. The 150-piece ensemble, one of the rarest in the world, includes crown jewels, armor, Legion of Honor decorations and medallions owned by Napoléon III (nephew of Napoléon I) and his son, Prince Imperial Louis-Napoléon. Period clothing, battle paintings and other historical articles illustrate Napoléon I's vision, ascent to the throne and his lasting import role in French history. Emperor Napoléon I (Napoléon Bonaparte) created the Legion of Honor award in 1802 modeled on principles established by the Orders of Knighthood in the Middle Ages. The French government has owned most of the Napoléon III treasures since the royal family donated them in the late 1970s. Other articles are owned by The Napoléon Foundation and the National Museum of the Legion of Honor. The museum is located in the Hôtel de Salm opposite the d'Orsay Museum courtyard entry. Hôtel de Salm is a neoclassical palace extensively renovated over several years before its 2009 reopening. As an aside, the San Francisco Legion of Honor Museum is a reproduction of Hôtel de Salm in Paris. The Fine Arts Museums of San Francisco owns the San Francisco museum and pieces from the Paris museum are occasionally displayed there. The permanent collection of the National Museum of the Legion of Honor includes decorations and medallions awarded to military officers and civilians from France and other countries, hundreds of paintings displayed in a portrait room and ephemera dating back to the Middle Ages. The museum explains protocol that dictates how, where and when badges, ribbons and medallions shaped as fleurs-de-lys, rosettes, stars, crosses and other medallions are worn. Only the president is permitted to wear the Royal Collar and, in fact, it is a crime in France for anyone other than the owner to wear any of these decorations. Particularly stunning among the priceless gems is the Grand Collar of the Legion of Honor with Napoléon I's crest. The award remains today France's most important national decoration. It is awarded to individuals who demonstrate outstanding merit, no matter their nationality, social or economic class in reflection of France's motto liberté, égalité, fraternité. Merit is defined as acts of heroism, generosity or accomplishments in the arts and sciences or other activities deemed important, such as gold medal winners from international Olympic Games competitions. Every president of France serves as the Grand Master of the Order and he is above members ranked (from top to bottom) Grand Officers, Commanders, Officers and Knights. Foreigners installed as Knights include Americans Miles Davis, jazz musician, and novelist Toni Morrison. British winners include writers Nancy Mitford and JK Rowling. "Imperial Diplomatic Splendors from the Second Empire" is one of the most ornate displays in all of Europe. The temporary exhibition is free and open to the public until May 29, 2011. Practical Information
Musée national de la Légion d'honneur
2, rue de la Légion d'honneur, Paris 7th Tel: 01 40 62 84 25 Hours: Tuesday-Monday 1:00-6:00pm; closed Mondays Admission: Free Métro: 12, M: Assemblée Nationale or Solférino RER:  C, station: Musée d'Orsay Bus: 63, 68, 69, 73, 83, 84, 94 Vélib: 62 rue de Lille or 119 rue de Lille Museum shop on premises About the writer: As a child, Kirsten Alana listened quietly as her artist mother and Francophile godmother spoke French. Mesmerized by the musicality of the language, she was destined to share their love for the City of Light. A photographer by trade, Kirsten spends her spare moments perfecting her French accent and planning future travel. Her destiny will be fulfilled when she moves to her own Saint-Germain-des-Prés pied-à-terre. View
Kirsten Alana Photography
online.
SUBSCRIBE
ALREADY SUBSCRIBED?
BECOME A BONJOUR PARIS MEMBER

Gain full access to our collection of over 5,000 articles and bring the City of Light into your life. Just 60 USD per year.

Find out why you should become a member here.

Sign in

Fill in your credentials below.
Le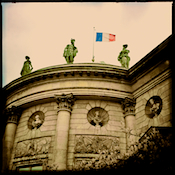 Musée national de la Légion d'honneur is now exhibiting a must-see historical first: the first public display of the entire collection of French Emperor Napoléon III's Ecrins impériaux or "Imperial Diplomatic Splendors from the Second Empire."
Most people entering Le Musée d'Orsay pass the adjacent Musée national de la Légion d'honneur (National Museum of the Legion of Honor) without noticing. What a shame; the museum's permanent collection is worth a visit anytime but a temporary exhibition going on now makes this unnoticed gem a destination.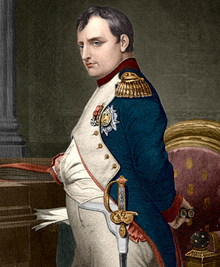 The 150-piece ensemble, one of the rarest in the world, includes crown jewels, armor, Legion of Honor decorations and medallions owned by Napoléon III (nephew of Napoléon I) and his son, Prince Imperial Louis-Napoléon. Period clothing, battle paintings and other historical articles illustrate Napoléon I's vision, ascent to the throne and his lasting import role in French history.
Emperor Napoléon I (Napoléon Bonaparte) created the Legion of Honor award in 1802 modeled on principles established by the Orders of Knighthood in the Middle Ages.
The French government has owned most of the Napoléon III treasures since the royal family donated them in the late 1970s. Other articles are owned by The Napoléon Foundation and the National Museum of the Legion of Honor.
The museum is located in the Hôtel de Salm opposite the d'Orsay Museum courtyard entry. Hôtel de Salm is a neoclassical palace extensively renovated over several years before its 2009 reopening. As an aside, the San Francisco Legion of Honor Museum is a reproduction of Hôtel de Salm in Paris. The Fine Arts Museums of San Francisco owns the San Francisco museum and pieces from the Paris museum are occasionally displayed there.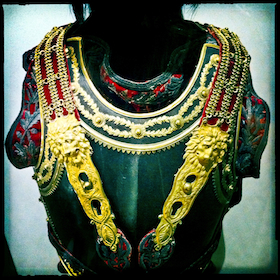 The permanent collection of the National Museum of the Legion of Honor includes decorations and medallions awarded to military officers and civilians from France and other countries, hundreds of paintings displayed in a portrait room and ephemera dating back to the Middle Ages. The museum explains protocol that dictates how, where and when badges, ribbons and medallions shaped as fleurs-de-lys, rosettes, stars, crosses and other medallions are worn. Only the president is permitted to wear the Royal Collar and, in fact, it is a crime in France for anyone other than the owner to wear any of these decorations. Particularly stunning among the priceless gems is the Grand Collar of the Legion of Honor with Napoléon I's crest.
The award remains today France's most important national decoration. It is awarded to individuals who demonstrate outstanding merit, no matter their nationality, social or economic class in reflection of France's motto liberté, égalité, fraternité. Merit is defined as acts of heroism, generosity or accomplishments in the arts and sciences or other activities deemed important, such as gold medal winners from international Olympic Games competitions. Every president of France serves as the Grand Master of the Order and he is above members ranked (from top to bottom) Grand Officers, Commanders, Officers and Knights. Foreigners installed as Knights include Americans Miles Davis, jazz musician, and novelist Toni Morrison. British winners include writers Nancy Mitford and JK Rowling.
"Imperial Diplomatic Splendors from the Second Empire" is one of the most ornate displays in all of Europe. The temporary exhibition is free and open to the public until May 29, 2011.
Practical Information
Musée national de la Légion d'honneur

2, rue de la Légion d'honneur, Paris 7th
Tel: 01 40 62 84 25
Hours: Tuesday-Monday 1:00-6:00pm; closed Mondays
Admission: Free
Métro: 12, M: Assemblée Nationale or Solférino
RER:  C, station: Musée d'Orsay
Bus: 63, 68, 69, 73, 83, 84, 94
Vélib: 62 rue de Lille or 119 rue de Lille
Museum shop on premises
About the writer:
As a child, Kirsten Alana listened quietly as her artist mother and Francophile godmother spoke French. Mesmerized by the musicality of the language, she was destined to share their love for the City of Light. A photographer by trade, Kirsten spends her spare moments perfecting her French accent and planning future travel. Her destiny will be fulfilled when she moves to her own Saint-Germain-des-Prés pied-à-terre. View Kirsten Alana Photography online.
More in battlefields france, Bonjour Paris, Chevalier, Context Travel, French architecture, French awards, French history, French politics, French president, French tourism, French-US politics, heirship in France, Hotel Salm, Museum, museum shop, Napoleon, Paris, Paris art exhibits, Paris art museums, Paris exhibitions, Paris galleries, Paris history, Paris museums, Paris photography, Paris restaurants, Paris sightseeing, Paris tourism, Paris tourist tips, royal jewels, US-French relations
---
---