Moulin Rouge, Cafe Moderne, GaultMillau BUZZ
Moulin Rouge
Since 1889 Le Moulin Rouge has been turning – if you haven't been to Le Moulin Rouge, immortalised by Henri de Toulouse-Lautrec, you haven't really been to Paris. Black silk stockings, ostrich feather plumes, garters, frills, frou-frous, rhinestones, what fun. To celebrate 120 years of the Can-Can, performed at the end of every show by the divine Doriss Girls, some must-have tchotchkes have been added to the boutique collection.
If a table lamp can be sexy, mat&jewski's feather/plume shades could definitely find a place in your boudoir; in a multitude of colours and sizes on brushed aluminium stands, they'll make cool Christmas presents. As will 1889 the new sensual signature perfume created by Gerald Ghislain of Histoire de Parfums. Notes of musk, iris and patchouli, a touch of absinthe, rose and cinnamon. Gri-gris to use as key-rings or hang from the Hermes. And bien sur, what is Le Moulin Rouge without the bubbles, so there's limited edition Billecart Salmon Brut Réserve Champagne.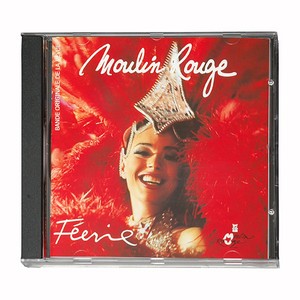 Want to put on your dancing shoes, and only want the Swarovski slippers as used by the dancers? Maison Clairvoy, who've shod celebs from Dorothy Lamour, Jane Russell, Johnny Halliday, to Kylie Minogue and Emmanuelle Beart, present two skyscraper styles in collaboration with couturiers On Aura Tout Vu.
Plan an evening with a gastronomic dinner created by Michelin star chef Laurent Tarridec and a choice of three different menus (French CanCan, Toulouse-Lautrec, Belle Epoque) or a la carte. Or, if you prefer, just take in the show, with or without bubbles. Prices are from 80-180€ depending on your choice. Whatever, you'll have fun. They've spent 8 million euros creating the latest spectacle "Féerie," 1,000 costumes, 800 pairs of shoes, an aquarium, Shetland ponies, five pythons and so much more. Who needs Vegas?
Moulin Rouge
Place Blanche, 82, boulevard de Clichy, 18th
Metro: Blanche
T: 01 53 09 82 77
Café Moderne
Café Moderne, just behind the old Bourse, was launched by Frederick Hubig-Schall a few years back (he also owns the excellent Astier in the 11th), and it keeps getting better. Hubig's passionate about wine, surveys the front of house, welcoming clients who adore the personal touch, his advice on wine. "Because wine lists are often confusing, I've created Cafe Moderne's by price," he says.
Beavering away in the kitchen is the incredibly talented Jean-Luc le Francois (ex- L'Astor & Prunier). Don't expect tradi bistro dishes, but twists and spins thereon. The menu changes every two weeks. It has to because the lunch bunch are local Hedgies and heavy hitting Bankers. There are at least five big banks within spitting distance of CM.
Five starters include a delicate Fine tartelette de légumes d'automne, petit gris au beurre de persil. A soothing Velouté de potimarron, cromesquis de jarret et de pied de porc and Grosses crevettes zébrées, feuille-à-feuille de tomates anciennes et caviar d'aubergines. From six mains, choose Noix de Saint-Jacques contisées aux trompettes de la mort, mousseline de choux fleur blanc et violet or Pigeon de Vendée rôti aux châtaignes, betteraves, Chioggia croustillante. Excellent with a glass of, say, Chateau Puy-Lacoste. Pauillac cru classé. Continue with cheese and salad, and don't miss classic Millefeuille à la vanille bourbon or Tatin de poire à la cardomane, glace caramel au beurre demi-sel.
You won't get in at lunchtime if you don't book.
Café Moderne
40, rue Notre Dame des Victoires, 2nd
Metro: Bourse
T: 01 53 40 84 10
Open Mon-Sat 8pm-11pm
Lunch 28€ Dinner 35€ + wine
Le Guide France 2010
"Petit revolution dans le monde gastronomique," announced the French press as GaultMillau 2010 reached bookshops/kiosques.
After 40 years of marking out of 20 (marvellous Marc Veyrat achieved the impossible 20), the 3560 restos are now recognised with toques chef's hats, question marks, "d" for discoveries, pink hearts for coup de coeur, bunch of grapes for remarkable wines and parasols for terraces. Yellow keys mark 1580 hotels. It's all done by symbols, wonder if there's a Braille version?
Chef of the Year is William Ledeuil of Ze Kitchen Galerie and Kitchen Galerie Bis. Ledeuil comes out on top, after « longues délibérations » against Arnaud Lallemand of L'Assiette Champenoise, Tinqeux and Edouard Loubet, La Bastide de Capelongue, Bonnieux.
GM highlights « talents of tomorrow » and Adeline Grattard of Yam'Tcha, Paris, joins 22 young regional talents. Worth the cover price just for the 2000 addresses at 30€ or under.
Twelve chefs/restos win the maximum five chef's toques. In Paris the winners are: Alain Passard (Arpege), Pierre Gagnaire, Guy Savoy, Yannick Alleno (Le Meurice), Pascal Barbot (Astrance), Alain Ducasse & his Executive chef Christophe Moret at Plaza Athenee.
And when will GM do a few pages in English, please?
Le Guide France 2010
Please post your comments or questions and let them flow. Register HERE to do so if you need a user name and password.
Leave a reply
Your email address will not be published. Required fields are marked *