Le Clarisse, Chez Clement, Best Baguette & Palace Hotels
Le Clarisse, Paris 7th
Sadaki Kajiwara, the new toque at Le Clarisse, recently taken over by gregarious entrepreneur Jean-Philippe Pluvinet, is a product slut. Only the best for his spotless rue Surcouf kitchen. Vegetables come from Les Vergers Saint-Eustache. Boucherie Lamartine supplies him with Boeuf de Coutancie, La Sablaise with fish and Toshiro Kuroda, "the man of 1,000 sakes," with the sakes suggested with many of Sadaki's dishes. Credit Jacques Génin for caramels and Le Coq Saint Honoré for the tender chickens.
And talk about tender—rush to rue Surcouf to taste La Poulette de Bresse en 2 services. The first is lemongrass-flavored broth in which float chicken leg raviolis. The second features cabbage-wrapped white meat with foie gras. Roasted mango adds a touch of sweet-sour. It's perfect and looks set to become Clarisse's signature dish. Pluvinet suggests sake Dassai 23, Kuroijin d'exception poli à 77% (21€) "for its notes of white flowers and lychees," or a glass of Chambolle Musigny 2007, Joseph Drouhin (18€).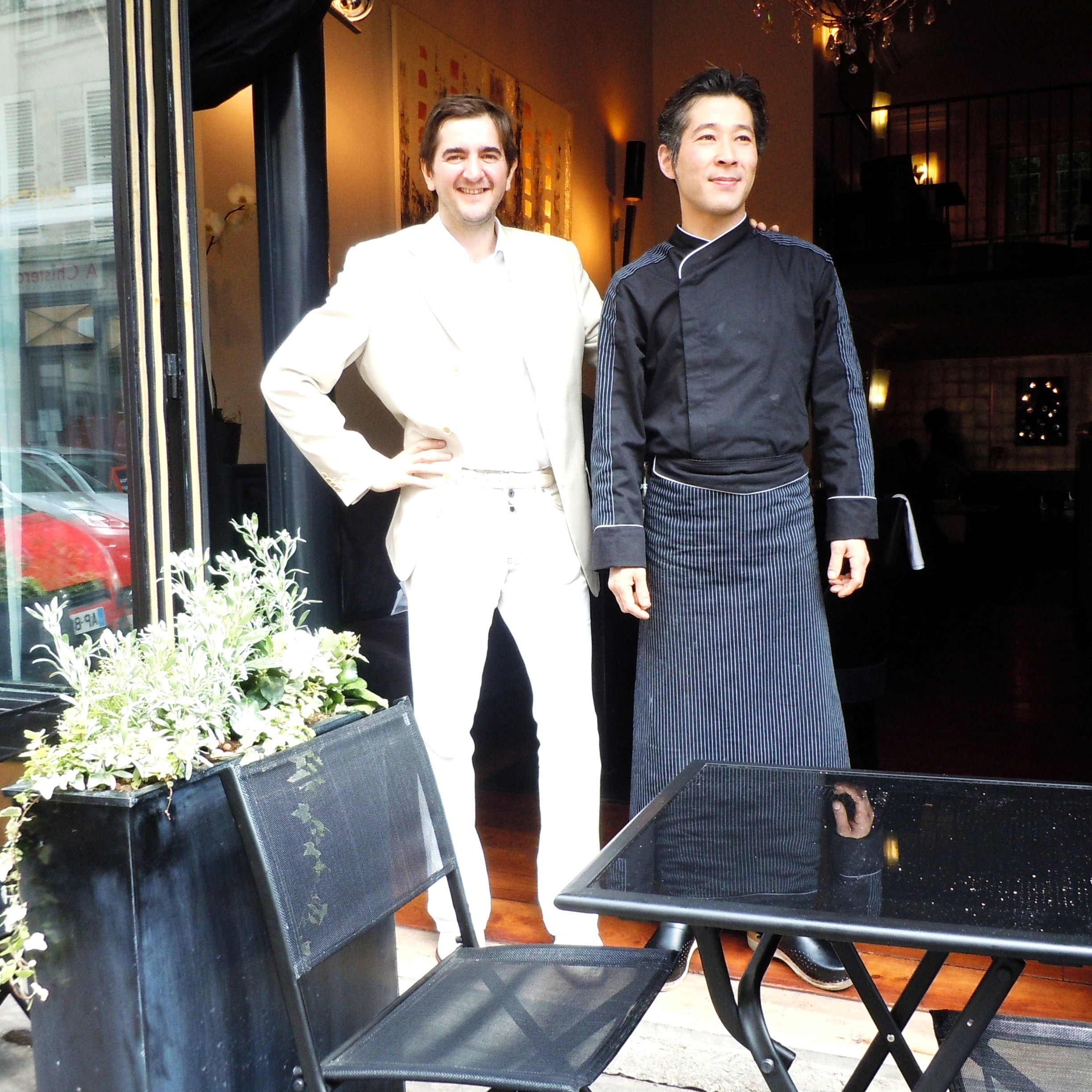 Clarisse's airy space, on two levels, has been revised and corrected with contemporary furniture and paintings, black velvet banquettes. State-of-the-art tableware by JL Coquet is a frame for the minimal presentation of Sadaki's dishes. He's been in France for 10 years, although he only looks about 10—lucky him. No doubt of his talent honed at the top L'Ecole Tsuji, Osaka and subsequently chez Wada Chimpe, Osaka, who introduced him to French gastronomy. Arriving in France in 2001 he went straight to Kenzo's kitchen, as second, at Kong, then to Catherine and Jacques Lacipière's, Bon Accueil and Les Anges.
I first tasted Sadaki's light and lovely creations at Le Cercle du 17th, a frankly unimpressive bar-restaurant near Porte Maillot. I still can't figure out why he was there, but when word got out of his cooking, you couldn't get a table—it became a hidden cult addy. Now it seems he's found his level having met the charming, discreet Pluvinel, a former finance wizard who admits he spent more time in restaurants than his office. "But I know what I expect of a restaurant, I had the best training," he grins.
Pluvinel and Sadaki planned the re-birth of the 40-seater Clarisse for six months. It's their concept; you'll see it's got a unique identity, read: Zen. Apart from the must-taste chicken, start with Carpaccio of Dublin Bay prawns, ponzu jelly. Mains are La Terre, say, Rack of Lamb, slow cooked, with emulsion of coconut and green curry. La Mer includes a chunk of tender Turbot roasted with smoked butter, Swiss chard and pork belly. Finish with delicate Banana Cheesecake, caramelised with dark salted Okinawa sugar, Maple Syrup Japanese style. Chez Clarisse a star is born.
Le Clarisse
29, rue Surcouf, Paris 7th
Métro: Invalides/Latour Maubourg
Tel: 01 4550 1110
Open: Mon-Friday Lunch & Dinner; Sat: dinner only; Shut Sunday
Valet Parking
Terrace
Lunch formula 35€
Average spend à la carte: 52€ + wine
Chez Clément, multiple Paris locations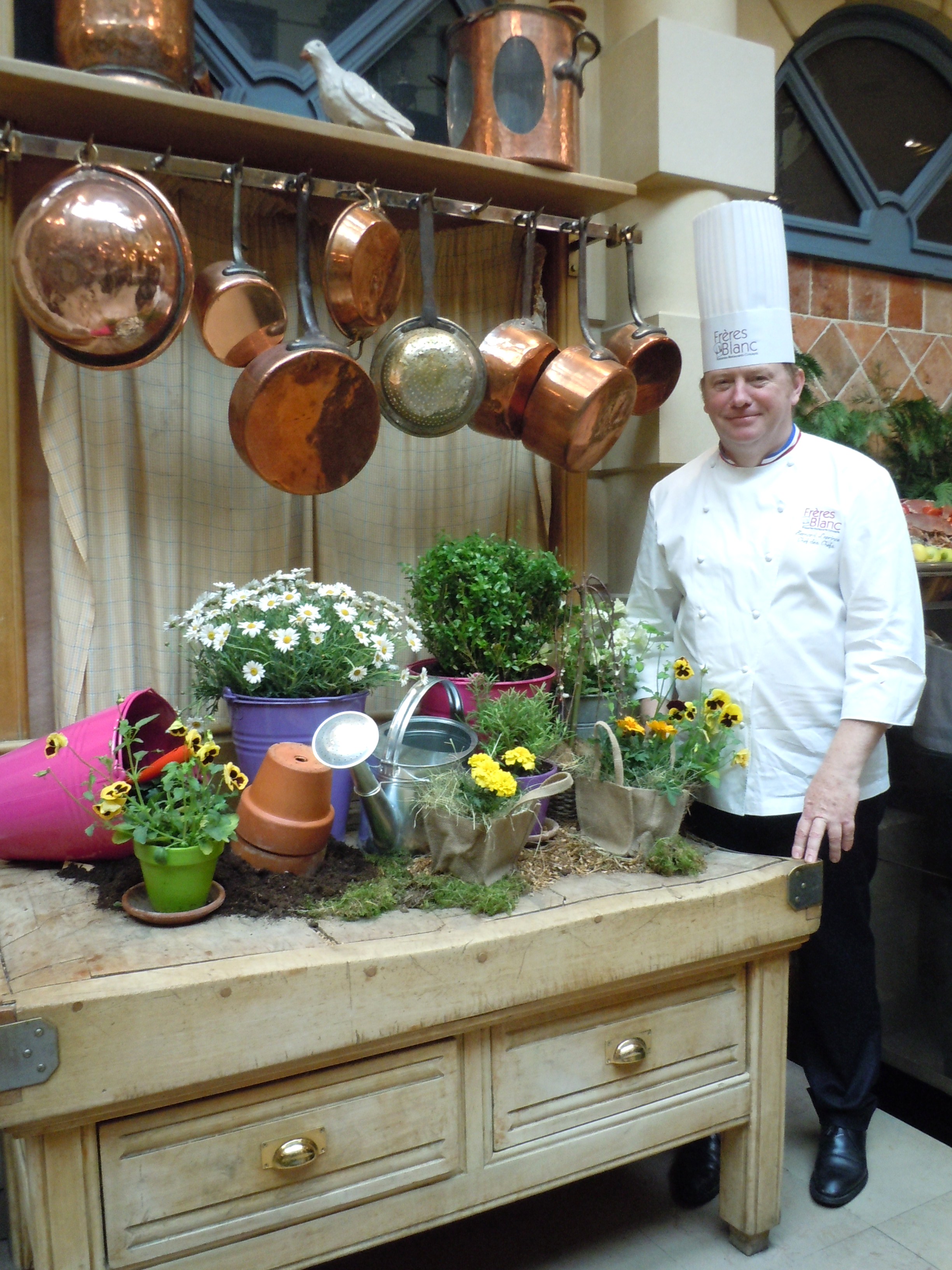 Chez Clément, you can take to your heart. Lovely country house hotel décor with copper pots and pans, more tchotchke than you can shake a stick at. How nice to wander in (or book) on a warm day (lunch or dinner all day service) and order a glass of apricot wine which comes with a slice of nutty cake. It'll take a while to choose from the extensive menu, so this will come in handy if you're hungry.
Spring/summer menus launched this week. All the dishes are under the supervision of "Chef des Chefs" Bernard Leprince (MOF), who quips he's always loved slaving over a hot stove. Well, Bernie, rather you than me. "We serve 1,000 covers on weekends, so you know the food's fresh," says Leprince. He's an ex-Ledoyen, Savoy, London, Tour d'Argent, Fouquet's and Prunier trencherman, one of the old school, none of your molecular for our Bernie.
There are daily specials. Tuesday it's Stuffed Tomatoes, Basmati rice. Thursday Cod 'n' Aioli with fresh vegetables. Sunday, Roast Leg of Lamb with the trimmings. You can tell a good chef by his omelettes; Chez Clément uses organic eggs with fresh herbs and adds thick-cut chips and salad. If you like oysters, they offer plenty of regional molluscs, and the Royal Clément Platter at 37€ is majestic with smoked salmon and toasted Pain Poilâne.
There are garden-fresh salads, good old-fashioned roasts, fresh fish and seafood, cooked as you like by a white-toqued team in an open kitchen. Cheese and desserts such as soothing Crème Brûlée and ice creams made with Tahiti and Madagascar vanillas are excellent. If, like me, you would kill for an old-fashioned Strawberry Melba, don't hesitate. And, from Monsieur Clément's wine cellar, a Côtes du Rhône by Belleruche Chapouter (26.5€), red or white and ice-cold beers, nice in summer.
Clément Blanc created the famous Au Pied de Cochon in Les Halles in the 1940s and when his sons, Pierre and Jacques, created their first restaurant in 1992, they named it for dad. "Chez Clément" is now part of group Frères Blanc with a yearly turnover north of 117 million euros for the 11 restaurants "Chez Clément" and 13 brasseries in Paris, La Rochelle and Luxembourg.
Chez Clément
123, Avenue des Champs-Elysées, Paris 8th
Métro: Charles de Gaulle-Étoile
Tel: 01 4073 8700
Open 7/7
Menus from 14.90-27.95€
Little Clément (under-12) 5.80-12.75€
Wine by the glass from 2.95€
Super-Palace Hotels in France
The eagerly awaited results of France's Super-Palace luxury hotels has resulted in quite a lot of angst. This week a French government-appointed committee elected the magnificent 8 and in Paris they are: Le Bristol, Le Meurice, Park-Hyatt Vendôme and Plaza Athénée. Away from the capital: Le Palais, Biarritz, Les Airelles and Le Cheval Blanc, Couchevel and Le Grand Hôtel, Cap Ferrat.
Not on the list are Four Seasons George V, The Ritz and Le Crillon (well, Crillon's undergoing major works at present, although still open for business). With elegance, as the Plaza is included, Dorchester Group's François Delahaye sniffed: "Excluding hotels such as the Ritz and George V removes all credibility from the list." New palaces Royal Monceau and Shangri-La are not eligible; to be considered they must be open at least 36 months. Go figure, it's becoming Monopoly out there in hotel-land.
Best Baguette in Paris 2011:  Au Levain d'Antan, Paris 18th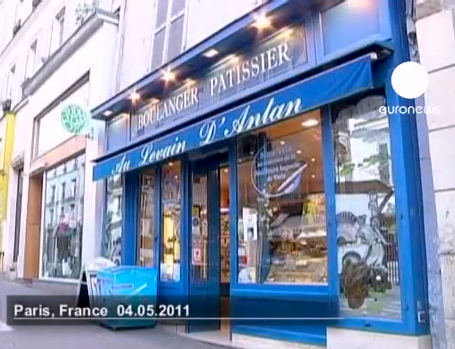 "Are you sure it's me?" Pascal Barillon, winner of the 2011 Best Baguette in Paris competition, is reported to have asked. You bet. His bakery Au Levain d'Antan on rue des Abbesses is on the same street as last year's victor, Djibril Bodian; maybe there's something in the air of the 18th arrondissement.
This is the 17th year of the competition, Grand Prix de la Baguette de la Ville de Paris. Pascal wins 4,000€ and supplies the Élysée Palace for one year.
"This is the 7th time I've taken part," he admits. "Our baguette is the fruit of long hours of very hard work. I'm so happy for the team," he says.
There were 174 participants, judged by a jury of six gastronomes, who took part in a draw on www.paris.fr, where 800 baguette-o-philes applied.  A very serious business indeed. Barillon showed he could rise to the occasion and he'll watch his chiffre d'affaires climb by 30-40%.
Au Levain d'Antan, Paris 18th
6, re des Abbesses, Paris 18th
EuroNews video of competition
Margaret Kemp is a British-born Cordon Bleu graduate who traveled the world and worked in the kitchens of the world's top chefs in Australia, Asia, the USA and France before becoming a food and restaurant writer. Her Sunday columns feature interviews with prominent chefs plus the latest restaurant and entertainment news published exclusively for BonjourParis Premium Members.
Do you have a story or review to share with our readers? Please contact us.
Subscribe for free so you don't miss a story. Search our library with 7,200+ stories and 50 original stories published monthly. BonjourParis has been a leading online France travel and French lifestyle site since 1995.
Thank you for using our direct link to: Amazon.com. Your supports allows us to publish BonjourParis.
Check Francophiles Favorites for French-themed items for travelers and Francophiles. Most recent listings at last pages. 
Short-cut to our 100 Top Selling Items

(Please wait for widget to load—updated daily)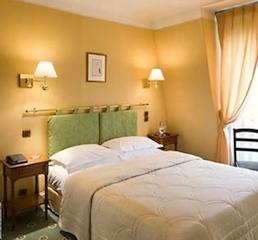 A Paris hotel we think you'll like . . .
Hotel Madison is a contemporary hotel in the chic Saint-Germain-des-Prés Left Bank quarter. Modern suites have free Wi-Fi, satellite TV, continental breakfast in the French breakfast lounge and a stylish on-site bar. This is a great base for Left Bank shopping and attractions. Please consider booking your hotel stay through our partner, Booking.com, part of Priceline.com—if you find the same room for less, Booking.com guarantees to match the price! Booking.com with your guaranteed lowest price for this hotel or any of their international hotels.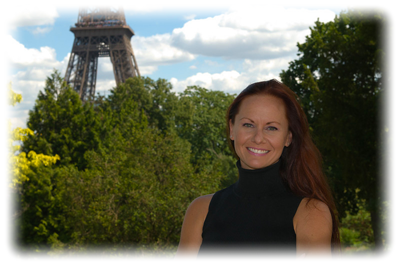 Don't squander a moment of your Paris visit—let Lisa Buros-Hutchins of Your Paris Experience arrange anything and everything, including planning your honeymoon and/or making dinner reservations at special restaurants. Nothing is beyond her. Say BonjourParis referred you for extra TLC.
Leave a reply
Your email address will not be published. Required fields are marked *