Jamin and La Folle Avoine Buzz
Jamin Just inside the door of the new Jamin there are menus by Pierre Troisgros and Guy Savoy given pride of place. "They're an hommage to two people who have had a big influence on my life", explains Alain Gras, who just launched Jamin. If the name sounds familiar it was once Joel Robuchon's restaurant where he notched up his 3rd Michelin star in 1984. the rest is history. The new décor is caramel, the walls punctuated with contemporary art work by the likes of Soulages, Cocteau, Miro, Bram van Velde, all from the private collection of Alain Gras. Upstairs showcases display his collection of Asian art and there's a bucolic view onto a garden. In the kitchen young talent David Legrand, who worked with Pras at La Butte Chaillot. "There's so many delicious dishes you know you have to return", says Alain Neyman (
www.lesrestos.com
). Begin with Salade Multicolore de Gambas Croustillantes au Sésame or Millefeuille de remoulade aux ecrivisses. "We wanted a "tribute dish" to Monsieur Robuchon", explained Alain Pras. It's the incredible classic, Merlan facon Colbert. First take your whiting, splay open the back, remove spine, deep fry, fill its' cavity with herb beurre Colbert. It's crisp, crumbly, not a touch of fat present, serve with Robos'  legendary pomme purée. Sometimes there's a hint of Asia, Filet de Bar Poêlé, Riz « Thaï » sauté à la Citronnelle, Sauce Coco-Curry, a nod and a wink to the first- floor art collection, good thinking. There are three dishes for veggies including Tagliatelle aux Ecrivisses, nice paired with a 2007 Pessac Léognan Croix de Carbonnieux white (42€). Or the red 2005 Le Bordeaux de Maucaillou (23€) with tender Suprême de Pintade, Risotto Crémeux aux Champignons et Châtaignes or the succulent special, Parmentier de Boeuf. Desserts are spectacular, as in Sablé aux Figues Rôties, Glace au Miel , a wicked Paris-Brest, with its' verrine of vanilla flavoured Crème Anglaise. "This is not for the diet crowd – that's why we've added a fresh fruit salad", grins Alain Pras. "It's my favourite dessert", explained Pras who comes from Roanne and worked chez Troisgros for eight years, before coming to Paris to join Groupe Guy Savoy. Jamin, to be taken without moderation. Jamin 32 rue de Longchamp, 16 Metro: Boissiere, T: 01 45 53 00 07 Lunch 26€ or 3 dishes 30€ Dinner – 3 courses 33€ A La Carte from 33€ + wine Private room for 30 on the first floor
www.restaurant-jamin.com
Valet parking Shut Sat lunch & Sunday La Folle Avoine I have to hand it to Pascal and his equipe (
www.restoaparis.com
); they sniff out excellent addresses like truffle hunting terriers. This week Pascal's nose took us to La Folle Avoine, a bistro chic located across from ministerial offices on what the locals call "la rue des ministères" , next door to Home Colours, the perfect gift boutque. Chef Rudy worked in Megeve, at Port Alma and for Jean-Pierre Vigato at Apicius. He's been cooking since he was seven, and pops up from his subterranean hell's kitchen from time to time to check out the reaction of his faithful clients. A table of six, who come every week from the country, always order the dessert souffle, that meant we had to choose something else, because everyone wanted one and Rudy'd run out of oeufs. Walk in, the decor's modern mauve with, mirrors, Audrey Hepburn's on the wall. But what knocks you out is Marie Pierre, chef Rudy's right-hand woman. MP is serving, taking orders, pouring wine and smiling to welcome you. How does she do it, what's she on – are we still in Paris? Bach Herbal Remedies that's the answer, forage on the bar and you'll find the leaflets and not only will you eat superbly you'll be off to the pharmacy across the road to buy your Bachs: before or after you've done the retail therapy chez Home Colours, you decide. Rudy changes the menu constantly and there's much chagrin among the regulars that he's barred La Brochette de Foie Gras" . Choose from four starters, five mains, pay the extra 3€50 for fab fries, purées served in Kilner jars, Fricassée de champignons frais. The bread's warm for mopping – get there fast before he stops doing Curry d'Agneau aux Saveurs des Indes or Linguine au chèvre, noix et epinards frais. Also demand the souffle when you walk in or take half a dozen eggs with you, in case, and book because MP was refusing, there's only room for about 20. And about the
Bach Original Flower Remedies
, they were developed by Dr Edward Bach, a Harley Street doctor, Bacteriologist, Homeopath and Researcher. He believed that attitude of mind plays a vital role in maintaining health, recovery from illness. Bach identified 38 basic negative states of mind and created a plant or flower based remedy for each one. Kate Blanchett, Selma Hayek, Jennifer Anniston are fans, and Marie-Pierre can advise you, but not while she's serving, give the girl a break! "We named the restaurant La Folle Avoine (Wild Oats) after my favourite remedy", she says. La Folle Avoine, 91 rue de Grenelle, 7th Metro: Solferino 1 Dish & Coffee 20€ Starter, Main or Main, Dessert 25€ Starter, Main, Dessert 30€ Includes a glass of wine at lunch T: 01 45 51 02 59
www.lafolleavoine.fr
  Please post your comments or questions and let them flow. Register
HERE
to do so if you need a user name and password.
SUBSCRIBE
ALREADY SUBSCRIBED?
BECOME A BONJOUR PARIS MEMBER

Gain full access to our collection of over 5,000 articles and bring the City of Light into your life. Just $60 a year.

Find out why you should become a member here.

Sign in

Fill in your credentials below.
Jamin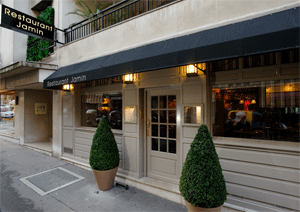 Just inside the door of the new Jamin there are menus by Pierre Troisgros and Guy Savoy given pride of place. "They're an hommage to two people who have had a big influence on my life", explains Alain Gras, who just launched Jamin. If the name sounds familiar it was once Joel Robuchon's restaurant where he notched up his 3rd Michelin star in 1984. the rest is history.
The new décor is caramel, the walls punctuated with contemporary art work by the likes of Soulages, Cocteau, Miro, Bram van Velde, all from the private collection of Alain Gras. Upstairs showcases display his collection of Asian art and there's a bucolic view onto a garden.
In the kitchen young talent David Legrand, who worked with Pras at La Butte Chaillot. "There's so many delicious dishes you know you have to return", says Alain Neyman (www.lesrestos.com). Begin with Salade Multicolore de Gambas Croustillantes au Sésame or Millefeuille de remoulade aux ecrivisses. "We wanted a "tribute dish" to Monsieur Robuchon", explained Alain Pras. It's the incredible classic, Merlan facon Colbert. First take your whiting, splay open the back, remove spine, deep fry, fill its' cavity with herb beurre Colbert. It's crisp, crumbly, not a touch of fat present, serve with Robos'  legendary pomme purée. Sometimes there's a hint of Asia, Filet de Bar Poêlé, Riz « Thaï » sauté à la Citronnelle, Sauce Coco-Curry, a nod and a wink to the first- floor art collection, good thinking.
There are three dishes for veggies including Tagliatelle aux Ecrivisses, nice paired with a 2007 Pessac Léognan Croix de Carbonnieux white (42€). Or the red 2005 Le Bordeaux de Maucaillou (23€) with tender Suprême de Pintade, Risotto Crémeux aux Champignons et Châtaignes or the succulent special, Parmentier de Boeuf.
Desserts are spectacular, as in Sablé aux Figues Rôties, Glace au Miel , a wicked Paris-Brest, with its' verrine of vanilla flavoured Crème Anglaise. "This is not for the diet crowd – that's why we've added a fresh fruit salad", grins Alain Pras. "It's my favourite dessert", explained Pras who comes from Roanne and worked chez Troisgros for eight years, before coming to Paris to join Groupe Guy Savoy. Jamin, to be taken without moderation.
Jamin
32 rue de Longchamp, 16
Metro: Boissiere,
T: 01 45 53 00 07
Lunch 26€ or 3 dishes 30€
Dinner – 3 courses 33€
A La Carte from 33€ + wine
Private room for 30 on the first floor
Valet parking
Shut Sat lunch & Sunday
La Folle Avoine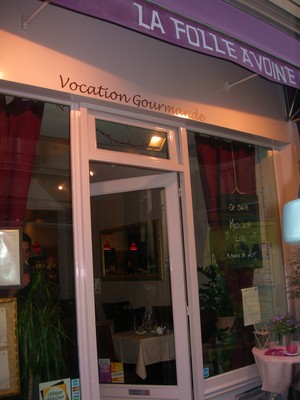 I have to hand it to Pascal and his equipe (www.restoaparis.com); they sniff out excellent addresses like truffle hunting terriers. This week Pascal's nose took us to La Folle Avoine, a bistro chic located across from ministerial offices on what the locals call "la rue des ministères" , next door to Home Colours, the perfect gift boutque.
Chef Rudy worked in Megeve, at Port Alma and for Jean-Pierre Vigato at Apicius. He's been cooking since he was seven, and pops up from his subterranean hell's kitchen from time to time to check out the reaction of his faithful clients. A table of six, who come every week from the country, always order the dessert souffle, that meant we had to choose something else, because everyone wanted one and Rudy'd run out of oeufs.
Walk in, the decor's modern mauve with, mirrors, Audrey Hepburn's on the wall. But what knocks you out is Marie Pierre, chef Rudy's right-hand woman. MP is serving, taking orders, pouring wine and smiling to welcome you. How does she do it, what's she on – are we still in Paris? Bach Herbal Remedies that's the answer, forage on the bar and you'll find the leaflets and not only will you eat superbly you'll be off to the pharmacy across the road to buy your Bachs: before or after you've done the retail therapy chez Home Colours, you decide.
Rudy changes the menu constantly and there's much chagrin among the regulars that he's barred La Brochette de Foie Gras" . Choose from four starters, five mains, pay the extra 3€50 for fab fries, purées served in Kilner jars, Fricassée de champignons frais. The bread's warm for mopping – get there fast before he stops doing Curry d'Agneau aux Saveurs des Indes or Linguine au chèvre, noix et epinards frais. Also demand the souffle when you walk in or take half a dozen eggs with you, in case, and book because MP was refusing, there's only room for about 20.
And about the Bach Original Flower Remedies, they were developed by Dr Edward Bach, a Harley Street doctor, Bacteriologist, Homeopath and Researcher. He believed that attitude of mind plays a vital role in maintaining health, recovery from illness. Bach identified 38 basic negative states of mind and created a plant or flower based remedy for each one. Kate Blanchett, Selma Hayek, Jennifer Anniston are fans, and Marie-Pierre can advise you, but not while she's serving, give the girl a break! "We named the restaurant La Folle Avoine (Wild Oats) after my favourite remedy", she says.
La Folle Avoine,
91 rue de Grenelle, 7th
Metro: Solferino
1 Dish & Coffee 20€
Starter, Main or Main, Dessert 25€
Starter, Main, Dessert 30€
Includes a glass of wine at lunch
T: 01 45 51 02 59
Please post your comments or questions and let them flow. Register HERE to do so if you need a user name and password.
More in Bonjour Paris, culinary tourism, culinary travel, Dining in Paris, Eating in Paris, Food Wine, France, France cuisine, France restaurants, Neighborhood, Paris, Paris bistros, Paris bistrot, Paris cafes, Paris cuisine, Paris restaurants, Shopping
---
---
Comments