La Grande Verriere & Cave Beauvau BUZZ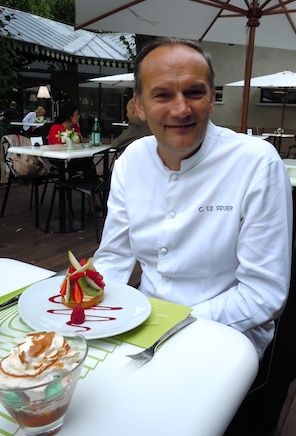 La Grande Verrière, Paris 16th
Christian Le Squer, 3-star Michelin chef at Pavillon Ledoyen Champs-Elysées and also at Etc. near the Arc de Triomphe, just added a bucolic address to his resto portfolio: La Grande Verrière, located in the Bois de Boulogne's Jardin d'Acclimatation. This is the poshest park in Paris, on the edge of NAP (Neuilly, Auteuil, Passy). The complex includes a farm, a zoo and adventure and amusement playgrounds for children, mostly accompanied by uniformed nannies during the week, by their Birkin-toting mums and Hugo Boss-style dads on weekends.
"Our challenge here is to feed the whole family at one table with healthy and delicious dishes," explains Le Squer. "For the young ones, we've got burgers and chips. The beef is organic and everything is made in house."
For weight-watching teens, salade de pamplemousse/fenouil aux herbes. Or Remoulade de carotte à l'orange. For the rest: Les Oeufs Coques: L'Un Epicé, L'Autre Fumé. And for mains: Nems Croustillants de brandade de poisson/sauce tartare. Poulet citron/foie gras faҫon pastilla. Brochette de boeuf aux saveurs différentes. Le Squer is delighted with the desserts, which includes his version of Vanilla Millefeuille and Fraise Melba. In the vast steel open kitchen Yannick Quemin (ex-Ledoyen) leads the team.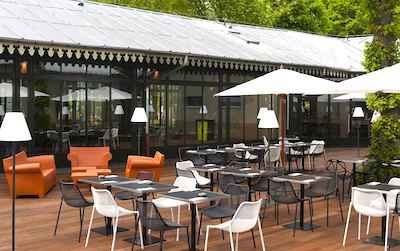 From Le Snack menu, available all day: Caesar Salade Poulet ou Gambas (21€). Chicken or Smoked Salmon Club Sandwich (23€). Croque Monsieur (18€). Carpaccio de Boeuf ou Saumon (20€) Frites, salade mesclun (7€). Try Trois Petits Macarons, Tarte aux Fruits Frais or the freshly made ice-cream coupes. "Les Joies de Sofi" Glace vanille, caramel au beurre salé, amandes croustillantes, éclat de macarons, chantilly vanille. Red Côtes du Rhône Villages, Puisseguin Saint-Emilion (26€ bottle 7€ glass) White Val de Loire Menetou Salon, Bourgogne Maison. Rosé, Côtes de Provence, Luberon.
The stunning décor is by Christian Ghion (Boutique Chantal Thomas and Gaya Restaurant for Gagnaire, etc.) On the vast terrace: green and white tables, made from Ghion's signature Corian® material, are shaded by parasols and giant lime trees.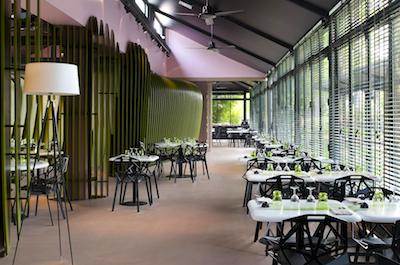 Inside, giant pillars, ceiling-high modules shaped as vegetation, give the impression of a greenhouse where terracotta, coffee, chocolate, grass and marshmallow colours are juxtaposed with delicacy and voluptuousness. The tables, in white Corian®, have a vegetal motif, the whole atmosphere brings to mind a modern-day Déjeuner sur l'herbe, Manet's famous painting.
The Bois de Boulogne is a wonderful space to discover, by bicycle, on foot or take the "Little Train."  Formerly a hunting reserve and site of a château that housed several royal mistresses over the years, the Bois was made into a park by Napoleon III and much of it is still wonderful woodland, rivers, wildlife and lakes. On the Lac Inférieur, hire rowboats.
Leave by nightfall, unless you fancy a free cabaret of multinational transvestites baring giant silicone breasts and more!
PRACTICAL INFORMATION
La Grande Verrière
Tél: 01 45 02 09 32
Jardin d'Acclimatation at Bois de Boulogne, Paris 16th
Enter via Sablons gate
Métro: Porte Maillot, then take Le Petit Train
Open 7/7 365 days of the year, 10am-7pm (6pm in winter)
Menu (3-courses) 35€ + wine
Under 10 – Menu at 15€
Entry to Park 2.90€
La Cave Beauvau, Paris 8th
"You can count authentic French bistrots on the fingers of one hand, in Paris and Provence," says Le Figaro's top restaurant critic Maurice Beaudoin. In Paris he likes La Tour Montlhéry, Le Bistrot Paul-Bert. In Cannes, La Cave; Toulouse, Les Abattoirs: Lille for Le Bistrot de Pierrot and in Bidart, La Cucaracha. "These never let you down, the owners put excellent products on the plates, without the chichi of some young mavericks who call themselves chefs," he insists.
Adding La Cave Beauvau to this list, he calls it "the real thing." Credit goes to passionate host Stéphane Delleré (ex-Gavroche and Duc de Richelieu), who is always behind the handsome zinc, juggling superb bottles, offering tastes of everything, not the way to make a profit, you're chez lui and your shared happiness means more than a few euros to this exceptional man.
Located just across from the Elysées Palace, he hasn't offered a glass to you-know-who. He thinks he spotted Carla in a nearby art gallery the other day, but that's as good as it gets. Their loss, eh! La Cave buzzes from 7am when people stop by for coffee and croissants and to discuss this and that with their friend Delleré. In the evening a Segovia-style guitarist serenades the mainly-French clientèle. It's an authentic bar/bistro atmosphere, like you see in the 1950s movies. Belmondo walks in, orders at the bar, and eats in a quiet corner on the second floor. Oeuf mayo. A dozen escargots, harengs marinés, museau vinaigrette. Mains he likes are the signature dish of the Cave, Andouillette de Pays Grillée. Or, Côte de Boeuf pour deux. Pied de Porc au Four. Coquilles Saint Jacques, Confit de canard. He'll follow with a perfectly ripe Saint Marcellin and the blonde will play with Tarte du Jour, Baba Au Rhum. Borsalino will tip his hat to Beaudoin as he turns up his collar and leaves, "Ziz guy knows 'is onions," he'll sigh.
PRACTICAL INFORMATION
La Cave Beauvau Bar-Restaurant (no website)
Tél: 01 42 65 24 90
4, rue de Saussaies, Paris 8th
Métro: Champs Elysées-Clemenceau
Average Spend 35€ + wine
Shut Sunday & until 22nd August
Margaret Kemp is a Cordon Bleu graduate who spent a year traveling the world, working and watching in the kitchens of top chefs from Sydney, Australia via Bangkok, Hong Kong, California, New York and France. She reports for BonjourParis on the latest European trends, restaurants and hot spots.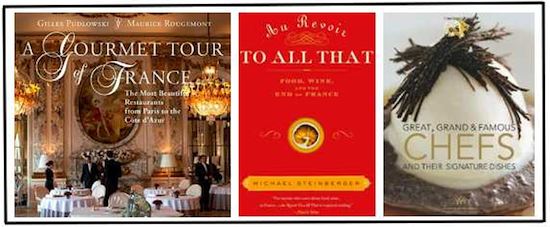 1. A Gourmet Tour of France: Legendary Restaurants from Paris to the Côte d'Azur
2. Au Revoir to All That: Food, Wine, and the End of France [includes Michel Troisgros, Gagnaire, etc.]
3. Great, Grand & Famous Chefs and Their Signature Dishes [includes Troisgros, Bocuse, Ducasse & Robuchon, etc.]

One-stop shopping for air, hotel & car rental deals:
To rent a car with a 5% discount for BonjourParis.com readers who use this link to Auto Europe Car Rental
To rent a hotel, click Auto Europe Hotels
To buy international flights, click Auto Europe Flights
Leave a reply
Your email address will not be published. Required fields are marked *