Paris Reasonably Priced Hotels: Jardin Cluny, Duquesne Eiffel, Paix, Marronniers, Mama Shelter, Turenne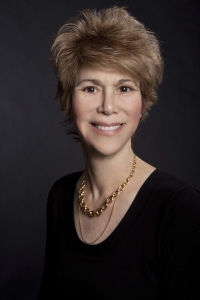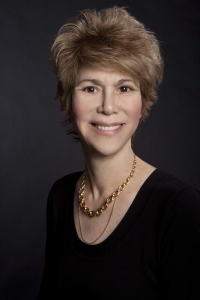 Don't expect thicker than thick Terrycloth robes and amenities by Hermès, but the following hotels are more than correct, as the French say. Rooms tend to be small, so if you're traveling with three suitcases for an extended trip, you may want to consolidate your Paris clothes into one and leave the others in the hotel's locked storage room. If you have anything of value, please place the items in the safe.
Please note: Prices aren't listed since they change according to the time of the year, and sometimes, there may be last-minute specials.
Hôtel Turenne Le Marais

, 3-star, Paris 4th
When I moved to Paris 23 years ago, this hotel was more than tired. Even though it was two minutes from our apartment, there was no way I could book a friend in it and not even an enemy.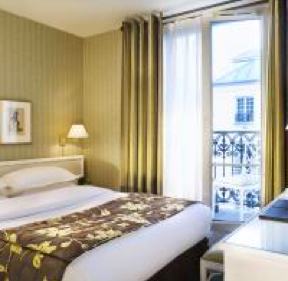 As is the case with so many hotels, it's undergone renovation and in this case, it was done in 2009. The 41 rooms are still tiny (oh, the wonders of a wide-angle lens) but its location, on the side of the Place des Vosges, is ideal for people who want to stay in the Marais.
For those who can't live without air-conditioning, a new system was installed in 2010. The rooms have free DSL, flat-screen TVs and free Wi-Fi in the lobby. The hotel has gone from one to three stars and most people give it good reviews.
Mama Shelter

, 3-star, Paris 20th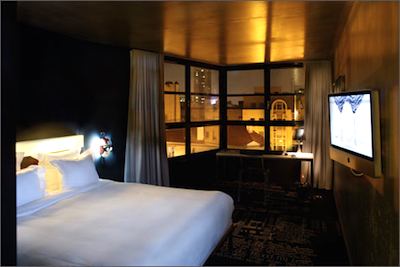 This is one of the newer in and hip hotels that's winning awards right and left and where the beautiful gather. Located in the up-and-coming 20th arrondissement, it's a fast walk to Père Lachaise.
The 170 rooms are sensually decorated and each has an iMac, microwave and free Wi-Fi; included in the deal are free movies (even XXX-rated). Philippe Starck designed the hotel, so if you're looking for traditional, this hotel isn't for you. On most weekends, there's live music. Don't be surprised if you see a lot of models who've chosen to make Mama Shelter their Paris home.
Best Western Le Jardin de Cluny, 3-star, Paris 5th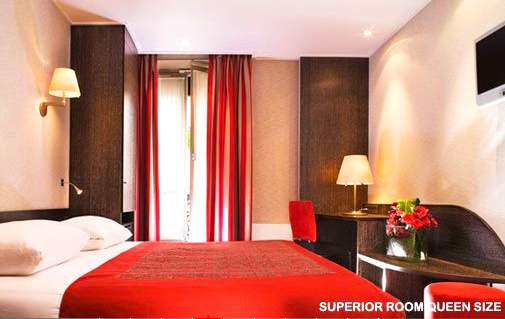 When some Americans hear Best Western, they don't jump up and down to reserve a hotel room. You shouldn't come to the same conclusion in Paris, where Best Western is a well-respected booking chain.
If you want to be in the Latin Quarter and near the Cluny Museum in the 5th arrondissment, you should consider staying here. Yes, the rooms are small, but they've been redone and are eco-friendly. It's a quick walk to Notre-Dame, the Pantheon, Saint-Germain-des-Prés and the Seine. The hotel has 40 rooms; book a superior room if you want one that's been most recently renovated. All rooms are air-conditioned and yes to free Wi-Fi. Guests say the hotel's staff is very accommodating.
Hôtel de la Paix

, 2-star, Paris 14th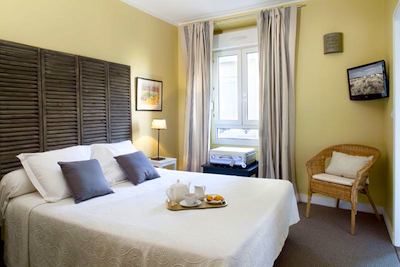 This is a hotel I hesitate revealing but will since it's a favorite where many of my friends and guests stay. Renovated less than two years ago, the lobby has a dark club-like feel, but the 39 rooms are light and airy and the bathrooms are comme il faut.
What some people don't realize is the 14th arrondissement is across blvd. Montparnasse from the 6ème. Just crossing the street means prices tend to be lower and in this case, we're talking a few meters.
Yes, you can be at Le Dôme, Le Select and many of the cafés where the artists and writers drank, including some featured in the film Midnight in Paris.
Hôtel des Marronniers

, 3-star, Paris 6th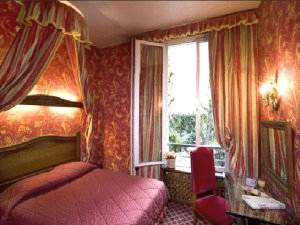 For people who wouldn't stay anywhere other than Saint-Germain-des-Prés and don't want to spend a fortune, this hotel is a jewel, not to mention, a find. The décor is very old fashioned but the hotel was upgraded with the addition of air-conditioning and free Wi-Fi. If you love antiques and art galleries, the rue Jacob is your kind of street. Enter the hotel's courtyard and you feel as if you're in a different world and there's no bling. The rooms are tiny but all overlook the courtyard or the garden, where you can have breakfast or a drink weather permitting. The hotel is a favorite with so many people who knows it's the best value in this "chic-er than chic" quartier.
Duquesne Eiffel Hotel France

, 3-star, Paris 7th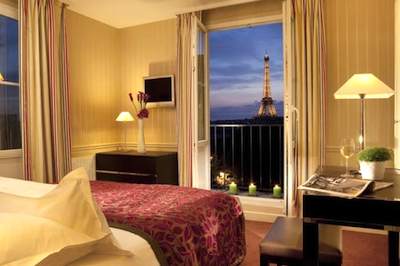 If you like the 7th arrondissement, this hotel may very well be for you. Located near the Invalides and UNESCO, it was renovated from top to bottom in 2008. It's elegant and inviting and the standardiste (person who answers the phone) makes no bones that if you want to snag one of the rooms with a view of the Eiffel Tower, you should book at least six months in advance during high season. The 40-room hotel offers three sizes of rooms. The standard room will feel very small if you're staying more than a couple of nights. Therefore, you're better off booking a comfort room or even the larger one if you want to have a bit more space. Six rooms have balconies and they're highly sought after. The best room in the hotel is #55 since its birds-eye view of the Eiffel Tower is nothing less than spectacular.
This area isn't as central for metros (not to say there aren't plenty) but generally, you'll need to change trains. Buses to and from the area are first rate and the Rue Cler Market is a favorite.  If you're feeling language challenged, most vendors and restaurants speak English.
People frequently ask in which area they should stay and there's no right answer. One of the pleasures of Paris is that each neighborhood is different and you should "sleep around" until you find the one that feels as if it's yours.
If you've stayed in any of these hotels, please share your experience below—your feedback is important.
© Paris New Media, LLC
Do you have a story or review to share with our readers? Please contact us.
Subscribe for free so you don't miss a story. Search our library with 7,200+ stories and 50 original stories published monthly. BonjourParis has been a leading online France travel and French lifestyle site since 1995.
Thank you for using our direct link to: Amazon.com. Your supports allows us to publish BonjourParis.
Check Francophiles Favorites for French-themed items for travelers and Francophiles. Most recent listings at last pages. 
Short-cut to our 100 Top Selling Items

(Please wait for widget to load—updated daily)

 

 

 

 

 

 

 

 

Paris Shuttle is a leading provider of Paris airport transfers…save up to 30% by booking your airport transfers in advance online.
Leave a reply
Your email address will not be published. Required fields are marked *