Gaya Rive Gauche: A Pierre Gagnaire Restaurant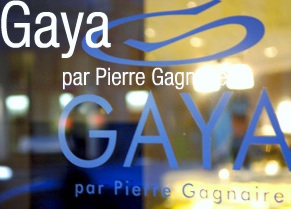 Chef Gagnaire's presentations satisfying presentations
My one regret from a dine at Gaya Rive Gauche was not having snapped photos of every plate that appeared at our table. Each offered intricate mélanges of color and texture—pale and fluid in some, vibrant and ostentatious in others. This magical display certainly brought debate over ingredients but also allowed for marveling over the ability of the chef to address all the senses. This is what Chef Pierre Gagnaire hopes for in each dish, be it an amuse-bouche spoonful of mayonnaise lightly flavored with ginger and lemon sorbet, or a fluffed serving of white fish that can only be ordained as the essentials of sea, the sensation of tasting, even being one with, the ocean.
Elegant modern ambience, attentive service
The spare space at 44, rue du Bac, Paris 7th, feels expansive, largely due to a design that includes pale mauves and ivories shocked with darker wavy forms embroidered on table cloths. A demure modern touch stays at arms' length to a seductive lighting plan reflecting slate gray walls, with a result that sets the tone for an adventuresome evening. Once seated, the ambiance for the duration reveals itself in the eased collected manner in which the server suggests drinks, returning after a time to insure all is well and offer menus only once we are ready to peruse.
Le menu
The menu, too, claims categorization that veers from the conventional, with its sections Mise en Bouche, Insolites, Essentiels, Pêche Modeste and Marée Noble. Fish offerings dominate, with meat dishes here and there. In the end, to conform to starter, main course, and dessert can defeat the experience. Better to mix and match and share a bite or two to optimize this culinary journey. Though our group of four delighted in the menu choices, we also sensed a willingness to oblige specific requirements or inclinations.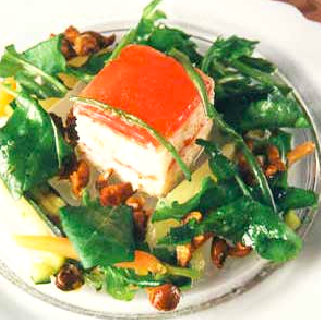 Starters arrived in ornate presentations placed at the center of oversized white plates. Small portions favored the multiple bursts of flavors, here a pronounced edge of a spice that prompted clarification, there a clear-cut mouthful of the freshest fish. Some examples: The pressé de tourteau was crab meat assembled in a round with small shrimp and almonds bound in a light mayo; carpaccio de dorade royale was a delicate white fish thinly sliced in a violet carrot mousse spiced with cumin. Gâteau de foie blonde (receiving the highest marks) was roasted gambas (large shrimp) served with strips of dried duck and red beets in a bitter sauce.
For main courses, the lieu jaune (pollack) was cooked in a crab bouillon and served sliced on a bed of string spaghetti with a brush of tomato sauce. Coquilles St. Jacques were roasted and served with Thaï grapefruit knobs and a surround of turnips in a white port sauce. The wild bass bar sauvage was arranged on a bed of oversized sea salt granules with drizzled Vietnam oil, a cornucopia of veggies plus a scoop of anise chestnut ice cream. All exemplary.  The meat dish did not disappoint either. The thinly sliced nearly raw contrefilet came with mushrooms and potatoes fried with Nantais shallots.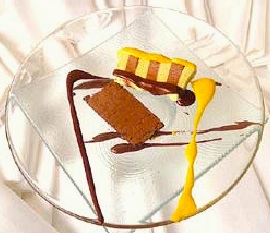 We had enough room for a chocolate on chocolate on chocolate dessert and by then, thanks to an excellent bottle of red 2007 Faugères Intemporelle (organic and light with hints of the garrigue), I'd stopped making mental notes but can attest to this dessert's cocoa punch speckled with nuggets of decadent innovation.
Poetic inspiration for chef and guests
Our memorable soirée was indeed like appreciating a work of art, as Pierre Gagnaire himself declares:
Le peintre exprime avec ce qui lui est propre des choses qui appartiennent au domaine de l'indicible.
Il donne à voir, il donne à partager.  Et moi j'aime ce partage.
J'ai besoin de mettre de la poésie dans les assiettes.
La présentation, le dressage m'apprennent l'harmonie et me font rencontrer une forme de paix.
Translation:

The painter expresses by extracting that part of himself found in indescribable things.
He makes it visible, he offers it to others.
I love this type of sharing, and feel a need to put poetry in my food.
The presentation and preparation teach me harmony and help me come in contact with a level of peace.
Tel: 01 4544 7373
44, rue du Bac, Paris 7th
Métro: Rue du Bac
Reservations strongly suggested
Kathleen Comstock is a writer and lover of France who lives in Paris and Massachusetts. Her most recent book on France is Vieilles Filles and Other Tales from France. More at kcomstock.com.
See more of Paris! Here are some of our favorite tours: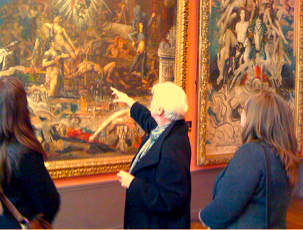 Medieval Churches of Paris: Discover some of Paris's most beautiful and lesser-known churches in the company of a medievalist, a perfect theme for history buffs and travelers on pilgrimages.
Louvre French Masters: Escape the crowds in the Italian wing of the Louvre while learning from an art historian who explains the evolution of French art from the late Gothic period to the monumental 19th century paintings of David and Delacroix.
Leave a reply
Your email address will not be published. Required fields are marked *