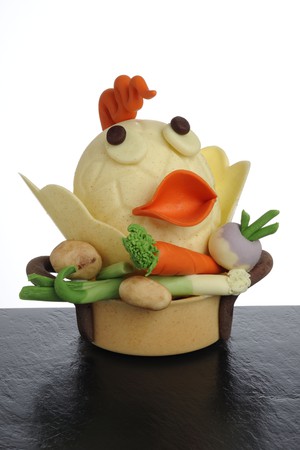 Camille Lesecq gets inspiration for his incredible patisserie while rollerblading around Paris. On one of his trips he found a boucherie selling "Poule Au Pot" freshly made by the butcher's wife. This is now a dessert!
Normandy-born Lesecq, who's only just 30, was voted Pastry Chef of 2010 by Le Chef magazine. He trained with Christophe Felder at Le Crillon and is now Executive Pastry Chef at Le Meurice, working in tandem with Yannick Alleno, where his technically perfect, delicious creations include Cubic Tarte Tatin, La Pomme d'Amour, decontructed milles-feuilles and an edible black chocolate doll with blonde curls, photographed by Studio Harcourt.
When chef Alleno launched his "Terroir Parisien" menu, with locally sourced ingredients, paying tribute to the Ile-de-France region and its suppliers, Lesecq wanted to create desserts to match. For Easter he's inspired by the result of his rollerblading trip with poule au pot. "It was originally declared the national dish of France by King Henry IV and the pot hung above fireplaces in which families cooked whatever came their way", explains Lesecq. He says the dish probably originated in the Gâtinais region.
Now Lesecq's transformed Le Poule au Pot into a cluckingly delicious dessert! The chick's body is white chocolate, decorated with almond paste vegetables. "I want it to appeal to children and grown-ups", Lesecq says. No problem there boy—I want it, we all do!
Le Poule Au Pot available at:
Le Dali restaurant until 25 April 2011
29€
Reservations: 01 44 58 10 10
Terroir Parisien Lunch – 90€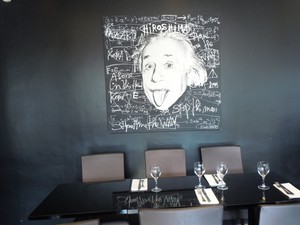 In très chic Neuilly (you're in Bettencourt country babe) is Durand Dupont brasserie. The two gentleman are no longer here but you should be, a great address. It's relaxed, professional, perfect if you go to Neuilly market on Sunday when brunch is served. During the week there's a very mixed crowd who pack the garden-terrace. Lovers, mothers and daughters, men and women from nearby Porte Maillot Palais des Congrés—why on earth don't they remove the badges hanging round their necks like they might forget who they are at any moment?
The food, by chef Fatty (he's gorgeous and skinny, that's why he hasn't changed his moniker), is "cuisine du monde". "I've worked all over the world and try to give my menus a taste of what I've experienced", he explained.
Eat on the sheltered landscaped terrace and glance up at the really posh buildings behind. Order Fatty's signature "St. Jacques en risotto Carnaroli et pointes d'asperges. Wonderful texture, delicious premières asperges. The service is friendly, not intrusive. From 13 starters: Artichoke salad, shaved parmesan. Foie gras with fig marmalade. Crispy chicken spring rolls, Salmon tartare with avocado. Oysters Gillardeau No. 3. Fines Claires No. 2. "Oscietre caviar, toast, evenings only", the menu insists. Bit odd that? Nice pastas, as in Crab and Asparagus stuffed cannelloni, lovely, plump, very sensual, lip-smacking. Go for a main of Grilled squid with Espelette chili spices, arugula, parmesan. Honeyed Black Cod, Basmati rice (not Nobu, but nice). Lemongrass scented chicken, Thai noodles. Grilled sirloin steak, hand-cut French fries. Excellent. And to finish Mère Richard's Saint Marcellin or Cheesecake, red berry coulis. Chocolate and hazelnut macaron, passion fruit sorbet. Or, chef Fatty's favourite, Chocolate Molten cake with homemade vanilla ice cream. Bread's good too.
14 place du Marché, Neuilly
Metro: Porte Maillot (Line 1)
T: 01 41 92 93 00
Open 7/7
Sunday Brunch 40€
Average Spend 45€
Ivano Giordano is what the French call "une valeur sûre". A passionate chef who, alert readers know, recently moved from the Left Bank to the Right. "I wanted a smaller place with an open kitchen where I could chat with my clients, instead of never coming up from the coal-face", he explained.
The architect-designed space on rue Pierre Demours works really well and there's a blackboard of the day's marketing, which he's done at Rungis at 3am in the morning.
Italian specialities, learned from his mother and his travels.
Now you can take away and swear you've made it. Ivano's opened "Le Traiteur" next door. There's a bar for a quick lunch, cappuccino, a plate of superb jambon Parme, San Daniele or Norcia and 4 different types of plateaux repas: Venise, Rome, Florence, Milan at 15€.The romantic garden room can be privatised; just tell Ivano what you want and he'll whip it up faster than you can say Lamborghini Gallardo supperleggera.
Le Rital,
23-25 rue Pierre Demours, 17th
Metro: Ternes
Open 7/7
T: 01 46 22 02 33
No site yet
If you're travelling in Europe you'll need the 30th Michelin Guide to Main Cities of Europe. Listings in 44 cities in 20 European countries, reliable hotel addresses, guest houses, Bib Gourmands and star restaurants. There are 58 2-stars with 6 new, such as Ramon Freixa, Madrid, The Restaurant, Zurich, Olo, Helsinki, Onyx, Budapest, Les Ambassadeurs, Paris and Hélène Darroze at The Connaught, London. Tim Raue, Berlin will have competition at the end of 2011 when Pierre Gagnaire sets up his team at the soon-to-open Waldorf Astoria. The Bib Gourmands offer good quality-price cuisine and there are 239 to choose from, with 46 new.