Soupe aux Asperges ~ Creamy Asparagus and Leek Soup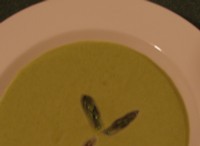 Bonjour, Printemps! Can you feel the spring in the air? I'm starting to and it is always such a happy time, isn't it? Longer days, my favorite flowers—daffodils, tulips in bloom and primeurs, as well as the first vegetables of spring, like asparagus. Voilà:
Soupe aux Asperges ~ Creamy Asparagus and Leek Soup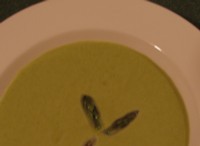 2 medium-sized leeks
10-oz. package of frozen aspargus cuts, defrosted
2 Tablespoons unsalted butter
2 cups chicken stock
salt and white pepper to taste
1 cup half-and-half
Freshly grated nutmeg
PREPARATION:
1. Trim leeks, leaving just a bit of pale green parts. Split the leeks lengthwise and rinse. Dry the leeks and slice enough to measure 1 cup.
2. Melt the butter in a medium-sized saucepan. Turn the heat to medium-low and add the leeks. Cover pan and cook for 5 minutes. Make sure the leeks do not brown.
3. Add the asparagus and toss to coat with the butter. Stir in the stock and season with salt and pepper.
4. Cover and simmer over medium heat for 10 minutes.
5. Remove the pan from the heat and set aside to cool.
6. Transfer the soup into a blender and puree.
7. Return the soup to the pan, reheat.
8. Whisk in the half-and-half but do not allow soup to boil.
To serve:
Ladle the soup into 4 bowls and sprinkle with ground nutmeg.
Debra Fioritto contributes delicious French recipes to BonjourParis—follow her at: @DebraFioritto on Twitter,Fabulous French Food, Julia's Paris & Provence and Tour de Forks Uncommon Epicurean Adventures.
Subscribe & be first to receive 50 original France travel & French lifestyle stories every month: free subscription. Search the BonjourParis library of over 6000+ stories & find it's your most complete online France travel resource since 1995. RSS feed available.
Check out our Amazon.com Boutique for the very latest stock in anything & everything for travelers & Francophiles. Books, fashion, electronics, accessories, home décor & more. New items added weekly. Same competitive prices & speedy delivery & your purchases support costs of keeping BonjourParis the most complete France travel resource.
Search hint: start at the back pages for the most recent stock.
Short-cut to our 100 TOP SELLING ITEMS

(please wait for widget to load)
We recommend hotels we know & which are rated highly by recent past guests:

Be smart! Reserve your hotel at Booking.com…then keep shopping online & if you find a better rate for the same deal, contact Booking.com for your BEST PRICE MATCH GUARANTEE.
Bookmark this link & use it everytime you shop so your preferences are stored & deals are updated when you return: Booking.com.
Leave a reply
Your email address will not be published. Required fields are marked *