BUZZ: Oscar Wilde, L'Hotel, Ante Prima, The Club & Shang Palace
L'Hotel, Paris 6th
The new exhibition at Musée d'Orsay is "Beauté, morale et volupté dans l'Angleterre d'Oscar Wilde." Small wonder there are big lines waiting to see it: Wilde and his contemporaries still fascinate. After the expo, what better than to head straight for L'Hotel where he once lived beyond his means and died grouching about the awful curtains . . . or was it the wallpaper?
He'd have nothing to grouch about with the hotel today. The former Hôtel d'Alsace, as it was named in Oscar's time, was acquired by Curious Hotels, who commissioned architect Jacques Garcia to make it look as if nothing has been done. It's gorgeous. So romantic, lovers kissing all over the place . . . get a room, guys, there are 20 to choose from but do book ahead, and reader, check out the curtains, they're nickel.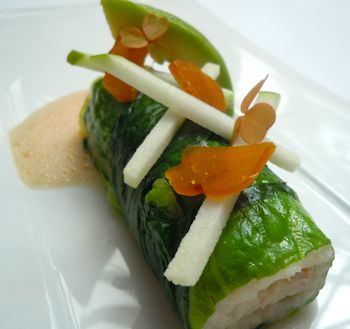 Julien Montbabut is now executive chef; he worked here before with Philippe Bélissent, whom you can now find at Cobéa. Montbabut has an impressive formation which takes in École Ferrandi, Fermette Marbeuf, Ledoyen, and Grand Cascade. His menu's short and market driven. A freebie starter of beetroot mousse, lightly smoked eel sets the tone. Bruno Paillard Champagne rosé at €60 a bottle or €12.50 a glass. The sommelier's hip and switched on, looks a bit like a young Oscar W.—he'll talk you through some great wines. Gianluca Faustini's restaurant director; you'll remember him from Emporio Armani Caffé and Table du Lancaster.
Montbabut has carte blanche to buy the finest products and says his pan-fried frog legs with pink garlic bouillon, green risotto of Fregola sarda sell out daily, as does grilled Patagonian beef, jus of thyme and smoked potatoes, to be mopped up with Eric Kayser's perfect baguette. Cheese is from Fromagerie Quatrehomme and desserts are themed around seasonal fruits. In the bar, Carlos Madriz is a dab-hand with the shaker, he's got at least 16 signature cocktails, such a show-off!
Tél: 01 4441 9900
13, rue des Beaux Arts, Paris 6th
Métro: Saint-Germain-des-Prés
Le Restaurant (shut Sun-Mon)
Lunch: 12:30-2:30pm Tuesday-Saturday; €42-52 or A La Carte
Dinner: 7:30-10pm Tuesday-Saturday; A la Carte about €95 + wine
Sumptuous Buffet Breakfast: €16
Tasting menus: €95-160 wine pairings possible
Stay the night rooms & suites from €285-795€
Spa, hammam, private two-person pool in stone cave
"Beauté, Morale et Volupté dans l'Angleterre d'Oscar Wilde"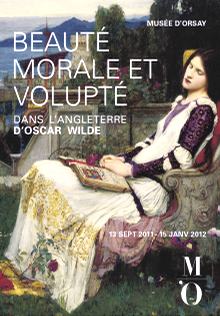 ("Beauty, pleasure and morality in the England of Oscar Wilde")
Exhibition at Musée d'Orsay
Open now through January 15, 2012
1, rue de la Légion d'Honneur, Paris 7th
Métro: Solférino
RER: Line C, Musée d'Orsay
Hours: 9:30 am-6pm Tuesday through Sunday; 9:30am-9:45pm on Thursday. Last entry 30 minutes before close. Shut Monday.
Entry: €8 Adult; discounts available–see site
Exhibition moves to U.S. next:
"The Cult of Beauty: the Victorian Avant-Garde, 1860"
The exhibition is organized by the Victoria and Albert Museum, London, and the Fine Arts Museums of San Francisco in collaboration with the Musée d'Orsay, Paris.
at the San Francisco Legion of Honor Museum
February 18, 2012 through June 17, 2012
Ante Prima, Paris 8th
Chez Ante Prima's Vanessa Izerzer is your "femme clef." A hip Parisian who's lived in NYC, Vanessa has made Ante Prima her home. It's located in the complex that is a spectacular hôtel particulier owned by film director Luc Besson. Part of it houses his production company, so Ante Prima is buzzing with L.A.-type movie talk at lunch and hosts special invitation pre-film screening dinners at night. You can organise your own rave there and they'll cater for you. You need to be a member for this, with a precious "golden ticket;" so, if Vanessa takes a shine to you, you're so in.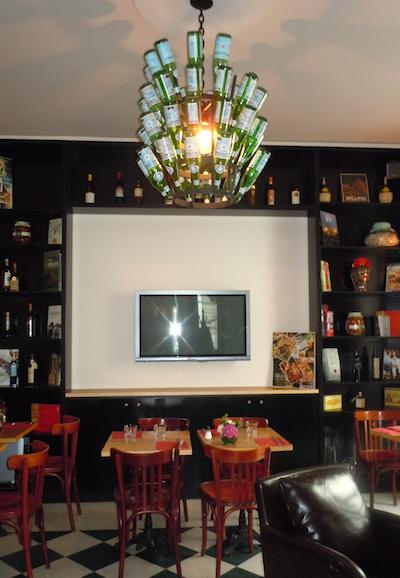 Besson has his finger in many restaurant pies: Apicius and Market. Remember—no—who will ever forget that restaurant scene in La Femme Nikita? It was filmed at Le Train Bleu, Gare de Lyon. Phew! Besson knows how to eat, knows how to make movies. His new film is The Lady, a tear-jerking bio-pic of Aung San Suu Kyi (starring Michelle Yeo).
Lunch in the garden when it's warm, or inside among Besson's cine-memorabilia when the weather fades. From midday the chic crowds roll in. There's no menu—it's a buffet of delicious Italian food around which everyone gathers, making NBFs at the same time. Antipasti, pasta salads, risotto cèpes, fresh vegetables, cooked and raw. Carafes of red, white and rosé. A school bell rings when chef Khan has the pasta of the day ready. Last Tuesday it was spicy pasta alla puttanesca (literally "tart's pasta"). And add cannelloni, ricotta and spinach, fettuccine aux girolles, farfalles tomates, langoustine.
"It's different every day and we feed at least 250," says the delightful Vanessa. Luc Besson eats here when he's in town.
"It's a great networking scene. I know all 9012 members and they let me know if they're job-seeking or looking for someone for a part in a movie, etc.," she says.
Dessert's perfect tiramisu or panna cotta. The atmosphere buzzes with bobos and now there are 9013 members. Vanessa presented me with my card as I left. So do come and meet me in my new club. I'm no Groucho Marx.
Ante Prima
Tél: 01 4563 4343
137, rue du Faubourg Saint-Honoré, Paris 8th
Métro: Saint Philippe du Roule,
Average Spend €24 including wine
Open: Lunch only, Monday-Friday
Book your weddings, hen-parties, divorce parties, etc., at night.
The Club, Paris 7th
Meanwhile, on the Left Bank, The Club just launched. Called thus because the house signature is club sandwiches made nine different ways: Classic; "King Crabe" Petrossian, sucrine, avocat; roast beef; foie gras maison roquette; vegetarian; etc. Cocktails, fresh "detox" juices (carrot & ginger, etc.) and cheesecake make this Philippe Model-designed shabby-chic space a delicious must-visit when you're in the area. So, three cheers for Le Club where everything can be prepared to take home, so you can say, "of course I made it."
Tél: 01 4550 3154
24, rue Surcouf, Paris 7th
Métro: École Militaire
Open: 8:00am-12:30am, Tuesday-Saturday; 8:00am-6pm Monday; closed Sunday
Need to know: Shang Palace opens at Shangri-La Hotel
"Buddha jumping over the wall" and "Beggar's chicken" plus lots of vegetarian dishes for the ladies who do, on the menu of the just-launched Shang Palace restaurant in the Shangri-La Hotel. It's all very feng shui. In French, Shang Palace translates as "Perfumed Palace," so book now to get a genuine whiff of Canton in the capital. Pudlo says it's "chic, cher, choc."
Shang Palace at Shangri-La Hotel
Tél: 01 5367 1992
Lunch: €70+ A La Carte; 12-2pm Thursday-Monday; closed Tuesday & Wednesday
Dinner €128+ A La Carte from about €95-160; 7-10:30pm Thursday-Monday; closed Tuesday & Wednesday
Margaret Kemp is a Cordon Bleu graduate who spent a year traveling the world, working and watching in the kitchens of top chefs from Sydney, Australia via Bangkok, Hong Kong, California, New York and France. She reports for BonjourParis on the latest European trends, restaurants and hot spots.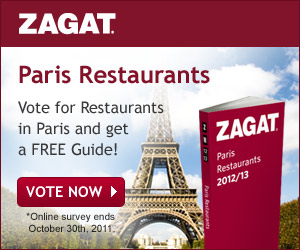 Get a
free

copy of
ZAGAT Paris Restaurants 2012/13
Just click and write a few clever remarks about your favorite Paris restaurants …
Need inspiration? Check our Dining, Bars & Tea Salon reviews.
You might be quoted in the next issue that you'll receive for free just for participating.
Shop our Amazon.com Boutique for the very latest available at Amazon.com…everything, from books to travelers essentials to music & DVDS, gift cards & imported French good. Merci, your support has allowed us to publish BonjourParis since 1995.
Search hint: start at the back pages for the most recent stock.
Short-cut to our 100 TOP SELLING ITEMS

(please wait for widget to load)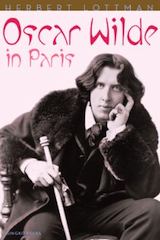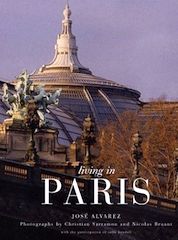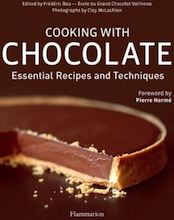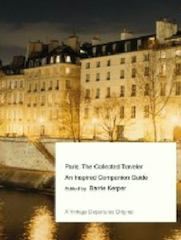 Oscar Wilde in Paris [September 2011 release]
Living in Paris, New Edition Beautifully illustrated guide to Paris
Cooking with Chocolate: Essential Recipes & Techniques (Book & DVD in English) by Clay McLachlan, Pierre Herme, et al  coming Oct. 18, 2011–order now & get 39% discount for advance orders
Paris: The Collected Traveler (Vintage Departures) [July 2011 release, collections features writers Alexander Lobrano, Patricia Wells, Susan Herrmann Loomis, Ina Garten & many more.]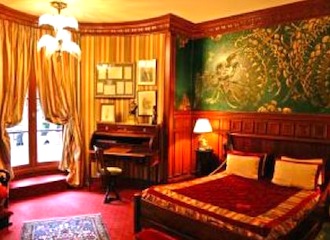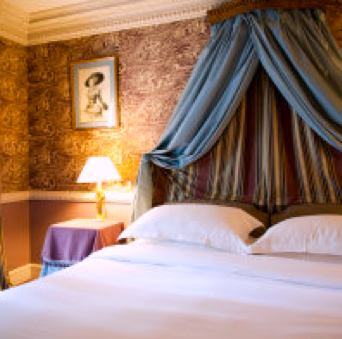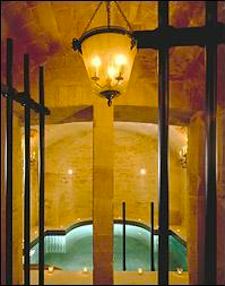 Left Bank 4-star luxury in the Saint-Germain-des-Prés district:
l'Hôtel is a one-of-a-kind 4-star hotel in chic Paris 6th, known forever as Oscar Wilde's final residence. Designer Jacques Garcia created the 20 lavish Baroque-style rooms, each unique in design. Every room has free Internet,AC, flat-screen TV, DVD player, toiletries, sitting area, walk-in closet & iPod dock. Hammam, steam room & 2-person private pool in a stone cave. Daily continental breakfast. Room service & on-site is Le Restaurant, a Michelin-starred restaurant & hip Le Bar. You may never leave your romantic suite, but you will lack for nothing at this elegant boutique hotel, which past Booking.com guests have rated 8.5 of 10.
*** Eligible for the Booking.com best price guarantee.

Be smart! Reserve your hotel at Booking.com…then keep shopping online & if you find a better rate for the same deal, contact Booking.com for your BEST PRICE MATCH GUARANTEE.
Bookmark this link & use it everytime you shop so your preferences are stored & deals are updated when you return: Booking.com.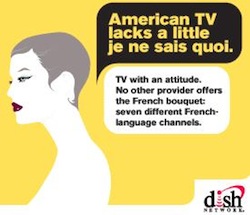 Live from France & direct to your home….
France24 News
TV5 Monde
Radio France Intl (RFI)
Eurochannel
movies & TV series
documentaries
kids programs…& more.
For more, click: "French Bouquet" by DISH Network.
Leave a reply
Your email address will not be published. Required fields are marked *