Something significant has changed about Macéo, and it's not just the exterior color, which recently morphed from regal, dignified blue to a blazing, sexy red.
I've enjoyed several impressively delicious meals at Macéo, meals made all the better by the graceful service, spacious dining room and elegant, spare design that emphasizes the glorious Art Nouveau "wedding cake-like" ceilings. So it came as a bit of a shock a few weeks ago when owner Mark Williamson confided that change was afoot in one of his kitchens. This secret has been, as it were, "eating away at me" ever since. Now that it's been officially unveiled in the restaurant's blog, talking out of school is no longer a risk. So, listen up: Maître Park is now chef in the kitchens of Macéo.
Maître Park is of Korean origin and he brings a certain, delicate quality to Macéo's well-respected culinary offerings. Call it a fifth element of taste: not sweet or sour, bitter or salty but rather the illusive quality of the savory "umami," that je ne sais quoi that embraces all of the senses and leaves the diner very happy indeed.
Taking photos the first time I ate Maître Park's food was difficult because it was one of those times when taking out a camera was not appropriate.
On that visit, however, I did take a photo of my very first dish by Maître Park: lobster bisque. The beauty of it took me completely by surprise, though not nearly as much as the first taste. It was unexpectedly served cold and I found the most delicate balance of flavors imaginable in the perfectly cooked lobster and its ravioli, bathed in a sauce that neither overwhelmed nor underplayed their naturally subtle flavors.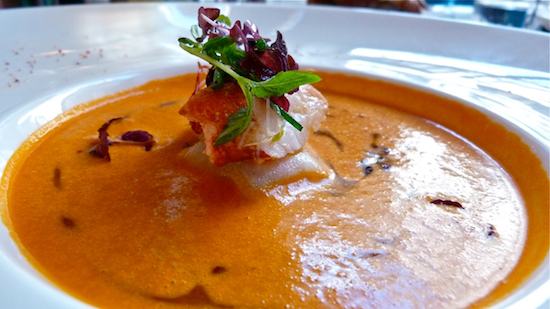 I returned the very next day. This photo below shows the time two friends joined me for lunch at Macéo. From the front is a filet of St-Pierre, an Atlantic white fish on a bed of spinach topped with preserved kumquots. On the right is an organic beef filet garnished with bone marrow and served with polenta.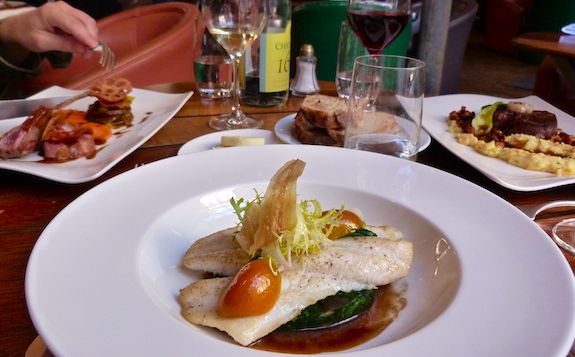 On the left above is Carré d'Agneau (rack of lamb) served with a lotus mille-feuille: small, sweet onions and carrots that were not carrots at all after they were transformed in the cooking. Understand that rack of lamb is high on my list of meals that can be completely ruined by either poor cooking technique or an overbearing sauce. If you happen to be of the same mindset, you can breathe easy and order this dish with confidence: the lamb was perfectly cooked, tender and flavorful with just enough sauce hinting of Chinese 5 spice to make it interesting without being overwhelming. Actually, my awareness of the "5 spice" was more in the fragrance of the dish than in the flavor, signaling restraint as well as an understanding of the power of the sense of smell leading into a dish. The lotus mille-feuille actually defies description. There is the look of it, exotic and flower-like, and then the subtle flavor and slightly resistant texture neither soft nor crispy. Had no one been watching, the bones would have been gnawed and every last drop of sauce swiped up with my finger to leave nothing, but nothing on the plate except cutlery.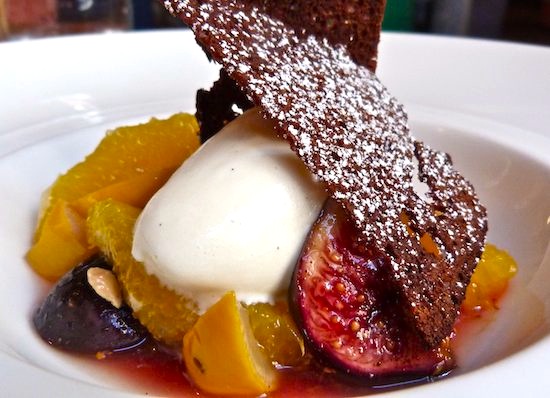 Our favorite dessert (shown above) was the Roast Figs and Candied Dates with Honey and Gingerbread Crackers; beautiful to look at, complementary in it's flavor combinations and textures, rich but not cloying—an ultimately satisfying end to a very pleasurable meal.
Returning to Macéo with friends from California was an easy decision, especially because one friend is vegetarian, a dietary option not always easily managed in Paris restaurants. Macéo offers a visually beautiful, marché-inspired seasonal menu that will impress the most gourmet of your friends who don't eat meat. While I did not taste my friend's offerings (except the inspired carrot hummus) each plate was more beautiful than the next. Judging by the sighs, oohs and aahs, she, too, was among the "very happy indeed" that night.
The wine list is deep and varied, with an ever-changing selection of wines by the glass, which is perfect if you wish to accompany each course with its own special wine.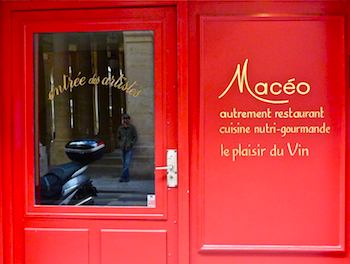 Macéo is open for lunch Monday through Friday and dinner nightly except on Sunday. Make reservations soon. Once the word is out, getting a table here will be difficult.
Reservations via email [email protected]
Tél: 01 4297 5385
15, rue des Petits Champs, Paris 1st
Autumn 2011 menus
Lunch:  Prix Fixe menus from €26; Vegetarian Prix Fixe €38; A la carte Entrees from €17; Plats from €28
Dinner:  Prix Fixe from €38E; Vegetarian Prix Fixe €45; A la carte Entrees from €20; Plats from €28
Extensive wine list & many interesting, well-chosen wines by the glass.
Online route maps for Paris bus, Métro, RER & Transilien (SNCF) (French only)
PHOTO CREDITS: All photos ©Marie Z. Johnston

Marie Z. Johnston was taught well by her Parisienne maman to appreciate good food, good wine and the good people who nurture it, sell it and serve it at restaurants around the world. Click on her name to learn more about the French Market Maven and a list of other stories she's written for BonjourParis.

Subscribe for
FREE

weekly newsletters with subscriber-only content.
BonjourParis has been a leading France travel and French lifestyle site since 1995.
Readers' Favorites: Top 100 Books, imports & more at our Amazon store


Update your library…click on an image for details.
Featured selections:
Stuff Parisians Like: Discovering the Quoi in the Je Ne Sais Quoi. July 2011. By Olivier Magny of Ô Château wine bar
The Bistros, Brasseries, and Wine Bars of Paris: Everyday Recipes from the Real Paris
The Best Wine Bars & Shops of Paris: Fifty Charming and Notable Cavistes
Open Road's Best of Paris 3E. September, 2011. By Andy Herbach, bestselling author of Open Road's 'Eating & Drinking' menu-translator guides to Paris
Thank you for using our link to Amazon.com…we appreciate your support of our site.