Yves Saint Laurent : He came, he saw, he sewed
There are many iconic names in the fashion capital of the world, but Yves Saint Laurent was more than a name. His YSL logo was as recognizable as the '60s LOVE poster, and he himself was instantly recognizable. A big-budget biopic was inevitable. The problem is that an artist's life is his work, which isn't easy to dramatize. There are a couple of arresting moments in Yves Saint Laurent: early in his career, working for Dior, when he improvises a fabric bow to perfect a dress, and later when he finds inspiration in modern art to create a collection that brings out the Pop fizziness of the 1960s. But these are exceptions: while the film is punctuated with triumphant runway shows that remind us of Saint Laurent's dazzling creations, dramatically they don't feel very climactic. Nevertheless, Yves Saint Laurent offers an expertly-crafted panorama of a half-century of French couture. The most dramatic aspect of the film concerns the designer's French-Algerian ("pied noir") origins. The war of independence is in full swing as the film opens and Saint Laurent is coming of age. He moves to Paris, but his parents remain in Algeria, causing him anxiety until they take refuge in France. He then undergoes a personal crisis when he's called up for military service. He finagles deferrals and gets a psychiatric exemption but undergoes a real emotional breakdown linked with feelings of guilt. At the same time the film says little about the climactic year of 1962, although one section has the year as its title. Maybe Saint Laurent switched off l'Algérie Française when his family was safe? We never hear about the mass exodus of pied-noirs, the OAS terrorist campaign, or reprisals in newly independent Algeria. Yves Saint Laurent is narrated by Pierre Bergé, Saint Laurent's personal and business partner (who apparently gave authorization to the film). This holds it together, with Bergé's soothing voice used as a transition device, as one section segues to another. He also explains what was going on in Saint Laurent's life at any given moment. But this also distances the story, giving it a valedictory air, like an elderly (and rich) relative telling you about the good old days. The movie starts in media res, when Saint Laurent is already a rising star with Dior. This puts the audience in the action from the get-go, but we miss out on his origin story, the excitement of seeing how the nobody from Oran breached the gates of the Paris fashion world. It's like seeing Citizen Kane a quarter way through, when Kane is already a star news editor. The film also suffers from the fact that Saint Laurent and Bergé were a mostly compatible couple all their lives. That's commendable in reality, but dull on screen. The director knows to gin up the tension when necessary: we see Bergé seducing a woman whose friendship with Saint Laurent made him jealous, and later intervening in the designer's unsavoury relationship with a gigolo. He also goes into action against a friend who supplies Saint Laurent with drugs. This mother hen clucking-about is diverting, but isn't real drama. Still, in this era of gay marriage battles, Yves Saint Laurent is notable in portraying the lifelong arc of what amounted to a common-law gay couple. The two leads are impeccably acted. Saint Laurent is played by Pierre Niney, and Bergé by Guillaume Gallienne (both of the Académie Française—how's that for class?). Saint Laurent comes across as decent, but Niney also brings out his high-strung nervousness (his breakdowns are less convincing). Gallienne does a good job alternating between masterful sang-froid and occasional exasperation, and above all movingly portrays Berge's devotion. Unfortunately, they are the only real characters in the film. The rest are extras, even when renowned in their own right, like Karl Lagerfeld and Lulu de la Falaise—apparently we're supposed to appreciate them as characters by virtue of their appearing frequently. Director Jalil Lespert is competent, but he's directed the most sedate show-biz biopic in recent memory. Some political biopics, like the recent Mandela, are stately and respectful, but the content is packed with action and conflict. Watching Yves Saint Laurent, with its Tout Paris socializing and deal-making in sumptuous settings, is like paying call to the splendid home of that rich elderly relative. We feel like voyeurs on our best behavior. Yves Saint Laurent is never less than tastefully directed, never less than intelligently scripted, never less than appealingly acted. On the other hand, it's never flamboyant, or daring, or over the top. While the movie is dedicated to the life of the abundantly stylish and creative YSL, cinematically it's more Christian Dior circa 1957.   Production: SND and WY Productions Distribution: SND
SUBSCRIBE
ALREADY SUBSCRIBED?
BECOME A BONJOUR PARIS MEMBER

Gain full access to our collection of over 5,000 articles and bring the City of Light into your life. Just 60 USD per year.

Find out why you should become a member here.

Sign in

Fill in your credentials below.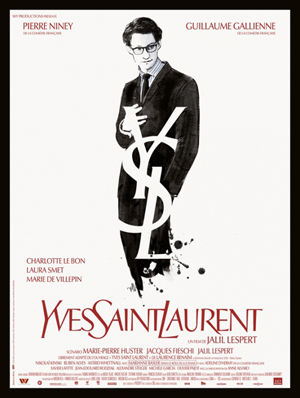 There are many iconic names in the fashion capital of the world, but Yves Saint Laurent was more than a name. His YSL logo was as recognizable as the '60s LOVE poster, and he himself was instantly recognizable. A big-budget biopic was inevitable. The problem is that an artist's life is his work, which isn't easy to dramatize. There are a couple of arresting moments in Yves Saint Laurent: early in his career, working for Dior, when he improvises a fabric bow to perfect a dress, and later when he finds inspiration in modern art to create a collection that brings out the Pop fizziness of the 1960s. But these are exceptions: while the film is punctuated with triumphant runway shows that remind us of Saint Laurent's dazzling creations, dramatically they don't feel very climactic. Nevertheless, Yves Saint Laurent offers an expertly-crafted panorama of a half-century of French couture.
The most dramatic aspect of the film concerns the designer's French-Algerian ("pied noir") origins. The war of independence is in full swing as the film opens and Saint Laurent is coming of age. He moves to Paris, but his parents remain in Algeria, causing him anxiety until they take refuge in France. He then undergoes a personal crisis when he's called up for military service. He finagles deferrals and gets a psychiatric exemption but undergoes a real emotional breakdown linked with feelings of guilt. At the same time the film says little about the climactic year of 1962, although one section has the year as its title. Maybe Saint Laurent switched off l'Algérie Française when his family was safe? We never hear about the mass exodus of pied-noirs, the OAS terrorist campaign, or reprisals in newly independent Algeria.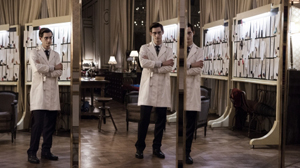 Yves Saint Laurent is narrated by Pierre Bergé, Saint Laurent's personal and business partner (who apparently gave authorization to the film). This holds it together, with Bergé's soothing voice used as a transition device, as one section segues to another. He also explains what was going on in Saint Laurent's life at any given moment. But this also distances the story, giving it a valedictory air, like an elderly (and rich) relative telling you about the good old days.
The movie starts in media res, when Saint Laurent is already a rising star with Dior. This puts the audience in the action from the get-go, but we miss out on his origin story, the excitement of seeing how the nobody from Oran breached the gates of the Paris fashion world. It's like seeing Citizen Kane a quarter way through, when Kane is already a star news editor.
The film also suffers from the fact that Saint Laurent and Bergé were a mostly compatible couple all their lives. That's commendable in reality, but dull on screen. The director knows to gin up the tension when necessary: we see Bergé seducing a woman whose friendship with Saint Laurent made him jealous, and later intervening in the designer's unsavoury relationship with a gigolo. He also goes into action against a friend who supplies Saint Laurent with drugs. This mother hen clucking-about is diverting, but isn't real drama. Still, in this era of gay marriage battles, Yves Saint Laurent is notable in portraying the lifelong arc of what amounted to a common-law gay couple.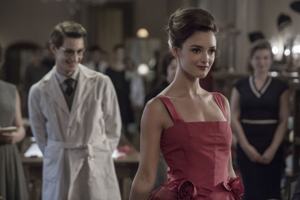 The two leads are impeccably acted. Saint Laurent is played by Pierre Niney, and Bergé by Guillaume Gallienne (both of the Académie Française—how's that for class?). Saint Laurent comes across as decent, but Niney also brings out his high-strung nervousness (his breakdowns are less convincing). Gallienne does a good job alternating between masterful sang-froid and occasional exasperation, and above all movingly portrays Berge's devotion. Unfortunately, they are the only real characters in the film. The rest are extras, even when renowned in their own right, like Karl Lagerfeld and Lulu de la Falaise—apparently we're supposed to appreciate them as characters by virtue of their appearing frequently.
Director Jalil Lespert is competent, but he's directed the most sedate show-biz biopic in recent memory. Some political biopics, like the recent Mandela, are stately and respectful, but the content is packed with action and conflict. Watching Yves Saint Laurent, with its Tout Paris socializing and deal-making in sumptuous settings, is like paying call to the splendid home of that rich elderly relative. We feel like voyeurs on our best behavior.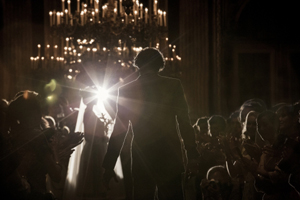 Yves Saint Laurent is never less than tastefully directed, never less than intelligently scripted, never less than appealingly acted. On the other hand, it's never flamboyant, or daring, or over the top. While the movie is dedicated to the life of the abundantly stylish and creative YSL, cinematically it's more Christian Dior circa 1957.
Production: SND and WY Productions
Distribution: SND
More in Christian Dior, french cinema, movie, Yves Saint Laurent
---
---