Virtual Tour of Paris: 5th arrondissement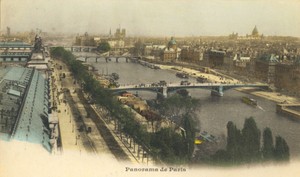 The 5th arrondissement is abuzz with tourists and students and shoppers. But there are a few pockets of calm where you can relax and recharge, and one where the famous now simply rest in peace.
5ème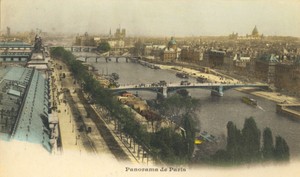 This classic Parisian neighborhood is what many have in mind when the Left Bank, or Rive Gauche is mentioned. Bustling with students browsing the bookstores or shopping along Boulevard Saint Michel and tourists eating at very bad Greek restaurants lining charming medieval streets, the neighborhood is also home to the Panthéon (housing the dead and the famous), Shakespeare and Company (the well-known English-language bookshop), and la Tour d'Argent, a very old (more than 400 years) formal French eatery overlooking Notre Dame.
What is now known as the Latin Quarter was once the center of ancient Roman Paris (or Lutetia as the Romans called it—Lutèce in French); they left behind the Thermes de Cluny (baths) and Arènes de Lutèce (an amphitheater). The neighborhood nickname did not arrive with the Romans, however. It came much later—in the 13th century—when Robert de Sorbon founded a school that attracted a multitude of foreign students who used Latin (the language of scholarly pursuits) to communicate.
To the east is the lively rue Mouffetard ("la Mouffe" to the locals), originally the road to Rome, now a daily market, and the lovely Jardin des Plantes—originally a medicinal garden started by Louis XIII's doctor—that provides a nice escape from the city buzz. Just across the street you'll find the huge Central Mosque, inspired by the Alhambra in Granada, which provides another refuge. Stop here to sip sweet mint tea and puff a hookah in the café, or indulge in a Turkish bath.
One of the neighborhood's most dramatic—if fictional—residents was the poor consumptive seamstress Mimi of La Bohème fame, who lived, loved, and coughed a lot in a roof-top garret here.


Christopher Measom combines his love of history, art, and travel to create books like "Paris, Wish You Were Here!" and "The Little Big Book of Ireland." He spends most of his time in New York (an artsy historic place) working on all kinds of books for Night & Day Design.
Leave a reply
Your email address will not be published. Required fields are marked *