Virtual Tour of Paris: 6th arrondissement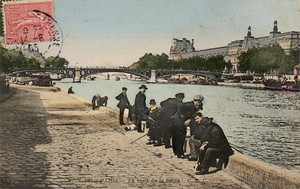 " . . . more and more frequently, people began visiting to see the Matisse paintings, and the Cézannes. Matisse brought people, everybody brought somebody, and they came at any time and it began to be a nuisance, and it was in this way that Saturday evenings began."
— Gertrude Stein (describing the birth of her artist-filled salons, a weekly gathering held at number 27 rue de Fleurus, a small side street in the 6th arrondissement)
6ème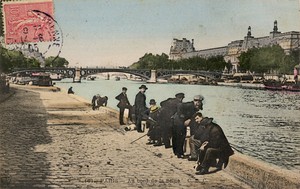 The 6th arrondissement runs from the student-oriented shopping thoroughfare Boulevard St. Michel, along the charming rue St. André des Arts, past the St. German des Prés quarter, through the ultra à la Française Jardin du Luxembourg to a chic residential area toward the west. Famous landmarks in this neighborhood are geared more toward eating  and drinking than sightseeing—although sitting all afternoon with one coffee (or their famous hot chocolate) on the terrace of the famed café Les Deux Magots (named for a pair of Chinese figurines) is one of the best kind of sightseeing Paris offers. It's arch rival Café de Flore is next door and Brasserie Lipp is across the street. Although these cafés were once favored meeting places of artists and philosophers, Picasso and Sartre have largely been replaced by Joe Tourist.
It might be tempting, but don't even think about playing on the grass at the Jardin du Luxembourg, the French Senate's garden which now occupies Catherine de Medici's Italianate palace. It is a favorite hangout of Parisians offering pony rides, and puppet shows for the toddler set, toy sail boats for the young at heart, and plenty of shade and benches for the old and exhausted. Don't miss the gorgeous Fountaine de Medicis, and be sure to watch grizzled old men tangle over who's ball is closest in vicious pétanque matches.


Christopher Measom combines his love of history, art, and travel to create books like "Paris, Wish You Were Here!" and "The Little Big Book of Ireland." He spends most of his time in New York (an artsy historic place) working on all kinds of books for Night & Day Design.
Leave a reply
Your email address will not be published. Required fields are marked *