Virtual Tour of Paris: 4th arrondissement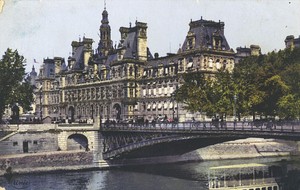 In the 4th arrondissement our e-bus passes some of the most visited sites of the city and takes a peek at its inhabitants—from the ancient  Parisii (the tribe that gave the city its name) to the "bobos" (bohemian bourgeois) who thrive there today.
4ème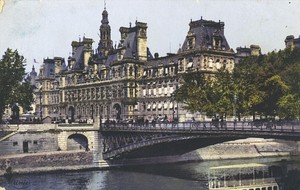 The iron age Parisii (a Celtic tribe) who settled by the Seine around 250 b.c. are long gone from this neighborhood. Still this tiny arrondissement is rich in what makes Paris Paris: Notre Dame, Sainte Chapelle, the Ile de la Cité, the Ile Saint Louis and the Hôtel de Ville being just some of the well-known sites.
Known as le Marais (referring to "the swamp" that was drained centuries ago), this is one of the oldest and most diverse parts of town in terms of street layout and medieval buildings. To be surrounded by 17th century Paris just step onto the charming Ile St. Louis. For the most part there are no grandes boulevards, vast perspectives or symmetry—the Place des Vosges, Paris's oldest square, being an exception. There you will find lots of symmetry along with the maison Victor Hugo, the great writer's last residence.
The people of le Marais are diverse too. Although by no means a ghetto, there is a large gay population, many gay bars and restaurants (that are well filled with straight people), and there is a distinctly Jewish area centered around the rue des Rosiers where Orthodox Jews settled after being expelled from Paris in the 12th century. (This was out of town back then.) Chez Marianne (2 rue des Hospitalières-St-Gervais) has extraordinarily fresh and delicious falafel and an Art Nouveau synagogue (10 rue Pavée) designed by Hector Guimard (chandeliers, benches and all) is here.


Christopher Measom combines his love of history, art, and travel to create books like "Paris, Wish You Were Here!" and "The Little Big Book of Ireland." He spends most of his time in New York (an artsy historic place) working on all kinds of books for Night & Day Design.
Leave a reply
Your email address will not be published. Required fields are marked *