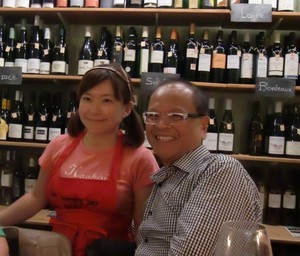 Chef Junko Kawasaki is offering traditional french cuisine blended with asian flavors and techniques. Organic (or bio as they say in France), seasonal products are the standard at Le Caviste Bio Restaurant and Chef Kawasaki provides creative and delicious preparations that change daily.
To push your dining experience up several more notches there are more than 300 organic wines, fruit juices and beers ready for sampling. With the aid of sommelier Dominique Bry, you can be sure that the wine will pair beautifully with your dinner choice.
The organic wine producers are dedicated to respecting the land. There is a goal to use renewable resources in their production practices and thereby avoiding pollution and waste. The wines offered at Le Caviste Bio are labeled "EthicBio" which means that they must have obtained the official "AB" certification for at least three years. It guarantees that their products are without exogenous yeast and with or without a small amount of sulfite added. Good organic viticulture and wine-making is designed to preserve the environment.
The Caviste is not a large restaurant. It is very small, narrow and cosy. The front room has a large table that seats ten comfortably. The concept is shared seating. We were a party of four that had the good fortune of sitting in the middle area. On one side of our party was a young couple from Ireland and on the other side were two french couples. Our seating position enabled us to have easy interactions with all diners and Dominique ensured that we all had the perfect glass of wine so conversation flowed in multiple languages between the three separate parties. A really terrific concept.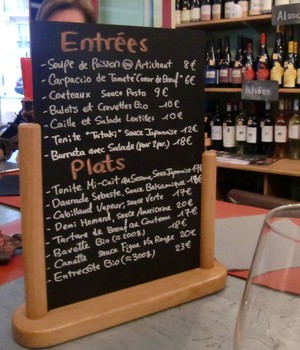 Although their menu is small and features what is seasonal, Chef Kawasaki manages to provide good variations. For example, three soups were featured as starters; an artichoke, an asparagus and a fish soup. In addition, she offered razor clams as another starter option and a quail salad as another. I opted for the artichoke soup for my entrée. It was creamy, light and delicately flavored. The "plats" or main dishes were also varied. I choose the Daurade accompanied by seasonal vegetables. There was a unique option that our group had not heard of called "tonite". This is a cross between a bonita fish and a tuna fish and was served rolled in white and black sesame seeds. Two in our group opted for this choice and they were very pleased. As a nice beginning to our dining experience, we were presented with an amuse bouche that was a type of flat bread (a cross between a focaccia and a pizza) with anchovies. It was crispy, warm and very tasty. Exactly what you would expect for an amuse bouche.
Our group has varied likes and dislikes in wine and in food. Although we opted for a variety of main dishes, Dominique Bry was able to recommend a bottle that paired with our meals and our varying tastes. He choose a Saint-Peray white lieu-dit-Hongrie M. Chapoutier. Bry really knows his wines. It is good to note that you can visit Caviste to consult with Dominique and to stock your personal cave.
The options were limited, but Chef Kawasaki preparations were sublime. The meal was of course enhanced by the conviviality of our dining partners and the warm welcome and attention from Dominique Bry.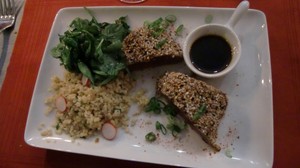 Le Caviste Bio is open Monday to Saturday from 3:00 pm till 11:00 pm and they offer lunch on Fridays. The restaurant is located at 50, rue de Maubeuge in the 9th arrondissement of Paris. The telephone number is 0 (33)1 48 78 30 03.
Bon Appetit !
Video featuring Dominique Bry
Métro: Notre Dame de Lorette
photos by Loui Franke
Loui Franke is author of Parisian Postcards: Snapshots of Life in Paris.