Virtual Tour of Paris: 2nd arrondissement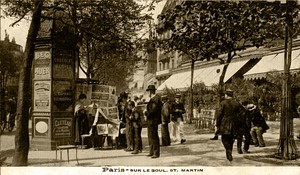 Our virtual e-bus continues touring Paris arrondissement by arrondissement. Next stop the 2nd where we learn how the oldest profession, a failed invasion, and a delectable outdoor market come together to form a neighborhood.
2ème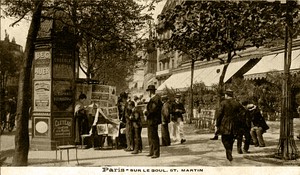 Between the bankers and stockbrokers found working and going to meetings around the Bourse (the stock market) and the prostitutes arranging meetings around the rue St. Denis, the second arrondissement is mostly business . . . and a little retail. The Passage du Caire built in 1799 was the first of a series of glass-covered shopping streets, called passages couverts, that were popular in the early 19th century before sidewalks made shopping on the street feasible. The streets around the passage (rue d'Aboukir, d'Alexandrie, du Nil) are signs of the wave of Egyptomania that swept Paris after Napoleon's Egyptian campaign, which, although a disaster militarily, brought home a treasure trove of artistic and architectural  ideas. Look for the three images of the cow-eared Egyptian god Hathor decorating buildings on place du Caire.
On Saturday the pedestrian rue Montorgueil becomes the neighborhood's outdoor supermarket. Farmers sell their wares (giving detailed advice on when exactly to eat your cheese) while fishmongers call out the day's specials.


Christopher Measom combines his love of history, art, and travel to create books like "Paris, Wish You Were Here!" and "The Little Big Book of Ireland." He spends most of his time in New York (an artsy historic place) working on all kinds of books for Night & Day Design.
Leave a reply
Your email address will not be published. Required fields are marked *