Le Dorcia: Photquai & If You Want to Get A-head Get a Panama Hat & Tous Au Restaurant Buzz
So, in the film American Psyco, the frustration of not getting a reservation led to an unfortunate incident involving a translucent raincoat and an axe, to the tune of "Hip To Be Square" by Huey Lewis and the News. Anyway, now you know why owner Cédric Saint-Marc (note to Easton Ellis: check out the name for a future book) named his retro-chic style brasserie, located opposite the Palais Brogniart, thus. Decor's by Saint-Marc who's created the essence of 50's Palm Springs using mirros, suspended lights, walnut furniture, banquettes, cane chairs, books and a bar to slouch at Sinatra style. Chef Gregory Brousse is King of the coppers, working with young Canadian talent Ashley Powell.  Together they send out dishes which may change according to availability, say, Crème de girolles et oeuf mollet: Terrine de foie gras, fig chutney: Tarte fine de jeunes legumes et poulpe aux vinaigre: Verrine (the house signature, there's always a verrine on the carte) of crab, cauliflower a touch of curry. Try a glass of rich round white Crozes-Hermitage Domaine Mucyn (8€20). Mains include tender cèpe stuffed guinea fowl, girolles and a side of fresh vegetables: Effiloché d'agneau, pulpe fiction de carottes: Nice with the red Burgundy Pinot Noir Domaine Maratray-Dubreuil 2011 (35€): There's always a fish of the day, cooked appropriately for the season, as in Dos de colin, moules aux piquillos à l'aigre doux: And for Ashton? Onglet de boeuf Angus, gratin de pommes de terres et piperade. Les Desserts: Vanilla Millefeuille: Flaky pastry Fig Tart: Pana Cotta aux épices, mango coulis: Brousse originally wanted to be a dancer, now he tangoes around his kitchen happy as a clam. He recommends his friend's resto
Firmin Le Barbier
, only buys his pastry from Guillaume Gil's left-bank néo-salon de thé, Colorova (47 rue de l'Abbé Gregoire, ex-Plaza Athénée) and plans to open his own maison in the Luberon within a few years. He's not sure yet if he'll be serving "sea urchin ceviche" but he's sure and certain that Laura, Dorcia's maître d' won't laugh when you call up for a table! Try it and see. 24 rue Feydeau, 2ndM: BourseT: 01 42 36 09 95Shut Sun-MonLunch formulas 19 & 27€ + A La CarteAverage spend dinner – 35€ + wine
Le Dorcia website
Seine de photos: Images from around the world – Ukraine, Nigeria, Nepal, Taiwan will be showcased along the banks of the Seine during
Photoquai
– opposite Musée du Quai Branly 17 September-17 November. The Perfect Panama If it's good enough for style icon Ines de la Fressange it's good enough for me. Right! A Panama's a must if you want to look like a real chic Parisien. Head straight to what Ines dubs, "Panama Paradise" on rue Saint-Blaise (No. 14) for the most amazing selection in every shape and colour under the sun. Not only Ines, but you may also bump into Cameron Diaz, Johnny Depp, Prince Harry, Kate Moss & Co. The Panama's covered many famous historic heads, Ernest Hemmingway, Winston Churchill, Harry Truman, Paul Newman and Alberto Santos Dumont. "They're flexible and can be rolled or folded into a suitcase", explains showroom head honcho Marina Gutierrez. Brand Ecua-Andino have more than 300 perfect P's woven by Ecuadorian artists using "toquilla" fibers. Expect to pay between 55-85€ plus 10€ if you want to customise, discuss this with Marina Gutierrez. Who knew? The Art of Weaving was added to UNESCO's intangible Cultural Heritage List in December, 2012. The showroom's at: 14 rue Saint-BlaiseM: Porte de BagnoletOpen Tues-Sat 10hrs-17hrsT: 01 46 59 46 32 Where else can I buy an Ecua-Andino Panamas in Paris? Franck et fils, 80 rue de Passy Le Bon Marché, 24 rue de Sèvres Hollington, 9 rue Racine A la plage, 6 rue Solférino Noëlle & Co, 1 rue Saint Simon Le 66, 66 avenue des Champs-Elysées
Facebook page
Go to the
video
with Ines de la Fressange in the Paris showroom. Tous Au Restaurant With the mission statement, "Your Guest is Our Guest", don't miss out on offers througout the hexagon, this is the fourth edition. Sign up on this
link
.  
SUBSCRIBE
ALREADY SUBSCRIBED?
BECOME A BONJOUR PARIS MEMBER

Gain full access to our collection of over 5,000 articles and bring the City of Light into your life. Just $60 a year.

Find out why you should become a member here.

Sign in

Fill in your credentials below.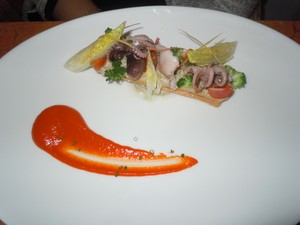 So, in the film American Psyco, the frustration of not getting a reservation led to an unfortunate incident involving a translucent raincoat and an axe, to the tune of "Hip To Be Square" by Huey Lewis and the News.
Anyway, now you know why owner Cédric Saint-Marc (note to Easton Ellis: check out the name for a future book) named his retro-chic style brasserie, located opposite the Palais Brogniart, thus.
Decor's by Saint-Marc who's created the essence of 50's Palm Springs using mirros, suspended lights, walnut furniture, banquettes, cane chairs, books and a bar to slouch at Sinatra style.
Chef Gregory Brousse is King of the coppers, working with young Canadian talent Ashley Powell.  Together they send out dishes which may change according to availability, say, Crème de girolles et oeuf mollet: Terrine de foie gras, fig chutney: Tarte fine de jeunes legumes et poulpe aux vinaigre: Verrine (the house signature, there's always a verrine on the carte) of crab, cauliflower a touch of curry. Try a glass of rich round white Crozes-Hermitage Domaine Mucyn (8€20).
Mains include tender cèpe stuffed guinea fowl, girolles and a side of fresh vegetables: Effiloché d'agneau, pulpe fiction de carottes: Nice with the red Burgundy Pinot Noir Domaine Maratray-Dubreuil 2011 (35€): There's always a fish of the day, cooked appropriately for the season, as in Dos de colin, moules aux piquillos à l'aigre doux: And for Ashton? Onglet de boeuf Angus, gratin de pommes de terres et piperade.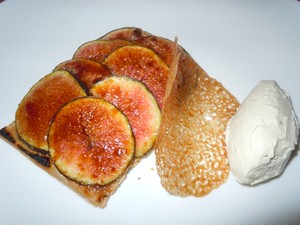 Les Desserts: Vanilla Millefeuille: Flaky pastry Fig Tart: Pana Cotta aux épices, mango coulis:
Brousse originally wanted to be a dancer, now he tangoes around his kitchen happy as a clam.
He recommends his friend's resto Firmin Le Barbier, only buys his pastry from Guillaume Gil's left-bank néo-salon de thé, Colorova (47 rue de l'Abbé Gregoire, ex-Plaza Athénée) and plans to open his own maison in the Luberon within a few years. He's not sure yet if he'll be serving "sea urchin ceviche" but he's sure and certain that Laura, Dorcia's maître d' won't laugh when you call up for a table! Try it and see.
24 rue Feydeau, 2nd
M: Bourse
T: 01 42 36 09 95
Shut Sun-Mon
Lunch formulas 19 & 27€ + A La Carte
Average spend dinner – 35€ + wine
Le Dorcia website
Seine de photos: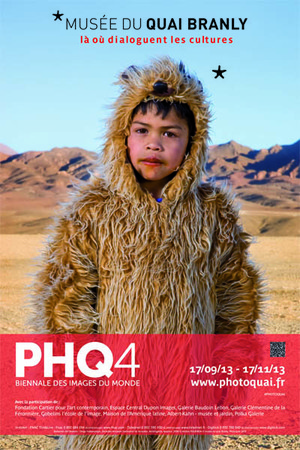 Images from around the world – Ukraine, Nigeria, Nepal, Taiwan will be showcased along the banks of the Seine during Photoquai – opposite Musée du Quai Branly 17 September-17 November.
The Perfect Panama
If it's good enough for style icon Ines de la Fressange it's good enough for me. Right!
A Panama's a must if you want to look like a real chic Parisien.
Head straight to what Ines dubs, "Panama Paradise" on rue Saint-Blaise (No. 14) for the most amazing selection in every shape and colour under the sun. Not only Ines, but you may also bump into Cameron Diaz, Johnny Depp, Prince Harry, Kate Moss & Co.
The Panama's covered many famous historic heads, Ernest Hemmingway, Winston Churchill, Harry Truman, Paul Newman and Alberto Santos Dumont. "They're flexible and can be rolled or folded into a suitcase", explains showroom head honcho Marina Gutierrez.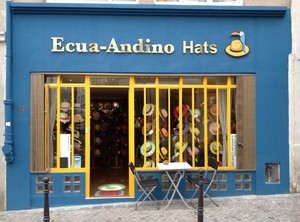 Brand Ecua-Andino have more than 300 perfect P's woven by Ecuadorian artists using "toquilla" fibers. Expect to pay between 55-85€ plus 10€ if you want to customise, discuss this with Marina Gutierrez.
Who knew?
The Art of Weaving was added to UNESCO's intangible Cultural Heritage List in December, 2012.
The showroom's at:
14 rue Saint-Blaise
M: Porte de Bagnolet
Open Tues-Sat 10hrs-17hrs
T: 01 46 59 46 32
Where else can I buy an Ecua-Andino Panamas in Paris?
Franck et fils, 80 rue de Passy
Le Bon Marché, 24 rue de Sèvres
Hollington, 9 rue Racine
A la plage, 6 rue Solférino
Noëlle & Co, 1 rue Saint Simon
Le 66, 66 avenue des Champs-Elysées
Go to the video with Ines de la Fressange in the Paris showroom.
Tous Au Restaurant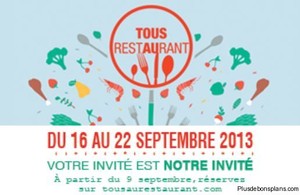 With the mission statement, "Your Guest is Our Guest", don't miss out on offers througout the hexagon, this is the fourth edition. Sign up on this link.
More in Ecua-Andino Panamas, panama, Paris restaurants, Photoquai, Restaurant reviews, Tous Restaurant
---
---