The Steins Collect: Matisse, Picasso, and the Parisian Avant Garde Now in New York
"You know how painters are, I wanted to make them happy so I placed each one opposite his own picture, and they were happy, so happy that we had to send out twice for more bread…" Gertrude Stein, in The Autobiography of Alice B. Toklas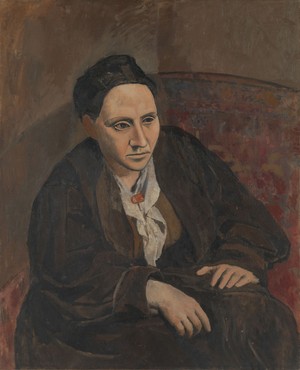 © 2012 Estate of Pablo Picasso / Artists Rights Society (ARS), New York
For many years during the first half of the 20th century, 27 rue de Fleurus, an unassuming artist's atelier with attached living quarters a few blocks from the Luxembourg Gardens, was the scene of regular Saturday night soirées that drew a stunning array of intellectual and artistic talent from across Paris and around the world, to the home of Gertrude Stein and Alice B. Toklas. It is perhaps easier to say which artists or writers of the time did not pay a visit to the Misses Stein and Toklas than to say who did. (Claude McKay, for example, purposely stayed away, commenting that he did not like to visit "divinities in temples.") However, simply put, almost everyone who was an artist or was interested in the arts was invited, or contrived to be invited, to the Stein/Toklas soirées.
Now there is an opportunity to experience at least part of what everyone was flocking to see in pre (and post) World War I Paris.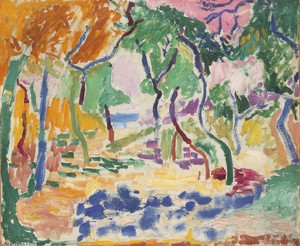 © 2012 Succession H. Matisse / Artists Rights Society (ARS), New York
The Steins Collect: Matisse, Picasso, and the Parisian Avant-Garde, on display at New York's Metropolitan Museum of Art through June 3, has brought together more than 200 works of art collected by Gertrude Stein, and by her brothers Michael and Leo, in the early years of the 20th century. The exhibition, which opened in San Francisco last May, then moved to the Grand Palais last fall under the name Matisse, Cézanne, Picasso…l'aventure des Stein, is now in its third and final installation.
While focusing on paintings by Matisse and Picasso, the exhibition also includes paintings, sculpture, and works on paper by Bonnard, Cézanne, Gris, Laurencin, Lipchitz, Picabia, Renoir, Toulouse-Lautrec and others.
The extraordinary Stein collections began with Leo Stein, Gertrude's brother, who had been passing through Paris when he was taken with the desire to become a painter. He decided to stay, and rented the studio at 27 rue de Fleurus. Some months later he was joined there by Gertrude, and almost from the beginning of their time in Paris the brother and sister began to collect paintings, an enthusiasm that their brother Michael also took up when he came to Paris the following year.
The soirées originated when the steady stream of visitors who wanted to see the paintings became too distracting, and the Steins decided to hold a regular "open house" on Saturday evenings.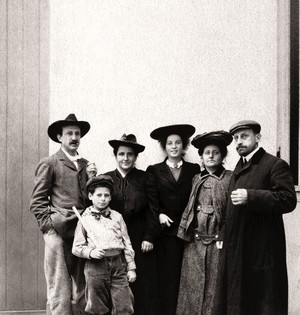 Theresa Ehrman papers and photographs, BANC MSS 2010/603, The Magnes Collection of Jewish Art and Life, The Bancroft Library, University of California, Berkeley. Transfer; Judah L. Magnes Museum; 2010
In addition to presenting a magnificent collection of early modernist art, the exhibition does a nice job of telling the story of the Stein family in Paris and the important role they played in the lives of the artists they supported. Life-size photographic enlargements of their Parisian apartments are displayed, allowing visitors glimpses of how the art was displayed in their homes, and adding to the feeling of vicariously entering a very special time and place. There are also letters, photographs, early editions of Gertrude Stein's books (including one illustrated by an at-the-time unknown young artist named Clement Hurd); a short film that includes footage from a production of Four Saints in Three Acts, the opera Gertrude Stein wrote, set to music by Virgil Thomson; and home movies taken outside the home Le Corbusier designed for Michael and Sarah Stein.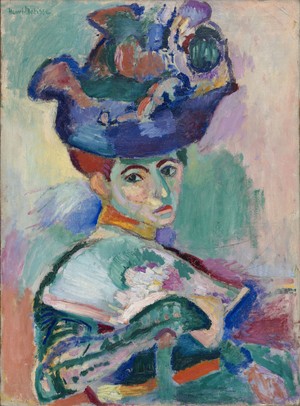 © 2012 Succession H. Matisse / Artists Rights Society (ARS), New York
One of the most famous paintings in the exhibition is Matisse's La Femme au Chapeau ("Woman with a Hat"), which drew general ridicule at the famous Salon d'Automne of 1905, but was purchased by Leo Stein despite his own ambivalent feelings about it. As he wrote in a letter to a friend, "All our recent accessions are unfortunately by people you never heard of so there's no use trying to describe them, except that one…[the Matisse] made everybody laugh except a few who got mad about it." He added, "Two other pictures are by a young Spaniard named Picasso whom I consider a genius of very great magnitude."
Rebecca Rabinow, the Metropolitan's curator for The Steins Collect has called this traveling exhibition "a chameleon," referring to significant differences of focus and emphasis in the San Francisco, Paris, and now New York versions. So even if you've already seen it in Paris or San Francisco, you might want to go again.
Refreshingly, there is no need to buy tickets to this show. You can just go on a whim, and enjoy a stroll though a magnificent collection from one of the most interesting periods in the history of art. You might even want to do so more than once before June rolls around.
Janet Hulstrand is a writer, editor and teacher based in Silver Spring, Maryland. She teaches Writing From the Heart at the Essoyes School. Click on her name to learn more about her and read her essays published by BonjourParis.

Subscribe for
FREE

weekly newsletters.
BonjourParis has been a leading France travel and French lifestyle site since 1995.
Readers' Favorites: Top 100 Books, imports & more at our Amazon store
We update our daily selections, including the newest available with an Amazon.com pre-release discount of 30% or more. Find them by starting here at the back of the Travel section, then work backwards page by page in sections that interest you.
Current favorites, including bestselling Roger&Gallet unisex fragrance Extra Vieielle Jean-Marie Farina….please click on an image for details.
Click on this banner to link to Amazon.com & your purchases support our site….merci!
Leave a reply
Your email address will not be published. Required fields are marked *