A Grave Walk in the Père Lachaise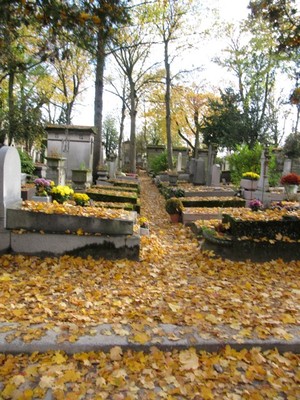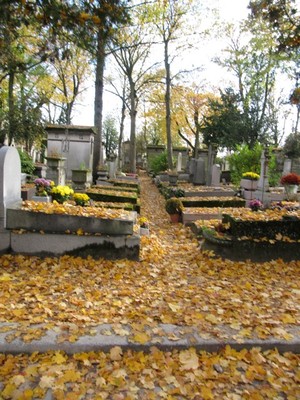 The Père Lachaise cemetery in the east of Paris is an unusual spot: the burial grounds of the famous (think Edith Piaf, Jim Morrison, Balzac, and Chopin) and the unknown, a repository of some extraordinarily beautiful and some very ugly sculptures, a calm place a good stroll. If you didn't see the occasional hearse and real mourners, you might even manage to forget you're in a cemetery.  A sign at the entrance though informs visitors that although this is both a place for a promenade with a rich history, the Père Lachaise cemetery is primarily dedicated to those who have passed away.  Please respect their memory, it enjoins the visitors.
It's this contradiction that makes for the mystery of a "promenade" in what might seem an unlikely lieu.  In the winter, there's no doubt about where you are. The graves are as black and gray and forbidding as the black and gray sky against which the high stark leafless trees are silhouetted.  But on a warm spring or summer day, when the chestnut trees are in full bloom, the Père Lachaise, founded in 1804 on a plot of land inhabited by retired Jesuit priests and named after one of them, Father François d'Aix de la Chaise, the confessor of King Louis XIV, feels more like a giant park than the final resting place of one million souls.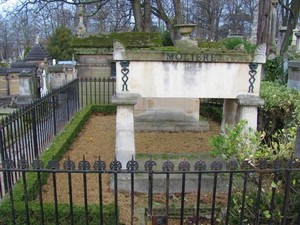 It's even easy to get lost in its 108 acres, which is why many visitors have their heads buried in their maps or sign up for a tour with one of the cemetery's erudite and sometimes humorously macabre guides. But whether you wander aimlessly or go with a group, you'll have plenty of company.  Each year,  some two and a half million people trod the 100 kilometers of cobblestoned lanes.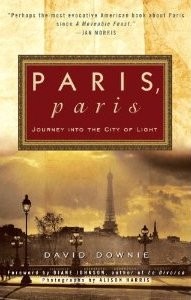 One of them, David Downie, a prolific writer and assiduous walker, knows the place, it would seem, inside out, devoting an entire chapter « Grave Situations » to it in his book, PARIS, Paris, Journey into the City of Light, a collection of sketches about his romps through the city.   Years ago David and I started meeting at "the Père," for leisurely strolls and sometimes even a sandwich on a park bench overlooking Paris.  (There's a fabulous view of Paris in a little flowered area with benches right next to the chapel). I live next door in the slowly gentrifying 20th arrondissement and David, who worked in a nearby office, liked to take a break for lunch or mid-afternoon stroll because it's green and clean, there's a breeze and a view.
And that's not all.
The thing about Père Lachaise that I find most appealing beyond the landscape and the greenery is the conforting feeling of timelessness.  « Concession à perpetuite»  (burial plot held in perpetuity) is even carved on the tombs.  The idea that you can legislate the perpetual is amusing and gives me plenty of food for thought as I march around the sepulchral monuments, David told me over an espresso in a nearby café. The Père Lachaise, he surmises, is nothing less than "a concise history of France over the last 200 years and the burial place of all of France's great and good."
It's also the burial place for the strange. Downie highly recommends the tomb of Hippolyte Léon Denizard Rivail, more popularly known as Allan Kardec.  Devoted admirers garnish the tomb with flowers all year round ; many place their hands on the granite dolmen in hopes of communicating with their departed loved ones.  (Kardec never advocated this practice, says a notice on the back of the tomb that no one bothers to read).  Kardec's followers are true believers. If you're a skeptic, keep it to yourself. Audible wisecracks about spiritists will be greeted by unwelcoming and unfriendly stares and glares.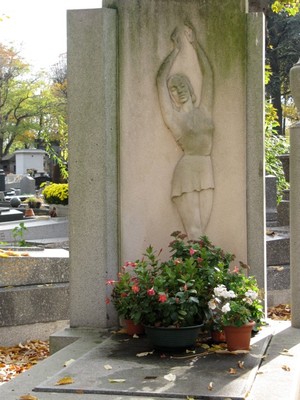 Regular Père Lachaise-goers have their "favorites."  Mine is the sculpture gracing the tomb of Harriet Toby, a 23-year-old American ballerina killed in a plane crash in Nice in 1952. She's represented in a dancing position, hands stretched elegantly over her head, and feet arched in toe shoes.  I actually googled Harriet Toby to find out about her – and for once google let me down.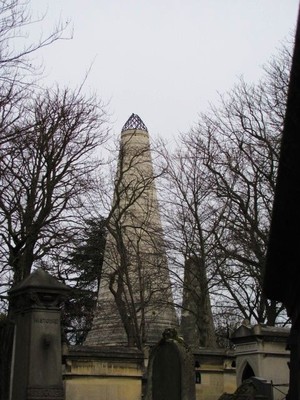 David says it's hard for him to pick a favorite, but after a moment of musing, says he's fascinated by the tall chimneylike structure that houses the remains of a certain Felix Beaujour, an obviously prosperous man who remains an illustrious unknown.  "It's amazing to ponder the massive monument of a wealthy man of his day about which nothing has been written," laughs Downie.  He is also attracted to the tomb of the Baron Haussman, but for another reason: "I derive great comfort and satisfaction in looking upon his very humble tomb to conclude that eternity put an end to his schemes to ruin Paris."
The last time I was in the Père Lachaise was a late afternoon on a warm spring day.  Breaking the calm, a guard on a motorcycle sped by, warning visitors that the gates were closing.  As I hastened my pace, a black cat crossed my path (I am convinced it's the same cat, hired by the City of Paris to impress tourists). Crows loudly cawed in the high trees. Time to get out of here before night falls and it gets creepy, I thought – but I'll be back, alone, or for a rendez-vous with David, my park pal.  For, while the Père Lachaise is first of all a place for the dead, it's also very much a place for the living.

Subscribe for
FREE

weekly newsletters.
BonjourParis has been a leading France travel and French lifestyle site since 1995.
Readers' Favorites: Top 100 Books, imports & more at our Amazon store
We update our daily selections, including the newest available with an Amazon.com pre-release discount of 30% or more. Find them by starting here at the back of the Travel section, then work backwards page by page in sections that interest you.
Current favorites, including bestselling Roger&Gallet unisex fragrance Extra Vieielle Jean-Marie Farina….please click on an image for details.
Click on this banner to link to Amazon.com & your purchases support our site….merci!
Leave a reply
Your email address will not be published. Required fields are marked *