Part 3: Maison de Répos (A French Hospital Story)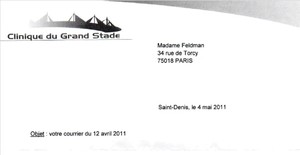 When they released me from Hôpital Bichat on April 8, 2011 where I had been since February 4, and had been diagnosed with cancer, I didn't go home right away because I was still recovering from hip replacement surgery. I was sent to a "Maison de Répos" or convalescence home. I was a little wary since the "maison" they found for me was not in Paris, but part of a private clinic, La Clinique du Grande Stade in Saint Denis. You have to understand what a bad reputation Saint Denis has. Originally considered holy ground and controlled by the Catholic Church in the Middle Ages, it transmuted during the industrial revolution into a shantytown for low class "blue collar" workers. And then, even worse, an end point for "low class", "dangerous" refugees and homeless people. I must admit I was pleasantly surprised by the building, which was airy and clean, as well as the personnel who were very kind and caring – obviously less stressed than their hospital counterparts. And I could actually open the window in my room and breath fresh air (I'd had a window in the hospital, but it was permanently locked)! It was also cool to be just across the canal from the Stade de France (ergo the Stade in Grande Stade). This was all a great relief, but just to illustrate how St. Denis still has a really bad reputation, I'd like to share with you what happened when I asked the doctor for permission to leave the home just to cross the street so I could go to the post office. "Oh no, – you're walking with a cane and this is St. Denis," he said, "Some young thug will grab your purse and push you down. No I can't give you permission to cross the street." That's exactly what the doctor said, no joke. We had lunch and dinner in a common dining room, and I had the incredible good fortune to be placed with two really interesting people. (I must admit I had some doubts the first time I waited in line and saw the parade of wheelchairs and crutches.)  One "meal mate" was an Algerian engineer who had had the total misfortune of having a wall of an abandoned building in Algiers fall on him and crush just about everything – but not his mind or spirit! He was incredibly smart and highly educated.  And he came to France for his medical treatment. Then there was Jeannine, a cultivated and refined French woman trapped in her wheelchair, and yet at the same time she was warm, friendly and intelligent. We made a fantastic combo. I gave off-the-cuff English lessons, while the Algerian engineer showed us mind games and puzzles to solve. All parties partook in great, intellectual conversations, and I'm still in touch with Jeannine. I was also assigned to a wonderful physical therapist and had my sessions four times a week – plus exercise sessions in the indoor swimming pool. Great! There were, however, two negative things I had to deal with after I arrived. One: There was no soap in the bathroom! Since this had been supplied in the hospital I didn't bring any, so I was up-the-creek, if you know what I mean. However, "système D" came to my rescue. This comes from the French word se débrouiller, which means to solve a problem by going outside the rules (usually there are so many conflicting rules in French administration that you'd better be prepared to create your own système) – which is what I did. I simply took a plastic cup, went to the public bathroom and filled it with their liquid soap. That worked until a friend brought me some of my own. I'm afraid the second problem could not be resolved quite so easily. There was no internet!  It was listed as an option at the reception desk, so I gave them a check to pay for it. I assumed it would be like the hospital where I had rented a 3G key that worked perfectly. And this was a really cool, private clinique, not a public hospital with horrible budget problems. So, I went to my room, unpacked and then tried to get onto the internet. No go! I just couldn't log in. Finally when I went back to the reception desk, they admitted that although offered, the internet connection just didn't work. "So why did you take my check?" "Oh, we'll give it back to you. Here it is." Yeah – great. What I finally realized is that due to the age group in the maison, very few people were renting a 3G key, so it didn't matter to the administration. Don't get me wrong – I'm no spring chicken, but I've been on internet for at least 30 years. I was surprised to observe that French people in my age group had little interest in the internet – if they even knew what it is in the first place! That, of course, is changing, but not yet in the maison de repos. I even wrote a letter, four days after I entered the Clinique on April 8, to the Directeur with the help of my Algerian Engineer meal mate. And, on May 4, just before I returned home on May 7, I actually got a reply. They were going to solve the problem – after I left. Oh well. It was great to return home to my Mac. And my own home, of course. "Maison de Répos" is part 3 (of 4) of the "
A French Hospital Story
" series recalling
Jeanne Feldman
's personal experiences within the French medical system and lessons on how to survive. <br>
SUBSCRIBE
ALREADY SUBSCRIBED?
BECOME A BONJOUR PARIS MEMBER

Gain full access to our collection of over 5,000 articles and bring the City of Light into your life. Just 60 USD per year.

Find out why you should become a member here.

Sign in

Fill in your credentials below.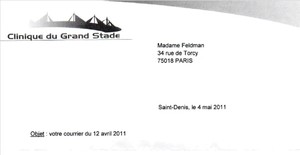 When they released me from Hôpital Bichat on April 8, 2011 where I had been since February 4, and had been diagnosed with cancer, I didn't go home right away because I was still recovering from hip replacement surgery. I was sent to a "Maison de Répos" or convalescence home. I was a little wary since the "maison" they found for me was not in Paris, but part of a private clinic, La Clinique du Grande Stade in Saint Denis. You have to understand what a bad reputation Saint Denis has. Originally considered holy ground and controlled by the Catholic Church in the Middle Ages, it transmuted during the industrial revolution into a shantytown for low class "blue collar" workers. And then, even worse, an end point for "low class", "dangerous" refugees and homeless people.
I must admit I was pleasantly surprised by the building, which was airy and clean, as well as the personnel who were very kind and caring – obviously less stressed than their hospital counterparts. And I could actually open the window in my room and breath fresh air (I'd had a window in the hospital, but it was permanently locked)! It was also cool to be just across the canal from the Stade de France (ergo the Stade in Grande Stade).
This was all a great relief, but just to illustrate how St. Denis still has a really bad reputation, I'd like to share with you what happened when I asked the doctor for permission to leave the home just to cross the street so I could go to the post office. "Oh no, – you're walking with a cane and this is St. Denis," he said, "Some young thug will grab your purse and push you down. No I can't give you permission to cross the street." That's exactly what the doctor said, no joke.
We had lunch and dinner in a common dining room, and I had the incredible good fortune to be placed with two really interesting people. (I must admit I had some doubts the first time I waited in line and saw the parade of wheelchairs and crutches.)  One "meal mate" was an Algerian engineer who had had the total misfortune of having a wall of an abandoned building in Algiers fall on him and crush just about everything – but not his mind or spirit! He was incredibly smart and highly educated.  And he came to France for his medical treatment. Then there was Jeannine, a cultivated and refined French woman trapped in her wheelchair, and yet at the same time she was warm, friendly and intelligent. We made a fantastic combo. I gave off-the-cuff English lessons, while the Algerian engineer showed us mind games and puzzles to solve. All parties partook in great, intellectual conversations, and I'm still in touch with Jeannine. I was also assigned to a wonderful physical therapist and had my sessions four times a week – plus exercise sessions in the indoor swimming pool. Great!
There were, however, two negative things I had to deal with after I arrived. One: There was no soap in the bathroom! Since this had been supplied in the hospital I didn't bring any, so I was up-the-creek, if you know what I mean. However, "système D" came to my rescue. This comes from the French word se débrouiller, which means to solve a problem by going outside the rules (usually there are so many conflicting rules in French administration that you'd better be prepared to create your own système) – which is what I did. I simply took a plastic cup, went to the public bathroom and filled it with their liquid soap. That worked until a friend brought me some of my own.
I'm afraid the second problem could not be resolved quite so easily. There was no internet!  It was listed as an option at the reception desk, so I gave them a check to pay for it. I assumed it would be like the hospital where I had rented a 3G key that worked perfectly. And this was a really cool, private clinique, not a public hospital with horrible budget problems. So, I went to my room, unpacked and then tried to get onto the internet. No go! I just couldn't log in. Finally when I went back to the reception desk, they admitted that although offered, the internet connection just didn't work. "So why did you take my check?" "Oh, we'll give it back to you. Here it is." Yeah – great.
What I finally realized is that due to the age group in the maison, very few people were renting a 3G key, so it didn't matter to the administration. Don't get me wrong – I'm no spring chicken, but I've been on internet for at least 30 years. I was surprised to observe that French people in my age group had little interest in the internet – if they even knew what it is in the first place! That, of course, is changing, but not yet in the maison de repos.
I even wrote a letter, four days after I entered the Clinique on April 8, to the Directeur with the help of my Algerian Engineer meal mate. And, on May 4, just before I returned home on May 7, I actually got a reply. They were going to solve the problem – after I left. Oh well. It was great to return home to my Mac. And my own home, of course.
"Maison de Répos" is part 3 (of 4) of the "A French Hospital Story" series recalling Jeanne Feldman's personal experiences within the French medical system and lessons on how to survive.
More in French medical care
---
---