Lesson: A l'hôtel – Choosing accommodation in Paris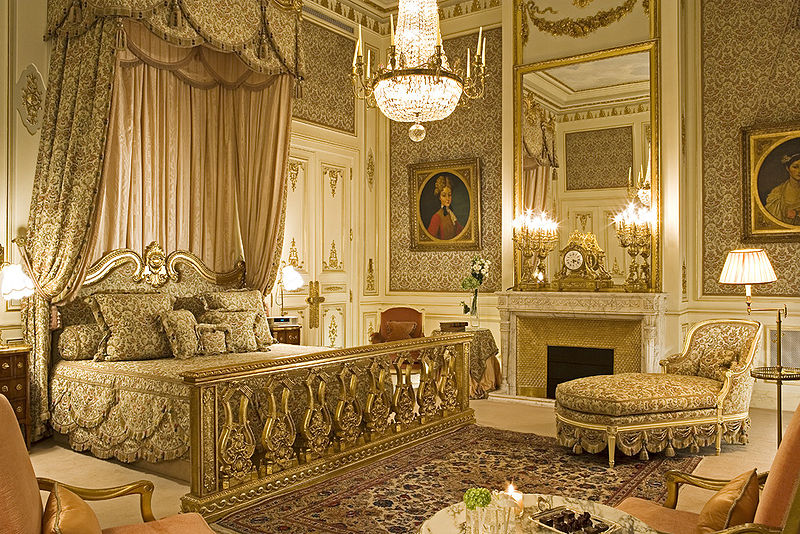 Choosing an accommodation in Paris can be quite a challenge: there are many hotels, ranging from the upmost luxuriant to the… well, let's say ridiculously noisy dirty and uncomfortable.
In this lesson, I would like to point out some things to watch out for when booking a hotel in Paris. As far as the language is concerned, it's very likely that people working at the hotel will speak at least some basic English, so I wouldn't worry too much about that.
The elevator
My first pointer will definitely be for l'ascenseur (the elevator)… or the lack of it.  Many hotels in Paris don't have any elevators, and if they do, it might be TINY. So forget larger suitcases. And if there is no elevator, be ready to carry your valises (suitcases) yourself: it's not the clerk's job, and in standard hotels, there are no porters.
The floor issue
Which brings us to the second point: the French count their floors from the rez-de-chaussée (first floor) up. So there is one floor difference; le deuxième étage (literally 2nd floor) is actually the equivalent of a US third floor. Something to
remember when there is no elevator.
Noise
Is something to consider when choosing your hotel in Paris: the ground floor will solve the stairs issue, but may be quite noisy… Paris is a big city, so pack earplugs.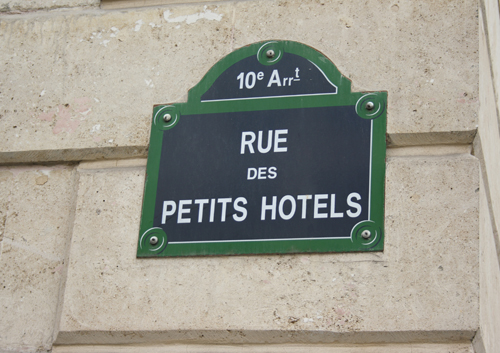 Size
Many students of mine have also been surprised when discovering the size of it all: the room, the bathroom, the bed. Hotels are often located in pretty old buildings: each room and bathroom will be unique: it's charming, but not always as functional as homogeneous large chain hotels. The standard bed size is a full size (140 centimeters), although more and more renovated hotels offer queen sizes (160 centimeters). King size (180 centimeters) are a rarity in medium budget hotels.
Amenities
Same goes with amenities: there is usually a TV, but not always, and in-room safes are pretty rare. And la climatisation (air conditioning) is rare in older hotels. It's really something to consider since it can get very hot in Paris in summer, and opening the windows might be quite noisy. Of course, if you do open the windows and are on a lower floor, make sure you close them before you leave, or an uninvited guest might be visiting your suitcase and relieving you of some of your items.  Also, many hotels won't offer breakfast nor room service, and won't have any food vending machine: you can get breakfast in a nearby café.
Bathrooms
For bathrooms, you'll usually have a choice between une douche (a shower) and une baignoire (a bathtub). The bathtub may not come with any shower, or is likely to have one that you hold (and often with no shower curtain, so it can get tricky 🙂 For le sèche-cheveux, there is not always one in the room but you can usually borrow one at the front desk. And France is likely to have a different voltage and plug shape from your country, so unless you pack an adaptor, you can leave curling irons etc… at home.
Smoking or non-smoking
And of course, if you don't smoke, make sure you ask for une chambre non-fumeur (a non-smoking room).
Check-in
Rooms are usually available early afternoon: you can check in and leave your luggage with the clerk until your room is ready, but there might not be a place you can freshen up and change. It's a bummer when you've had an overnight flight!
Tipping
Although tips are included in hotels just like they are in restaurants, they are always appreciated. Especially if the clerk is nice enough to help you with your luggage.  Especially if the room is nice and clean, and you are happy with your stay. Some say over tipping is considered vulgar in France. I bet the waiter/porter/maid would beg to differ.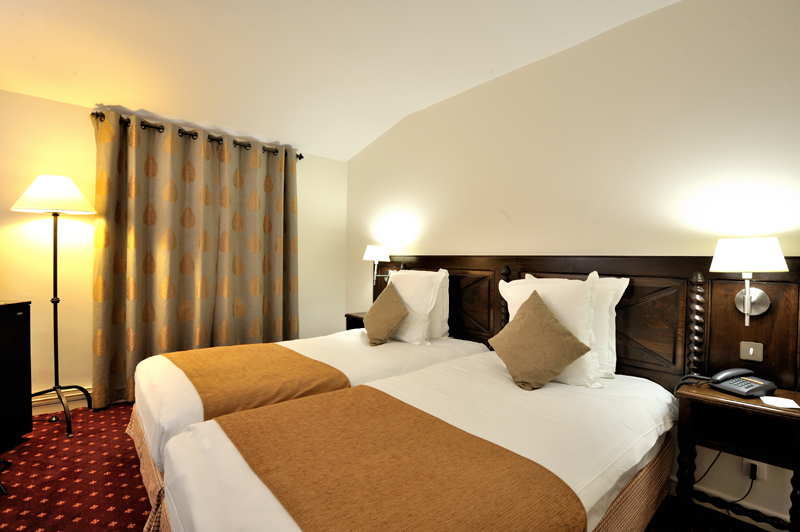 Useful questions
To sum up, when choosing a hotel in Paris, on top of the regular phrase-book questions you can find anywhere, here is what I'd ask:
• Vous êtes à combien de temps du métro à pied ? How for are you from the subway by foot?
• La chambre est à quel étage ? The room is on what floor?
• Est-ce qu'il y a un ascenseur ? Is there an elevator?
• Est-ce qu'il y a la climatisation ? Is the room air-conditioned?
• Quelle taille fait le lit ? What size is the bed?
• il y a une douche ou une baignoire ? Is there a shower or a bathtub?
• La chambre est disponible à partir de quelle heure ? From what time is the room going to be available?
In my opinion, the best way to avoid nasty surprises is to find a hotel recommended by someone you trust, like Karen
And maybe put a little bit more money to be in a safe and convenient location, next to public transportation, and savor a good night's sleep so you can make the best of your stay in Paris.
hotel room photo by Ritzparis – Fabrice Rambert (Ritz Paris) [CC-BY-SA-3.0 or GFDL], via Wikimedia Commons
street sign photo by GFreihalter (Own work) [CC-BY-SA-3.0], via Wikimedia Commons
bathroom photo by eliophot (Own work) [CC0], via Wikimedia Commons
hotel room photo by Thierry Samuel (Own work) [CC0], via Wikimedia Commons
More in Hotels, Paris hotels, Paris lodging
---
---