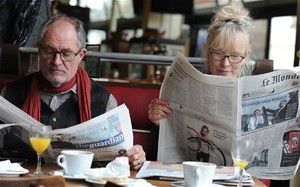 Jim Broadbent is Nick Burrows, a foppish schoolteacher from Birmingham. His wife, Meg (Lindsay Duncan), is unhappy in their relationship. It's their anniversary. So, they escape to Paris via Eurostar.
Arriving at their abysmal hotel, Nick examines the shoddy view: "I reckon if you stand on tip toe with a telescope, you could see the Hunchback of Notre Dame's ass!" Meg is put off by the beige color of the hotel, and decided to flee. Nick, a hopeless romantic, follows suit. They pop in a cab and throw Euros at the driver to take them on an impromptu cab tour. 
They enter another hotel, which is fully booked. "I knew this trip would be a…disaster," says Nick.  Luck befalls them and a suite opens up. It's a room once slept in by Tony Blair, which prompts Nick to quip about changing the sheets. The suite has a movie-worthy view of the Eiffel Tower that tourists and audiences prefer. The couple traipses the city. "Who'd want to live anywhere else?," says Meg, while gazing at the City of Light from the steps of Sacre Coeur, as they roam the city.
Broadbent has a series of slapstick gags, reminiscent of the Three Stooges.  But British humor is the most predominant kind in the film – dark, sarcastic and witty. This is characteristic of Broadbent, who is known across the Pond for his work in the Harry Potter films and Bridget Jones' Diary. Broadbent's comic timing and sad-sack looks make him an excellent character actor. He is a master of conveying a lot without saying much. Nick drinks and dances in his underwear to Bob Dylan's "How Does it Feel," a well-placed song which, like Broadbent, says a lot with just a little.
"I want a new start," says Meg over an oyster dinner. She's referring to both career and relationship. "Once the kids have gone, what's left of us?," she asks of their sexless marriage. Their son is a dependent leech who watches TV as his "profession." They are on the fast-track to divorce. Nick accuses Meg of something awful. Meg is an exhausting and frustrating character. Duncan resembles Mia Farrow so strongly it's almost distracting.
While kissing in the street after the turbulent meal, Nick and Meg encounter Morgan (Jeff Goldblum), Nick's pal from his Cambridge days.  Morgan is a self-involved writer whose work has made him a lot of money.  Goldblum gives one of his best performances in a long time. It harkens back to his Big Chill days of the subtle comic timing he does so well. Morgan is on the mend from New York therapy sessions and abandoning his States-side wife. He's re-married to a French woman he calls, "The Mona Lisa."
Morgan invites the Nick and Meg to a party, which is more Ginsburg than Gatsby. Though there's champagne at the door, the mood is somber and a toast from Nick has everyone shifting in discomfort.  Nick retreats to smoke a joint with Morgan's morose son, who is staying with his father for the weekend. He sits on the bed in his pajamas, puffing and drinking away, and chatting with Nick who reveals a feeling about his wife. She is standing just outside the door. It is a moment not to be missed. Meg declines an offer from a suitor, and we learn the truth behind Nick's speech. The couple return to Tony Blair's suite, where they behave like rock stars and pay the price in the morning.
At first feel, this film is somber. But a double take reveals it's everything you want a film to be: hopeful. The final scene is a delight, and it's worth suffering through the squabbles to get there. It's just a regular weekend in Paris: love, hate, drama, champagne and dancing.
Wilde would certainly approve.
Leave a reply
Your email address will not be published. Required fields are marked *