Hotel Chavanel : Les Joyeuses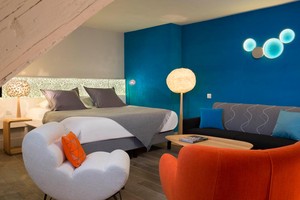 Every so often you come across an Hotelier whose in it primarily for their passion for hospitality, traditional warm hospitality. In the oh-so-conveniently situated Hotel Chavanel, 22 rue Tronchet, just between the Eglise Madeleine and Printemps department store, Sophie Charlet and her new four-star Hotel Chavanel, one of the Chateaux et Hotels Collection, embody this warm spirit of welcome.
That warm spirit of welcome is altogether what one finds least often in this age of frequent business and luxury travel. An eye for design and a respect for up-to standard service can be found commonly enough during international travels, but this intangible, difficult-to-put-your-finger-on sense of comforting welcome is rare to find, especially while at one and the same time being bathed in cutting edge Parisian design and textiles, modern necessities such as seamless WiFi, and a city center location, that, well, could not be more convenient.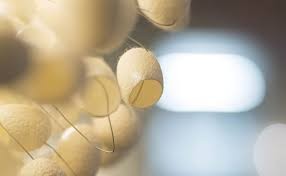 If there is just one phrase that sums up Hotel Chavanel, it is "silk cocoon." The term cocooning is one of those charming French phrases, of borrowed English origin, that we would do well to adopt. In French it is used to impart that sense of hibernating and swaddling oneself in warmth and comfort. Hotel Chavanel is all this and more, it is silk cocooning.
"For me, a boutique hotel must impart the feeling of a maison d'hotes," confides Ms. Sophie Charlet, heiress and now proprietor of the newly opened (Sept. 1st) Hotel Chavanel. "Of course we are bigger, as the Maison d'hotes in France can have no more than 5 rooms and we have 27 rooms, including two suites on the top floor. But the personalization of the welcome is very important for me. Even down to the Concierge services," she adds, noting that the new Eric Frechon restaurant, Lazare, in the just fully-renovated Gare St. Lazare just 5 minutes by foot up the street, is well worth the one-bended-knee to get the dinner reservation for two.
Ms. Charlet, a certified accountant and mother of two teen-age boys, worked alongside her father, the former owner of the hotel, for decades while respecting her dad's wishes that she pursue an independent career in accounting, separate from the hotel. When the reins fell to her in 2012 the first thing she did when re-envisioning the former 3-star hotel's refurbishment, and, indeed, full renovation, was to read tomes of historical reference books on the Quartier Madeleine.
What inspired her the most during her research period, was the rich history the quarter, and particularly the street, rue Tronchet, has rooted in the Dandy and Desmoiselle epoch. The Desmoiselles and the Dandies are French history's fashionistas who favored wearing fine French lace as key to their dressing smartly back in the 18th and 19th centuries.
"Every morning when I walk across Place Concorde to come to work in my office here, I can't help but remember, even if it's only subliminally, that that is where Louis XVI was beheaded, and that Place Madeleine was built by Napoleon – it's history, it's our history, and as a Parisian it's just something I live with every day. It's in my DNA," explains Charlet, who manages to mention that the glove shops that still exist today on rue Tronchet are holdovers from these centuries past when the street was famous for its accessory boutiques of hats and gloves. "So when I was communicating my inspiration from the epoch of the Dandies, who used to parade up and down rue Tronchet in their finery of exquisite French lace, to my architects, Anne Peyroux and Emmanuele Thisy, we had a full meeting of the minds. Everything just seemed to spill forth from there."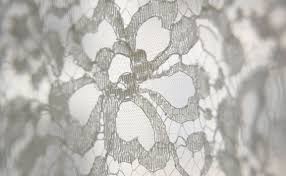 The result is evident from the lobby to the 6th floor and in every room whose windows are adorned in authentic French lace curtains made by the traditional and exclusive Sophie Hallette. It is the first time anyone has used yards and yards of this delicate hand-made lace for any design purposes. To further explain how innovative this is, for example, it is this same sort of lace that was used for Kate Middleton's wedding dress. Each knot is tied by hand. Sophie Hallette, founded in 1887, was awarded the distinction of Enterprise du Patrimoine Vivant (Living Heritage Company) status as a mark of quality handcraftsmanship.
To further punctuate the point of cutting edge design innovation, a fully replicated room from Hotel Chavanel was featured at the prestigious Maison & Objet home design and furniture show in September at the Porcelanosa booth. Porcelanosa did all the tiling in the rooms whose seemingly "wood floors" are, in fact, tile. The backlit Krion© headboards at Hotel Chavanel, to further illustrate, are carved in the pattern of the Sophie Hallette lace curtains, and are an original design by Peyroux & Thisy, done exclusively for Hotel Chavanel, as are the carpets in each of the rooms which, too, draw their patterning from the lace leit-motif.
"This lace is above all, for me, about shadow and light, the play between the two. It is to me very poetic," explains Charlet, for whom the lace she used as signature pieces throughout her 4-star boutique hotel has nothing whatsoever to do with Grandma's dusty doilies and everything to do with grace, detail, French heritage and artisanship, elegance and savoir-faire. When the sunshine streams through the windows, the delicate pattern of the lace is replicated against the walls, adding yet another layer to the woven play on design element of the hotel.
The curtains in the rooms and suites are backed by salvaged (recycled) heavy black on grey wools and flannels, such as the kind that were used to make suits for the Dandies of this romantic bygone era. "During the Dandy era, men wore the lace," explains Sonia Lemagnen, Communications person for Hotel Chavanel, "They wore lace cravats like men today wear silk ties. Women only really adopted wearing lace a bit later, towards the end of the Dandy era."
Doing nothing by half-steps is one of Ms. Charlet's defining characteristics, so her dedication to "recycled" goes beyond even the textiles used for her hotel's custom made furniture pieces and beyond even her decided determination to offer a 100% organic breakfast for her guests, and enters into the realm of true green hospitality.
"When the Paris Office of Tourism announced their training program for Paris hoteliers to operate within eco-friendly guidelines, I committed to doing the 20 afternoons, all while the hotel was under full renovation," explains Ms. Charvel, "In another 2-3 years I will likely go for my Green Globe or EcoLabel certification," she says.
The white birch tree trunks that greet you in the lobby are the first tip off to this green aesthetic, but the hotel's respect of the City of Paris's Green Charter goes even further and again, I find, can be summed up in the image of her silk cocoon lamps, original and eco-friendly designed lamps that grace the bedside tables in each of the rooms, created by an English expat living in Thailand who, apparently, has adopted a joyful second career in lamp design. Perhaps much like Madame Charlet, who has apparently discovered, while embarking on her "second career" as owner of Hotel Chavanel, that Hotelier and hospitality suit her joyfully.
More in Hotel Chavanel, Hotels, Paris hotels
---
---