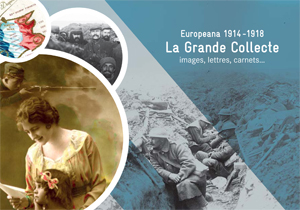 France is embarked this month on a special project to commemorate the nation's participation in the 1914-1918 world war erroneously dubbed, for a time in French, "La Der des Der," or, essentially, "The Last of the Last" of such conflicts.
Of course it turned out to be far from the last but it's impact on France and the French was especially significant. Of the 14 European nations plus the United States fighting each other during that conflict in which 80 million soldiers took part, nine million perished and another 20 million were wounded, France bore the heaviest load of any country involved. The heaviest fighting and destruction took place in France and, by the war's end,1.4 million of its soldiers had been killed or were missing.
That explains why some of the nation's major-history-oriented public institutions, such as the French, National Archives and The French National Library, have joined with 1914-1918 Centennial Mission of Europeana, The European Union's digital history center, to launch a week-long nationwide campaign to collect and digitalize, from families that possess them, any and all documents, photos, posters letters or other World War I memorabilia that then can be added to the European Community's digitalized historical records and eventually shared with researchers worldwide.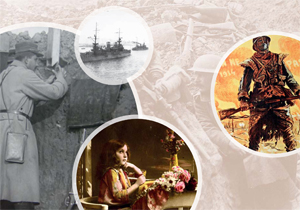 To winkle out such souvenirs that families still retain from ancestors who fought in the 1914-18 war some 76 different collection points (informally titled road shows) will be open in various local government archival services and municipal libraries during the period from November 9 to 16.
Contributors bringing in, for instance, photos of or by their grandparents or other ancestors who fought in the war, military medals safeguarded for nearly a century in family attics or other pertinent memorabilia can then contribute those items to the official archives or, they can keep them and take them home once they they have been digitilized, by the teams of experts who will be on hand at the collection centers.
The list of such centers their location, opening hours etc. is available on the Centennial Mission's website.
France, of course, is not alone in the collection effort. Similar road shows already have been held in other European countries and already, Europeana boasts of more than 10 million objects contributed or given to be digitalized by ordinary citizens.
Americans also shouldn't forget that, although U.S. troops didn't enter the conflict until October, 1917. American families also may have pertinent memorabilia from their ancestors that they could contribute. And even if they aren't in France for the November road shows they still can offer souvenirs via the internet on this site. So they too can make history in France, if they hurry.