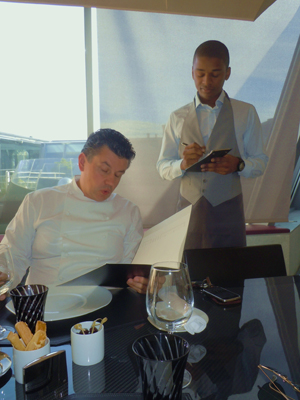 So, having booked Chef's Table at 39V, he comes by wearing the whites: "Mind if I join you?" "I want to see if the kitchen's working well". "Pleasure chef, make yourself at home!"
"I've just had the best weekend of my life", he grins. "I was initiated into the Confrérie des Chevaliers du Tastevins de Burgundy".
The Confrérie celebrates and showcases Burgundy with gastronomy and epic wines at Château du Clos de Vougeot. "It's all about the art of hospitality, generosity and friendship" says Vardon.
He continues: "Together with 600 elegantly dressed confréres from all over the world, we tasted the finest wines, the food was exquisite.  I took my wife to see the historic Petit Clos de Vougeot, a stone wall-enclosed Grand Cru vineyard within the Côte de Nuits, named for the Vouge River (really, more like a stream) that separates Chambolle-Musigny and the village of Vougeot, she thought it was exquisite.
I explained to her that it was first planted by Cistercian monks in the 12th century and, since 1818 and the French Revolution, the vineyard had many landlords. Since the early 2000s, it's been split between as many as 80 owners.
Although the vineyards surrounding the Château at the top of the hill are considered the best and those toward the bottom more inferior, all parts of the enclosed area are part of the Grand Cru if produced under its AOC regulations.
These Pinot Noir-based wines are dense and robust when young, gain elegance and structure from cellar ageing, that's why I've got mine lying down at Caves de Monquartier, Issey les Moulineaux".
And, meanwhile we've chosen dishes from the Autumn menu to match one of Vardon's excellent wines, the rich, refined, organic Premier Cru Monopole, Clos du Columbier by his friend Thiébault Huber. As Huber's sole owner of the tiny Clos, it's a Monopole, French for a vineyard with only one proprietor.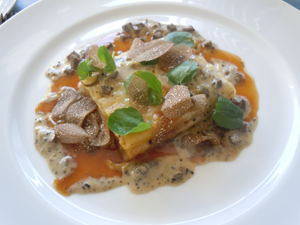 The waiter's working the room, with silver grater and white gloves, punctuating Macaroni gratinés: Tartare of line caught maigre, kumquats and Noix de Coquilles Saint Jacques cru, wth sonwfalls of fragrant white Alba truffles.
For mains chef orders Poulette "pattes bleues" d'Orléans, "with plenty of sauce". Ashton gets Ravioli de Langoustine, fresh herbs (from the potager on the roof) with delicate jasmine consommé.
The first of the seasons Saint-Jacques de la baie de Seine, pommes de terre cressoniére for me.  A little Saint-Nectaire from Monsieur Antony is a palate-cleansing prelude to Fresh Fig and almond Tart, perfectly smooth vanilla ice-cream and Chocolate soufflé, spiked with creamed Indian and Madagascar peppercorns.
So, chef, what do you think? "Good, we're doing great, but I've noticed one apprentice not working well, he'll be out by the end of the week". Oui chef!
Book chef's table, even if he's toque down in the kitchen, you'll pick up a few hot hints just from watching the pass.
And, during December, 39V's Carte sur Table is a rare opportunity to taste top Bordeaux wines at exceptional prices. We're talking the real thing: Chateaux Giscours- Mouton-Rothschild-Cos d'Estournel-Lynch Bages-DYQuem etc. Restaurant director Guillaume Perrin-Miton is on hand to discuss.
39 Avenue George V, 8th
Note: entrance is at 17 rue Quentin Bauchart
M: George V
Shut: Sat-Sun
Valet parking at night
T: 01 56 62 39 05
Lunch 39.50-49.50€ + A La Carte
Image du 39V x 5 courses 95€
Dinner: Menu Saveurs d'Exception 125€ with wine 195€
Or A La Carte
Ginger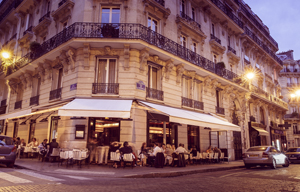 Ginger's is the latest launch from Jean-Louis Costes, it's packed, they even stand in line waiting for tables. Eat outside, on the heated terrace, or inside where you're definitely in Asia, with décor by Christian Liagre. Apparently Beyoncé was here, but don't tell, please.
Everyone's tall, sexy and beautiful, especially Carlota Sblano the director du salle, you'll remember her from L'Avenue.
Begin with Ginger cocktail, vodka, lichi liqueur, lemon, brown sugar and red fruit coulis.  Order Les Dim-Sum de Shanghai. Or, Thon cru, pomme de terre, soja, betterave. Les steamed "Buns" are filled with crevettes, herbs: beef, basil, piment: thon, cucumber, sesame and the calamars are crispy, delicious with mayo épicée.
Mains include Poulet gingembre, pois gourmande, thick shitaké. Porc mijoté, caramel coco with sticky rice or a big bowl of fresh vegetables. Lotte grillé "hot curry". Canard "Belleville". Crabe sauté, vermicelles de soja, poivre noir. Boeuf grillé saté, en feuille "Lahot".
Seasonings, by the Cambodian chef, are perfect, no need for a fire engine to quench the flames. Les Hauts de Smith 2007 at 28/52€ is a good match.
Finish with fresh mango: Ginger Chocolate Rolls: Lily Koi salade.
Ginger's modern concept is spot-on, read "Asian-You-Like", neo-classic favourites interpreted by a talented Cambodian chef. Prices are correct, it's the Golden Triangle after all, a chic dining destination.
11 rue de la Tremoille 8th
M: Franklin D Roosevelt
T: 01 47 23 37 32
Average Spend: 52€ + wine
Valet parking
Leave a reply
Your email address will not be published. Required fields are marked *