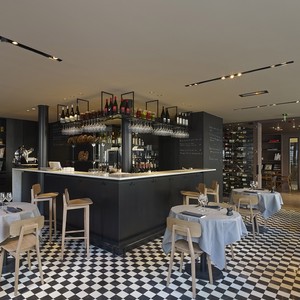 You know how it is in restaurants, you look at the next table, eyes meet and, as the "on the house signature" terrine with gherkins is cleared, the Terrine Royale de foie gras de canard, ailerons de volaille crémeux de champignons arrives, it goes something like: "Miam! Delicious, do you come here often?" Yes, either here in the 14th or on the rue Saint Honoré, it's always excellent".
Here? La Régalade at L'Hotel de Nell, a Design Hotel – Boutique Hotel with 33 rooms and perfectly chic designer attitude by architect Jean-Michel Wilmotte.
Bruno Doucet's the chef, he calls his concept at the de Nell, "bistronomy". Daily blackboard market driven dishes, excellent wines, service, a steal at 35€.
My neighbor at lunch was young and good looking. Just up for the day he told me, "I'm a chef". "Some of my best friends are chefs", I smiled.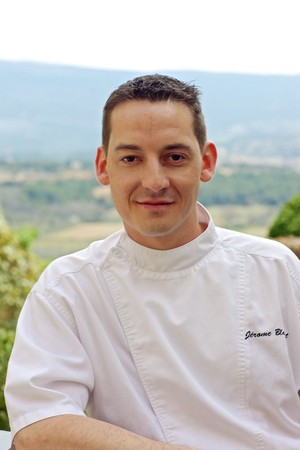 Turns out he's Jérôme Blanchet, Chef de Cuisine at L'Hotel Crillon le Brave, a 32-room country house boutique hotel about 25 miles north-east of Avignon, looks lovely.
The beau Blanchet was in town to see a few people, check out the Saint-James Club and the young chef Veronique Basselot.  He told me, in excellent English, learned while he cheffed in the UK (where he cooked pre-polo lunches for Prince William and Prince Harry) and the US of A. He also worked out at Le Negresco, Nice and at Four Seasons Terre Blanche, Provence. Now, the boy from Poitou, Charentes and a family of passionate amateur cooks and enthusiatic hunters, lives amongst the bounty of Provence, happy as Larry, with his wife and baby daughter.
The beau Blanchet loves the serene rural community surrounded by quintessential Provencal villages, the local markets with such wonderful produce, a game of boules in the village, mountain biking.
We continue our lunch, sharing (well why not?) the fruity Vinsobres Les Cornuds 2011 from Famille Perrin (bottle 22€). Filet de rascasse sauvage cuisiné comme un bouillabaisse for me ("I make bouillabaisse, my clients love it", he said) Supreme de volaille jaunes des Landes au foie gras et persil, jus de vollaille et celery cuisine for Blanchet. "Is it good?" "Not bad", he winked. Sablé aux figues fraiches, jus reduit au vin épicé au cannelle for me. Kouign Aman servi tiéde, pommes caramelize au  cardamone, sorbet maison for my NBF (new best friend).
As we leave to continue our day he says, "come and see me, Crillon-le-Brave's English owned, the pool's heated to 29 degrees all the year and there's amazing views of Mont Ventoux". You bet Jérôme I'm there!
La Regalade,
9 rue du Conservatoire, 9th
T: 01 44 83 83 60
Shut Sat lunch-Sunday
Bistrot Valois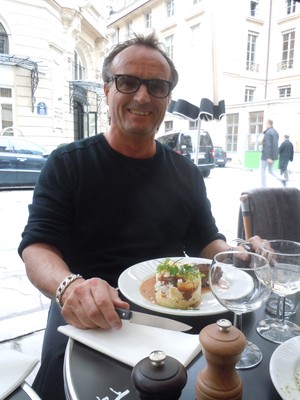 Historic quartier, this is the mews, once housing the stables of Louis-Philippe and the family d'Orléans. Located by the Comédie Française and Théatre du Palais Royal: Laurent Chainel has created a warm and welcoming bistrot.
Outside, black and white awnings, Chainel's homage to Daniel Buren's columns which dominate the courtyard of the Palais Royal. Sip a "ballon de rouge" at the zinc bar, admire the neo-classic décor, walls punctuated with silhouettes of actors from the nearby playhouses. Choose a little/large snack or a hearty meal and don't rule out a planche of charcuterie by Maison Laborie et Fils, warm crusty bread from Master Baker Jean-Luc Poujauran.
Try Le Hambourgeois pommes grenailles, an uptown burger made with goat's cheese, served with a well dressed salad, to match the clientele darling.
L'Andouillette AAAAA de Troyes: The ladies who do share the generous: "Autour du Saumon", smoked, rillettes, tarama, tartare: Baba au Rhum or tarte du jour to finish.
Market fresh "plats du jour" on the blackboard could be un petit salé aux lentilles, un dos de cabillaud sauce citron estragon: wok de legumes: seasonal game. For Ashton un bon roast Gigot de Sisteron et son gratin dauphinoise. Yum !
Need to get a room?  Note the totally renovated (by Pierre-Yves Rochon) Grand Hotel de Palais Royal opposite.
1bis Place de Valois, 1st
T: 01 42 61 35 04
Average spend about 35-45€ + wine
Shut Sunday – Open 7h-22.30 and 10h-23h Saturday
M: Palais Royal/Louvre Rivoli/Pyramides
Kusmi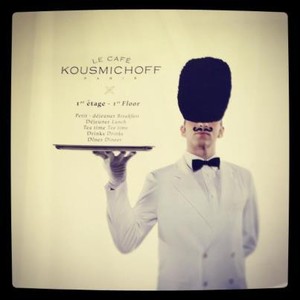 On the first floor of Kusmi's (founded 1867 in Saint Petersburg, Russia, in Paris since 1917) shiny new flagship store on the Champs Elysées. Buy the delicious teas and head on upstairs to discover the all day menus of French and Russian specialities + cakes, buns and pastries by Conticini's Påtisserie des Réves. Delicious with a pot of De-Tox Tea (makes you feel better about the pastry!) a strong black espresso, flute of champagne, a cocktail or vodka shot. The teas are beautifully packaged, taste as many as you like, take home as gifts, loose tea or muslin bags. It's all good. Nostrovia !
Le Café Kousmichoff,
71 avenue des Champs Elysées, 8th
M: George V
T: 01 45 63 08 08
Open 7/7 from 8h-23h