Guerlain: Une Histoire de Beauté, Manhattan calling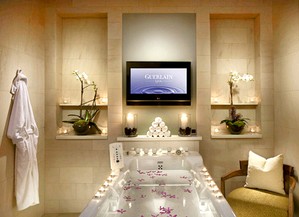 As we all know, when it comes to la beauté, nobody knows how to maintain a strict regimen better than une Parisienne.  For decades, the Frenchwoman has meticulously planned and executed her skincare routine, and there are few brands better known than that of Guerlain. Founded in 1828 by Pierre-François Pascal Guerlain, its products speak for themselves and have left an indelible mark on the industry.  Guerlain, however, did not start as a skincare/cosmetic brand- he started as a parfumeur.  In 1828, he opened his first store on 42 rue de Rivoli, and in 1840 opened his flagship store at 15 rue de la Paix.  His crowning moment came when he was chosen as the official parfumeur to the Imperial Emperor.  The atelier was kept in the family for five generations, and handed down from son to son, until Moet Hennessy Louis Vuitton (LVMH) acquired them in 1994.  In the 184 years since conception, Guerlain has created over 300 fragrances!  However, it's the not the perfume that counts at 100 East 50th Street. All you New Yorkers- have I got a tip for you!  Guerlain has its very own spa in New York City on the 19th floor of the Waldorf Astoria, and I was chanceuse enough to pay them a visit!  The Guerlain Spa is a decadent experience, the St. Honoré equivalent of the spa world, shall we say. If you're looking to treat yourself, there's simply nowhere better to go.  However, the Guerlain spa is much, much more than that.  Their products are one of a kind- truly changing your skin from the moment you walk in to the moment you walk out.  Every impurity was stripped from my face, and then soothed over with their world famous Orchidée Imperiale concentrate.  After an 80 minute facial, I was a new woman ready to take on New York, (but mostly ready to take on a pain au chocolat from Maison Kayser, which I proceeded to do directly after). Now, let's talk about décor: as soon as you get off the elevator, you're greeted to sleek white walls and a hanging crystal centerpiece.  Red roses adorn each table in the waiting lounge, and champagne flows freely like the River Seine.  When it comes time for treatment, you're ushered into a private suite, and placed in a deliciously heated bed- rose petals at your side. You're then massaged and pampered while simultaneously slathered in all of Guerlain's finest crèmes.  As an added bonus, the Guerlain Spa offers complimentary make up applications after your treatment.  While this is unique in the spa world, it comes as no surprise to those of us in the know- no Parisienne would ever go out into the world without her face on!  Quel horreur! Men: there's something for you here as well!  Guerlain offers several spa services and massages with les hommes in mind.  If you're not interested in flying solo: don't worry, we get it!  A couple's massage is always a good way to go! If you're searching for your next Manhattan relaxation spot, look no further.  Guerlain Spa offers prime luxury comfort, and products that are effective as well as indulgent.  Check them out
here
.  I'm always searching for a little bit of Paris in New York, and it looks like I found it in Midtown. Détendez-vous! Kymberley Baker is the CEO & Founder of Parlez Vous Franglais? Language Exchange Events, which focuses on improving language skills through one-to-one conversation. Each guest will have several 12-minute conversations, in both French & English, with different partners thus enabling them to meet new, likeminded people in New York City!  We believe learning should be fun, and so our events take place in bars and restaurants all over your city!  It's not a language course; it's a social event!  To find out more, please visit their
website.
SUBSCRIBE
ALREADY SUBSCRIBED?
BECOME A BONJOUR PARIS MEMBER

Gain full access to our collection of over 5,000 articles and bring the City of Light into your life. Just 60 USD per year.

Find out why you should become a member here.

Sign in

Fill in your credentials below.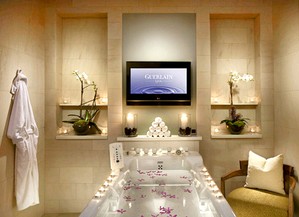 As we all know, when it comes to la beauté, nobody knows how to maintain a strict regimen better than une Parisienne.  For decades, the Frenchwoman has meticulously planned and executed her skincare routine, and there are few brands better known than that of Guerlain.
Founded in 1828 by Pierre-François Pascal Guerlain, its products speak for themselves and have left an indelible mark on the industry.  Guerlain, however, did not start as a skincare/cosmetic brand- he started as a parfumeur.  In 1828, he opened his first store on 42 rue de Rivoli, and in 1840 opened his flagship store at 15 rue de la Paix.  His crowning moment came when he was chosen as the official parfumeur to the Imperial Emperor.  The atelier was kept in the family for five generations, and handed down from son to son, until Moet Hennessy Louis Vuitton (LVMH) acquired them in 1994.  In the 184 years since conception, Guerlain has created over 300 fragrances!  However, it's the not the perfume that counts at 100 East 50th Street.
All you New Yorkers- have I got a tip for you!  Guerlain has its very own spa in New York City on the 19th floor of the Waldorf Astoria, and I was chanceuse enough to pay them a visit!  The Guerlain Spa is a decadent experience, the St. Honoré equivalent of the spa world, shall we say. If you're looking to treat yourself, there's simply nowhere better to go.  However, the Guerlain spa is much, much more than that.  Their products are one of a kind- truly changing your skin from the moment you walk in to the moment you walk out.  Every impurity was stripped from my face, and then soothed over with their world famous Orchidée Imperiale concentrate.  After an 80 minute facial, I was a new woman ready to take on New York, (but mostly ready to take on a pain au chocolat from Maison Kayser, which I proceeded to do directly after).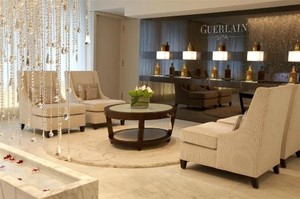 Now, let's talk about décor: as soon as you get off the elevator, you're greeted to sleek white walls and a hanging crystal centerpiece.  Red roses adorn each table in the waiting lounge, and champagne flows freely like the River Seine.  When it comes time for treatment, you're ushered into a private suite, and placed in a deliciously heated bed- rose petals at your side. You're then massaged and pampered while simultaneously slathered in all of Guerlain's finest crèmes.  As an added bonus, the Guerlain Spa offers complimentary make up applications after your treatment.  While this is unique in the spa world, it comes as no surprise to those of us in the know- no Parisienne would ever go out into the world without her face on!  Quel horreur! Men: there's something for you here as well!  Guerlain offers several spa services and massages with les hommes in mind.  If you're not interested in flying solo: don't worry, we get it!  A couple's massage is always a good way to go!
If you're searching for your next Manhattan relaxation spot, look no further.  Guerlain Spa offers prime luxury comfort, and products that are effective as well as indulgent.  Check them out here.  I'm always searching for a little bit of Paris in New York, and it looks like I found it in Midtown.
Détendez-vous!
Kymberley Baker is the CEO & Founder of Parlez Vous Franglais? Language Exchange Events, which focuses on improving language skills through one-to-one conversation. Each guest will have several 12-minute conversations, in both French & English, with different partners thus enabling them to meet new, likeminded people in New York City!  We believe learning should be fun, and so our events take place in bars and restaurants all over your city!  It's not a language course; it's a social event!  To find out more, please visit their website.
More in Guerlain Spa, spa, Spas in France
---
---