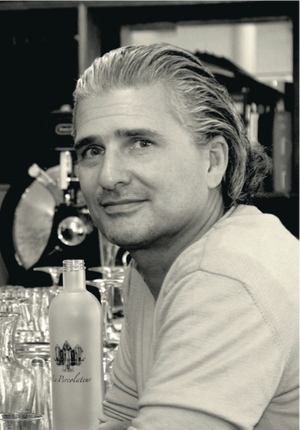 Le Percolateur, located on rue de Turin, just off Place Dublin in the quartier Europe, near Place Clichy and Le Moulin Rouge. You'll know you've arrived –  there's a giant percolateur outside.
Owner Philippe Madamour, who has "Percolateur Acquisition Syndrome", for which there is no cure, explains: "Percolateur's name is inspired by a restaurant where I worked in NYC (Le Bilboquet). A giant silver percolateur was part of the decor, until the owner decided to replace it with an outsize vase of fresh lilies! Sadly, it was banished to the basement; I had a soft spot for the old machine and, back in France, found an almost identical copy in a flea-market. I was hooked! I now have a collection of about 50, the oldest dated 1880!"
The magnificent machines on display are bright, shiny, nostalgic, add an atmospheric touch of class to the unique bistro that should turn P. Starck & Co. green with envy.
There's a friendly welcome from Philippe and/or his brother David, a graduate of Lausanne Hotel School, both passionate about gastronomy and market fresh products, members of the prestigious: Maîtres Restaurateurs.
The food?  Excellent!  Alexandre Trognon's at his first post as Head Chef, coming from Cyril Lignac's Quinzieme, Maxim's and Maison de la Truffe.
From six starters: Terrine de volaille maison: Carpaccio de Saint-Jacques à la vanilla et citron caviar: well composed daily changing salads for the ladies who do: Velouté de Châtaignes with Tomme de Savoie: Try white Corsican Domaine Casa Rossa 2013 (22€).
Mains include Trognon's signature wild salmon, marinated, pan flashed, whisky jus, a touch of maple syrup, soja and sesame. If it's on the menu go for the slow cooked, "I leave it overnight" confit of Lozere lamb. Nice with Bandol Domaine de Terrebrune 2008 (48€). Sides include: crushed pumpkin, vegetables of the day, triple fried chips, wild rice: There's Yuzu roasted chicken, pink peppercorns: Basquaise de supions et chorizo. Bistronomie!
A little cheese: Rhubarbe and Apple crumble: Giant chocolate/raspberry macaron: Chefs' ice creams and sorbets. Café Goulu, a taste of everything. Meltingly amazing Moelleux au Caramel beurre sale, yogurt ice-cream.
Yum!
So, considering the name over the door, how's the coffee? Good! It's by Illy. Don't hesitate, because you're worth it.
Le Percolateur,
20 rue de Turin, 8th
M: Liege
T: 01 43 87 97 59
Terrace
Lunch 16-22.50€ Dinner Average Spend 29.50€
Shut Saturday lunch-Sunday
Lazy Sunday chez Lazare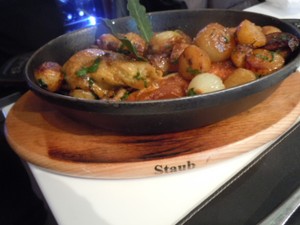 In "Horoscope des Gourmands" Eric Frechon predicts and advises: "After a difficult week, what better way to unwind than to eat a delicious roast chicken 'en famille' at Lazare". So this is what we did to-day, the Sunday "Menu Grand-Mere" changes each week, but is usually based around a delicious roast. Today it was, as in the horoscope, tender Landes chicken, perfectly golden with pommes grenailles, jus. Two starters made the perfect prelude: an eggy, creamy, leek clafouti and a perfect pile of céleri remoulade. Baguette comes in a bag marked "Lazare" and beg for the Paris-Deauville dessert. For more information on Lazare go here.
Lazare,
Les Déjeuners de Grand-Mère,
39€
Parvis de la Gare St. Lazare, 8th
Open 7/7 from 7.30 until very late
T: 01 44 90 80 80
When Jean-Yves met Yoric :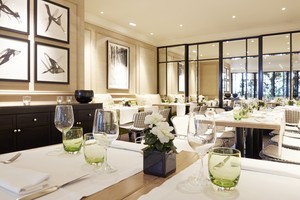 In the kitchens of Yannick Alleno, they became best buddies. Today, the two talented toques head their own cuisines/brigades. Jean Yves Bournot at the Monument Historique, Grand Hôtel du Palais Royal, Paris : Yoric Tièche at La Passagère, and on the golden beach of, Hôtel Belles Rives & Le Juana, Juan les Pins. But hey, leave the sun block behind, because, this time, the chefs cook four-handed in Bournot's Paris patch for four exciting days. "Our menu combines the best of terre and mer, matched with wines by sommelier Norman Valck and divine desserts by Ting Turba", they explain. So, either "get a magnificent Pierre-Yves Rochon designed room" or reserve for dinner at:
Restaurant Le Lulli,
Grand Hôtel du Palais Royal,
4 rue de Vallois,
M: Palais Royal
T: 01 42 96 72 20
Includes Dinner and Breakfast for two.
Dinner only : 95€ or 140€ with wine pairings
MOF: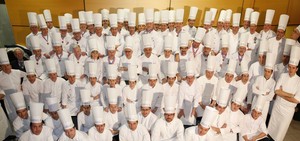 Created in 1924, it's the Everest of culinary achievement, most chefs dream of receiving the prestigious award and wearing the flashy "bleu, blanc, rouge" collar, few achieve it the President of France receives it automatically.
For the 25th Edition there were 431 hopefuls. This week Alain Ducasse, President of the Jury, announced the 8 lauréats, seven men and one (super) woman, Virginie Basselot.
The competition is held every four years and, not a lot of people know, this impressive title Meilleur Ouvrier de France takes in artisan-merchants such as pastry-makers, hairdressers, butchers, jewelers and luxury good.
Fantastic news for the incredibly talented, modest, and charming Ms Basselot.