Be My Paris Valentine: Romantic Restaurant Picks
Ah Paris! World capital of romance. Paint the town red with a champagne cruise on the Seine, followed by dinner and a chauffeur-driven tour in a Citroën 2CV. Stroll along Passarelle Debilly and watch and wonder as the Eiffel Tower shimmers. And remember, "the only true language in the world is a kiss" (Alfred de Musset). With love from Team BP, here are 10 favorite restaurants for a romantic rendez-vous.
Superb share: the love dining at Le Camélia and Sur Mesure by Thierry Marx.
Camélia, in the romantic garden setting, marries Louis Roederer Rosé champagne with tempting dishes like: roasted scallops, citrus vinaigrette; smoked eel and langoustine terrine; John Dory, Jerusalem artichokes, tetragonia, cider butter; chicken, leek, pomegranate. Cheese Rodolphe Le Meunier (MOF) and Lover's Pie Dessert. (€218 per person)
View this post on Instagram
At Sur Mesure, the dazzling all white cocoon designed by Jouin-Manku, MO's ** star Michelin dinner includes oysters, truffles, caviar and wagyu beef. (€390) per person + wine.
Reserve on Tel: 01 70 98 73 00 or [email protected]
Pre or post dinner, at Bar 8, they're mixing delicious Valentine's cocktails based on, say, hibiscus-infused vodka, verjuice, ginger syrup, house champagne liqueur and light vanilla mousse. Prefer alcohol-free? No problem. Hibiscus-infused alcohol-free gin, verjuice, ginger syrup, chardonnay grape juice reduction, light vanilla mousse.
Mandarin Oriental's Spa suggests celebrating between February 14th and 28th when the spa suites showcase a romantic experience "designed for a tranquil moment in the heart of rue Saint-Honoré." The Valentine ritual begins with a scented jacuzzi, prelude to a session in the private hammam, followed by an 80-minute Signature Massage for 2. Champagne, macarons and the signature white flowers "J'aime Paris" MO candle are Valentine gifts. 1h50min. The Valentine's Day Duo Ritual costs €1000.
251, rue Saint-Honoré, 1st
Tel: +33 (0)1 70 98 78 88
Metro: Tuileries
Housed in a former church in Saint-Germain-des-Prés, Coya is an immersive experience, a true celebration of vibrant South American culture. A joyful journey to Peru, without the jetlag, where the signature Pisco Sour struts the romantic colors of love! On the menu, dishes inspired by neo-Peruvian gastronomy: Crocantes con Guacamole. Duck confit Empanadas. Ceviche. Lobster cazuela… And also lemony oysters with lime and aji limo chilé peppers. Wagyu bavette. Divine desserts of vanilla and raspberry blancmange with rose marinated dragon fruit (good for the immune system). Delicate confections of milk chocolate and pécan choux.
Special Valentine's Day menu from €100/person
Available February 13-15, 2023
83-85 rue du Bac, 7th
Metro: rue du Bac
Tel: 01 43 22 00 65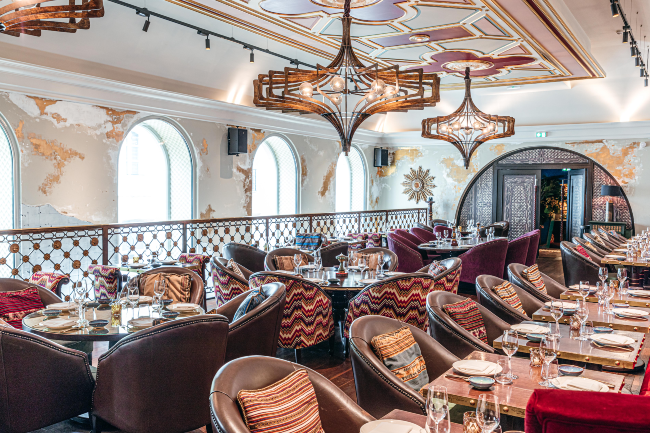 La Plumographe and Ladurée suggest a unique gift box, with a hand written message d'amour. And, there are calligraphy workshops on February 11th and 12th in three of the Paris boutiques. If you can't attend, don't panic; they'll place a card in your box for you. Other surprises await: a QR code giving access to a "sweet melody,"  interpreted by Barbara Carlotti, artist, singer, song writer, exclusively for the "Mon Chou" collection. And, why not get an ephemeral tattoo – to reveal the love? Or, enjoy Valentine's Day in Ladurée's chic tea rooms.
On the menu, chef Julien Alvarez's French toast style brioche, topped with mango compôte, vanilla ice cream, whipped cream, sprinkled with shards of passion-flower macaron shells,  Add a drizzle of passion fruit juice – a unique experience! Available February 10th -14th in Ladurée restaurants.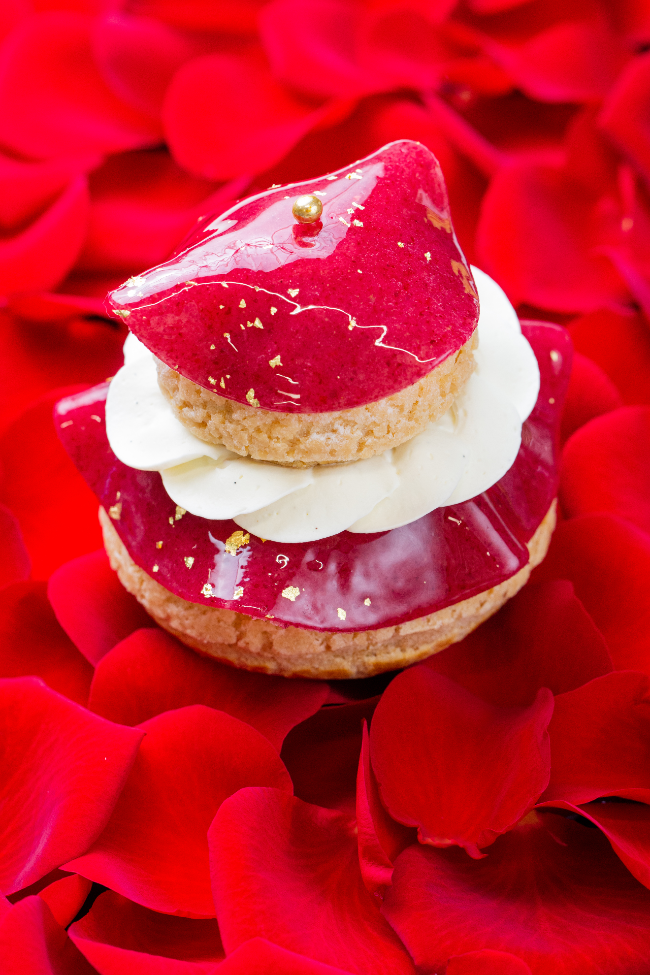 Hovering nearby are the spirits of Héloise & Abelard, Simone Signoret & Yves Montand, Edith Piaf, Brillat Savarin, Louis Ladurée, Antoine-Augustine Parmentier and Jim Morrison. Super-chef Guy Martin's lovingly renovated classic neighborhood brasserie is located on the same busy boulevard as the legendary Père-Lachaise Cemetery.
"I adore the grungy 20th arrondissement. My inner artist has created a neo bistro-guinguette with Mediterranean attitude," he says. The lovely setting, created with architect Jérome Faillant-Dumas, has an artist-chic vibe with mellow, fresh colors. The 1930s/1950s-style wall frescos are a nod to Jean Cocteau. Sit at the counter, the well-spaced wooden tables, or on the romantic terrace. The Valentine's dinner menu is a quality/price extraordinary value (€49 + wine). Daurade (sea-bream) carpaccio. Tataki of beef, Jalapeno potato purée. Mango & passion fruit Pavlova. Vow  eternal love with a Rossini (like a Bellini, but with strawberries).
78 Boulevard Ménilmontant, 20th
Tel: 01 40 30 26 00
Metro: Père Lachaise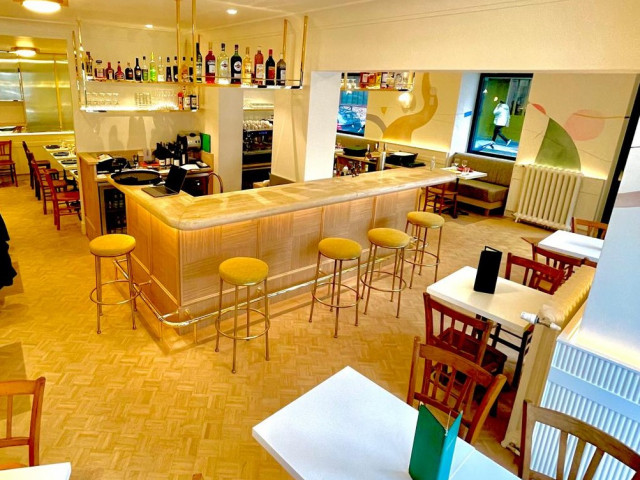 Opposite the Eiffel Tower on the edge of the Pont Alma Bridge, the space that used to house the Antoine restaurant (by chef Thibault Sombardier) has morphed into something new, now in the capable hands of Colombian born chef Esteban Salazar. The colorful Andalusian style décor is by Alexis Mabille. The perfect cantina for Valentine – here the dishes are made for sharing! A flute of champagne with mushroom and sorrel Empanadas as amusing amuse bouche. Continue with octopus carpaccio/warm oysters/leek salad/truffled bread. Red Mullet/Confit of Lamb/marinated, spinach. Profiterole/hay and vanilla ice cream/Chocolate tart to finish (€120 per person + wine)
10 avenue de New York, 16th
Metro: Pont Alma
Tel: 01 49 53 01 79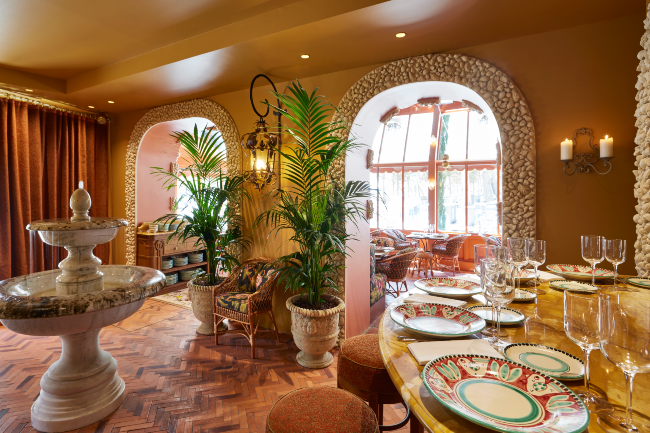 Chef Tetsuya Yoshida's delicate seasonal cuisine is picture perfect for Valentine's. His recently launched restaurant a triumph, designed by Anne Haloche and Gilles Spiret of Anegil Architects. At the entrance there's a staircase: where does it lead? At the back, the chef's table, like that of a Parisian apartment, is hidden behind narrow bronze mirror panels. The intriguing and delicate menus will delight, a marvelous opportunity to discover this chic, delicious, sensual address.
Menu Saint Valentine €220. Menu Passioné €250
18 rue de la Boetie, 8th
Tel: 01 44 90 02 95
Metro: Miromesnil
At Lenôtre, Creative Director Guy Krenzer and Pastry Chef Etienne Leroy delight lovers with "Linked Hearts," created when Lenôtre asked visual artist Sophie Griotto to illustrate the visual universe of its Valentine collection. Inspired by Asian paintings, from which she draws her poetic and calligraphic line, Sophie Griotto uses heart-shaped rose petals, worked in different textures "like the many facets of love", linked by a red thread symbolizing eternal amour. Chocolate Linked Hearts are on a base of crunchy chocolate biscuit and a crispy layer of hazelnut praline feuilletine, a melting heart of dark and milk chocolate, coated with dark chocolate mousse, decorated with a fine chocolate mirror glaze (for 2 – €24). Pear and Mandarin Hearts linked by heart-shaped gateaux sit on a biscuit and crispy duja base, soft Genoa biscuit is topped with pear and mandarin compote, then tangy tangerine pannacotta mousse (for 2 – €24). Available in Lenôtre boutiques and/or on the website.
The Valentine Box contains the two essentials for a caviar tasting experience: a tin of Ossetra Tsar Impérial®, the flagship caviar of Maison Petrossian with its perfect texture and balanced flavors. Add two miniature bottles of classic vodka "to reveal the sublime caviar aromas." Or splurge for the limited edition collector's box, with Ossetra Tsar Impérial® caviar 30 g or 50 g and 2 miniature bottles of vodka. The limited edition Valentine's Day gift box 30 g costs €115 Caviar box and 50 g: €170.
Available in Petrossian boutiques and on www.petrossian.fr
The Trigano family launched the now legendary Mama Shelter in September 2008 with 172 "digital" rooms, 5 color schemes and Philippe Starck's unmistakable signature. Since then they've evolved, expanding into other parts of the city, other French regions, and abroad. Love is always in the air, especially for Valentine's. "Sexy Mama" greets you with two "on the house" cocktails, a spicy "Sexy Mama" box (don't ask) and complimentary access to xxx rated films! Dine in the buzzing restaurant; Mama's waiting for you!
109, rue de Bagnolet, 20th
Tel: 01 43 48 48 48
Metro: Bagnolet
Chef Jérôme Dutois suggests sharing a meal of delicious canapés and traditional lobster vol-au-vent. The vegetarian version is made with winter vegetable compôte, on a cream of mushroom soup. On the pastry side, Maison Mulot's chef/owner Fabien Rouillard presents his latest fantasy: "Delicacy" sponge cake dessert, white chocolate ganache, fresh passion fruit and candied lemon. The bakery team suggest their heart-shaped foccacia, dried tomatoes, black olives and Guérande fleur de sel, and a beautiful braided brioche with pink pralines.
79 rue de Seine, 6th
Tel: 01 43 26 85 77
Metro: Mabillon
Lead photo credit : Courtesy of Mandarin Oriental Paris/ Thierry Marx
---
---