Paris Haute Couture Spring/Summer 2015 Fashion Week
January and February are always bleak and depressing, so it's nice to have Paris' Haute Couture Spring/Summer 2015 Fashion Week to spice up the bleakness of the months. The last week of January provided an array of fantastical haute couture pieces from French names and from far-flung design houses of the Netherlands (Viktor & Rolf), Lebanon (Zuhair Murad), Italy (Valentino), and more. Atelier Versace was one of the first shows to debut its line, and the house did not disappoint. Versace is known for being over-the-top in a fabulous Sally Bowles kinda way. The house's chief designer and image en face, Donatella Versace, is memorable from head to toe, and conveys that in her designs as well. The house's first 2015 showcase was all about the blacks, whites, reds, and blues. And the one-shoulder look was rife. A Studio 54 vibe was pervasive, and one could picture a Jerry Hall or an Anita Pallenberg donning any of the ensembles. Big-belted, floor-length gowns were the show's focus. Many of the bodice's were fashioned in a way that one might see during the Olympic ice skating rounds. Dior, a classic, brought out some nouveau and not-so-classic (but trendy) looks. Sheer overlays, orange tights, sequined trousers, rainbow A-line skirts, and dresses with a large green dot in the center, were some of the more unique and stand-out items. My personal favorite was the pair of emerald green galoshes, oft not seen – ever. Elie Saab brought out the Oscar red carpet-worthy looks. I would not be surprised if we saw some of these dresses during awards season on several leading ladies. The full-skirted, floor-length lines were reminiscent of de la Renta. Classic colors like pale pinks, stony grays, and metallic golds were present, as were an unusual seafoam green. Viktor & Rolfe topped their models' head with what appeared to be bouquets of wheat and straw. The dresses were very bright and South Pacific. Valentino's collection was uncharacteristically drab. And per usual, Jean Paul Gaultier turned it out with unique and captivating silhouettes. Though the most notable thing about the Gaultier show was age. A model who appeared to be in her early 50's took to the runway; oft not seen – ever, ever. Fashion expert and author of
Bringing Home the Birkin
, Michael Tonello, spoke to me from Venice: "Paris Fashion Week January 2015 saw the celebs out in full force: Natalie Portman and Benjamin Millepied, Naomi Campbell, Dylan Penn, Kate Hudson, and Dita Von Teese, who all helped provide a sense of escapism which the world desperately needs at this time of global unrest. Hopefully later this year we'll see some of the glamour and whimsy from the catwalks trickle down to the streets." And glamour and whimsy is exactly what we need in wintry February. As Cabaret's Sally Bowles says, "Divine decadence, darling!"
SUBSCRIBE
ALREADY SUBSCRIBED?
BECOME A BONJOUR PARIS MEMBER

Gain full access to our collection of over 5,000 articles and bring the City of Light into your life. Just 60 USD per year.

Find out why you should become a member here.

Sign in

Fill in your credentials below.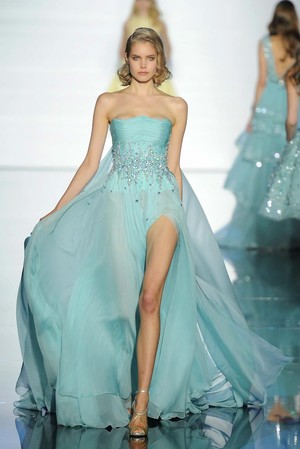 January and February are always bleak and depressing, so it's nice to have Paris' Haute Couture Spring/Summer 2015 Fashion Week to spice up the bleakness of the months.
The last week of January provided an array of fantastical haute couture pieces from French names and from far-flung design houses of the Netherlands (Viktor & Rolf), Lebanon (Zuhair Murad), Italy (Valentino), and more.
Atelier Versace was one of the first shows to debut its line, and the house did not disappoint. Versace is known for being over-the-top in a fabulous Sally Bowles kinda way. The house's chief designer and image en face, Donatella Versace, is memorable from head to toe, and conveys that in her designs as well. The house's first 2015 showcase was all about the blacks, whites, reds, and blues. And the one-shoulder look was rife. A Studio 54 vibe was pervasive, and one could picture a Jerry Hall or an Anita Pallenberg donning any of the ensembles. Big-belted, floor-length gowns were the show's focus. Many of the bodice's were fashioned in a way that one might see during the Olympic ice skating rounds.
Dior, a classic, brought out some nouveau and not-so-classic (but trendy) looks. Sheer overlays, orange tights, sequined trousers, rainbow A-line skirts, and dresses with a large green dot in the center, were some of the more unique and stand-out items. My personal favorite was the pair of emerald green galoshes, oft not seen – ever.
Elie Saab brought out the Oscar red carpet-worthy looks. I would not be surprised if we saw some of these dresses during awards season on several leading ladies. The full-skirted, floor-length lines were reminiscent of de la Renta. Classic colors like pale pinks, stony grays, and metallic golds were present, as were an unusual seafoam green.
Viktor & Rolfe topped their models' head with what appeared to be bouquets of wheat and straw. The dresses were very bright and South Pacific. Valentino's collection was uncharacteristically drab. And per usual, Jean Paul Gaultier turned it out with unique and captivating silhouettes. Though the most notable thing about the Gaultier show was age. A model who appeared to be in her early 50's took to the runway; oft not seen – ever, ever.
Fashion expert and author of Bringing Home the Birkin, Michael Tonello, spoke to me from Venice: "Paris Fashion Week January 2015 saw the celebs out in full force: Natalie Portman and Benjamin Millepied, Naomi Campbell, Dylan Penn, Kate Hudson, and Dita Von Teese, who all helped provide a sense of escapism which the world desperately needs at this time of global unrest. Hopefully later this year we'll see some of the glamour and whimsy from the catwalks trickle down to the streets."
And glamour and whimsy is exactly what we need in wintry February. As Cabaret's Sally Bowles says, "Divine decadence, darling!"
Lead photo credit : Paris Fashion Week 2015 Review
More in fashion, fashion week, Paris fashion
---
---