Escape to London: Chelsea Physic Garden, Draycott Hotel & more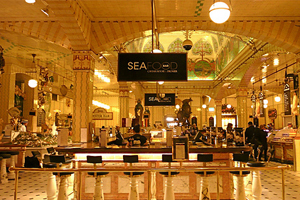 Getting to London from Paris for the weekend is a breeze, especially so if you opt to take the
Eurostar
. You'll be in central London in no time. Well, 2h15 to be exact. If you don't wait till last minute you can usually expect to pay as little as 44 euro each way. Sometimes less. WHAT TO DO… There's no shortage of what to do in London. Taking in one of the great shows on at the West End is always a good idea and you can always check for discounted tickets at the TKTS booth in London. There's also all the usual suspects for shopping including the famous
Harrods
.  Sure it has plenty of high-end fashion, but make a bee-line for their "great food halls" and your jaw will surely drop. There's all sorts of chocolates, pastries, teas, coffees, cheeses…just about anything!  There's even a gelato bar.   Selfridges is an impressive shop too, with many hard-to-find and exclusive brands, as well as a "cellar" that will leave you in awe. Paris is certainly known for its excellent food markets, but London has some contenders of its own. The Borough Market is one of the most renowned food markets, featuring British and international produce. Done shopping? Most museums in London are free, as if you need an excuse to head over to the likes of the
British Museum
and
Tate Modern
. If you're looking for something a little different though, there one hidden gem we'd like to share.  A best-kept-secret of sorts, the Chelsea Physic Garden is tucked away behind a wall, beside the Thames. London's oldest garden was founded in 1673 by the Worshipful Society of Apothecaries and it has become an important centre for the study of botany.  Once you find the hidden entrance, the garden is nothing but welcome. Not only are the staff beyond friendly, but there are free guided tours each hour. You can learn about the medicinal qualities of plants, their history and much more. It is an eye opening experience as the realization of what plants really do and have done for us sinks in. The garden itself is beautiful and there aren't many tourists in sight, so there's a tranquility to it. It has been said that after spending a few hours inhaling the aromas in the garden, you'll feel different. It's true. If you get hungry, the garden's Tangerine Dream Café serves fresh home-made lunch, afternoon tea, and desserts.  The menu is small but creative and delicious. It cannot be recommended enough and has been winning its fair share of acclaim from the press and visitors alike. After you're done enjoying the garden, you may want to pick up some seeds in their gift shop so that you can start your own. In your backyards. £9.00 for adults and senior citizens £6.00 for students, registered unemployed and children (5-15 years old) Free for Friends of the Garden Visit their
website
for more details. WHERE TO STAY… London has no shortage of great hotels, but in a sea of excellent contenders, the five star Draycott Hotel stands out. For those looking for minimalist, modern design, you've come to the wrong place. The Draycott is all about the quintessential old English atmosphere, be it in terms of decor or service (they serve complimentary champagne at 6pm and hot chocolate with cookies at 9pm in the "drawing room"). The staff are unobtrusive but attentive. Friendly, but reserved. The hotel is somewhat reminiscent of an English country-house. The Draycott even boasts its own garden, a true rarity in London. The garden is charming and tranquil.  It's easy to see why many guests (including celebrities) return repeatedly to the Draycott. It really does offer a very homelike atmosphere, a bit of serenity in the middle of London. An oasis of sorts. There is a real elegance to the rooms. They feel more like staying at some family's magnificent private estate than a hotel. There are private fireplaces, the beds are extremely comfortable, and the decor feels soothing and homey. In fact, if it's raining outside, it's particularly difficult to leave. In fact, it's so cozy you might never want to leave in general. Each room is named after some star of the theatre world and is adorned with things inspired by their namesakes, be it books or photographs of likes of Sheridan, Coward, or Ashcroft. While you're occupying the room, your name appears on a plaque on the door, as if to reinforce that this is your temporary home. No small detail goes unnoticed. Forgot to bring a converter for your mobile device? No need beg, borrow, or steal one. There's a built-in lineup of converters for just about any plug type already in the room. There are also unexpected small surprises like a teddy bear in each room that's meant for the enjoyment of visiting children.  The bathrooms are well-appointed, though not particularly large. Toiletries are excellent though. Located just a few blocks from Sloan Square, the Draycott is central while at the same time being tucked away in an inconspicuous, quiet area. It's easy to get around by foot or tube and there are many great shops in the area, but at night, the area does tend to shut down rather early and finding a decent restaurant might prove to be a challenge. A few words of caution: Layout can be a bit "quirky" and maze-like – it's easy to get lost and elevators are tiny (be prepared to squeeze in). Wifi is free at the hotel, but phone calls are not. Surprisingly, a short local call can set you back as much as 12GBP – a real disappointment.  Pricing for food and mini-bar isn't a bargain…
SUBSCRIBE
ALREADY SUBSCRIBED?
BECOME A BONJOUR PARIS MEMBER

Gain full access to our collection of over 5,000 articles and bring the City of Light into your life. Just 60 USD per year.

Find out why you should become a member here.

Sign in

Fill in your credentials below.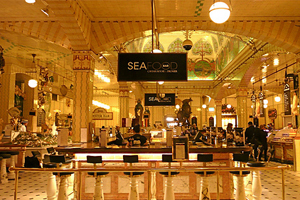 Getting to London from Paris for the weekend is a breeze, especially so if you opt to take the Eurostar. You'll be in central London in no time. Well, 2h15 to be exact. If you don't wait till last minute you can usually expect to pay as little as 44 euro each way. Sometimes less.
WHAT TO DO…
There's no shortage of what to do in London. Taking in one of the great shows on at the West End is always a good idea and you can always check for discounted tickets at the TKTS booth in London.
There's also all the usual suspects for shopping including the famous Harrods .  Sure it has plenty of high-end fashion, but make a bee-line for their "great food halls" and your jaw will surely drop. There's all sorts of chocolates, pastries, teas, coffees, cheeses…just about anything!  There's even a gelato bar.   Selfridges is an impressive shop too, with many hard-to-find and exclusive brands, as well as a "cellar" that will leave you in awe.
Paris is certainly known for its excellent food markets, but London has some contenders of its own. The Borough Market is one of the most renowned food markets, featuring British and international produce.
Done shopping? Most museums in London are free, as if you need an excuse to head over to the likes of the British Museum and Tate Modern.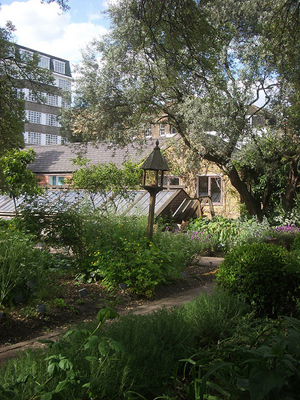 If you're looking for something a little different though, there one hidden gem we'd like to share.  A best-kept-secret of sorts, the Chelsea Physic Garden is tucked away behind a wall, beside the Thames. London's oldest garden was founded in 1673 by the Worshipful Society of Apothecaries and it has become an important centre for the study of botany.  Once you find the hidden entrance, the garden is nothing but welcome. Not only are the staff beyond friendly, but there are free guided tours each hour. You can learn about the medicinal qualities of plants, their history and much more. It is an eye opening experience as the realization of what plants really do and have done for us sinks in. The garden itself is beautiful and there aren't many tourists in sight, so there's a tranquility to it. It has been said that after spending a few hours inhaling the aromas in the garden, you'll feel different. It's true.
If you get hungry, the garden's Tangerine Dream Café serves fresh home-made lunch, afternoon tea, and desserts.  The menu is small but creative and delicious. It cannot be recommended enough and has been winning its fair share of acclaim from the press and visitors alike.
After you're done enjoying the garden, you may want to pick up some seeds in their gift shop so that you can start your own. In your backyards.
£9.00 for adults and senior citizens
£6.00 for students, registered unemployed and children (5-15 years old)
Free for Friends of the Garden
Visit their website for more details.
WHERE TO STAY…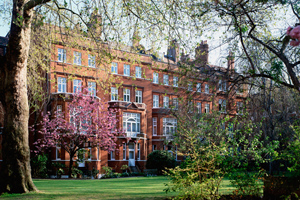 London has no shortage of great hotels, but in a sea of excellent contenders, the five star Draycott Hotel stands out. For those looking for minimalist, modern design, you've come to the wrong place. The Draycott is all about the quintessential old English atmosphere, be it in terms of decor or service (they serve complimentary champagne at 6pm and hot chocolate with cookies at 9pm in the "drawing room"). The staff are unobtrusive but attentive. Friendly, but reserved.
The hotel is somewhat reminiscent of an English country-house. The Draycott even boasts its own garden, a true rarity in London. The garden is charming and tranquil.  It's easy to see why many guests (including celebrities) return repeatedly to the Draycott. It really does offer a very homelike atmosphere, a bit of serenity in the middle of London. An oasis of sorts.
There is a real elegance to the rooms. They feel more like staying at some family's magnificent private estate than a hotel. There are private fireplaces, the beds are extremely comfortable, and the decor feels soothing and homey. In fact, if it's raining outside, it's particularly difficult to leave. In fact, it's so cozy you might never want to leave in general.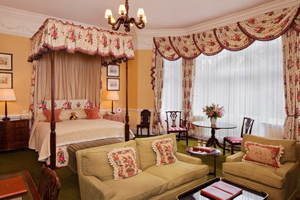 Each room is named after some star of the theatre world and is adorned with things inspired by their namesakes, be it books or photographs of likes of Sheridan, Coward, or Ashcroft. While you're occupying the room, your name appears on a plaque on the door, as if to reinforce that this is your temporary home.
No small detail goes unnoticed. Forgot to bring a converter for your mobile device? No need beg, borrow, or steal one. There's a built-in lineup of converters for just about any plug type already in the room.
There are also unexpected small surprises like a teddy bear in each room that's meant for the enjoyment of visiting children.  The bathrooms are well-appointed, though not particularly large. Toiletries are excellent though.
Located just a few blocks from Sloan Square, the Draycott is central while at the same time being tucked away in an inconspicuous, quiet area. It's easy to get around by foot or tube and there are many great shops in the area, but at night, the area does tend to shut down rather early and finding a decent restaurant might prove to be a challenge.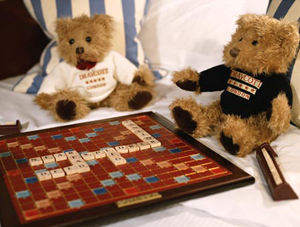 A few words of caution: Layout can be a bit "quirky" and maze-like – it's easy to get lost and elevators are tiny (be prepared to squeeze in). Wifi is free at the hotel, but phone calls are not. Surprisingly, a short local call can set you back as much as 12GBP – a real disappointment.  Pricing for food and mini-bar isn't a bargain either, but should come as less of a surprise.
The Verdict: If you're looking for an oasis with a decidedly traditional English country-home feel, in the middle of London, the Draycott Hotel is a great choice.
Rates
Singles – £192.00
Doubles – £260.00
Deluxe Double – £390.00
Suites – £468.00
(Rates includes VAT and subject to availability. Weekend and Promotional Rates available upon request)
Visit the Draycott Hotel website for more details.
photo 1 by Herry Lawford [CC BY 2.0], via Flickr
photo 2 by bixentro [CC BY 2.0], via Flickr
photos 3 and 4 courtesy of the Draycott Hotel
More in boutique hotel, Hotels, London, London hotels, London restaurants, Paris to London
---
---