An Invitation to Château du Grand Lucé (A Book by Timothy Corrigan)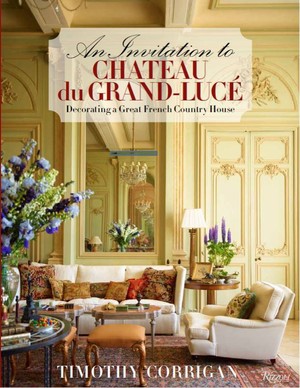 SUBSCRIBE
ALREADY SUBSCRIBED?
BECOME A BONJOUR PARIS MEMBER

Gain full access to our collection of over 5,000 articles and bring the City of Light into your life. Just 60 USD per year.

Find out why you should become a member here.

Sign in

Fill in your credentials below.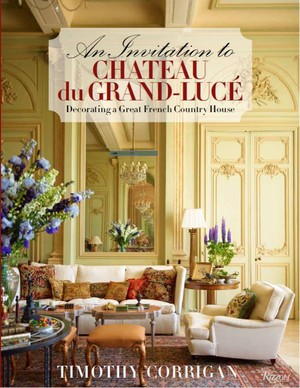 In 2002, designer Timothy Corrigan discovered a château in the Loire Valley. He saw beyond its flaws and knew he must live in it. It was a monument historique (heritage property), owned by the French government. Corrigan was not the only one who wanted it, but 18 months of persuasive arguments earned him the keys to the castle.
An Invitation to Château du Grand Lucé: Decorating a Great French Country Home takes us on a visit to the château. Corrigan is a cordial and informed host. The tale of his magnificent obsession, written with Mark Kristal and photography by Eric Piasecki, makes a stunning book.

The château was completed in 1764 for an official of Louis XV. That unfortunate gentleman never lived in his house for, upon seeing it for the first time, he suffered a fatal heart attack at the gate, and the house passed to his daughter. When fire destroyed the neighboring village in 1781, she paid to rebuild it, a kindness the villagers returned by protecting her during the Revolution. Thus, the château escaped the fate of many aristocratic homes.
Crowned by a mansard roof, its façade unadorned but for a pediment bearing the arms of the original family – elegance is refusal – the house is considered one of the finest examples of neoclassical architecture in France. What Corrigan found, plainly speaking, was a mess, with neither heat, electricity nor even a kitchen. There were only four bathrooms, none for the guest rooms. But it was architecturally sound and perfectly proportioned, its interior elements intact (a mixed blessing in a listed property, as they must be maintained).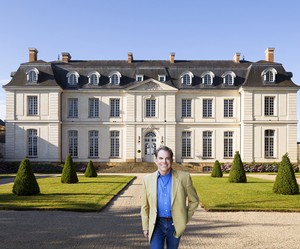 Anyone who has suffered through an extensive renovation will recognize many of the challenges Corrigan faced. Now, imagine that everything you do is under the scrutiny of an agency charged with protecting architectural heritage, and you'll admire his courage.
The Architectes des Bâtiments de France imposed rigorous requirements. Paint colors must conform to historical precedent. Replacement doors were rejected because the mullions were ¼" too wide. The placement of new baths was dictated by where pipes could be run without disturbing the architecture. Even the grounds are protected; work was shut down after trees were removed without permission.
The property hadn't been in private hands since World War II. Benign neglect often trumps someone's vision of improvement, and hard work revealed hidden treasure. From beneath layers of paint emerged intricate details and original boiseries. Rare chinoiserie murals hidden behind white canvas were protected from looting or damage.

The architecture must be preserved, but Corrigan had free reign to decorate. He is a master of mise en scène. To make the courtyard more welcoming, he replaced its original cobblestones with gravel, grass and topiary. Climbing roses embrace the walls, and hydrangeas soften the rectilinear façade. An octagonal entry introduces the house beyond. Antlers on the walls remind us this is a patrician house, where friends once gathered to hunt.
The rooms, built en enfilade along an axis extending from front courtyard to the gardens in back, show harmony of color when viewed at once. Tones of green throughout invite the outside in. Corrigan has resisted the temptation to create period rooms, infusing rooms of grandiose proportions with warmth and intimacy.

Original fluted pilasters punctuate the walls of the Grand Salon. In arched doorways, sculpted trophies suggest noble diversions: victory in battle, love, the arts, hunting and the garden. Furniture is grouped to soften the regularity of the architecture, facing outward to take advantage of summer views, inward in winter.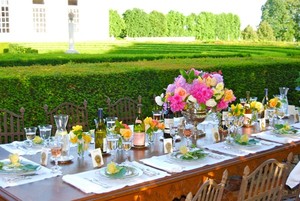 Throughout house and garden, inviting vignettes beckon to the visitor for a petite pause. Comfort is paramount, and Corrigan prides himself on matching guests to their rooms — whether whimsical butterflies or Napoleonic masculinity. No detail is overlooked, from welcoming gifts to bath amenities. Who can resist a man who thinks to pose a reading stand on your bathtub?

Much of château life takes place outdoors, and a proper jardin à la française is a happy union of vegetal and mineral elements. At the parterre, turn to admire the door, with gardening tools in high relief on its pediment. Sculptures in green – grass beds, low hedges and conical topiary – and in stone (several were gifts of Louis XV), fill the garden.
Down a stone staircase, the potager provides vegetables and flowers for the house, marking a transition from formal garden to the lake and woods beyond. Guests who wish to meet some of the château's animal residents (many have become quite tame) may grab a pair of Wellies and explore the forest.

A restoration must respect history as it accommodates modernity. Timothy Corrigan has translated the esthetic vocabulary of the Ancien Regime into contemporary idiom and achieved the 18th century ideal: a residence of refinement where man may live in harmony with nature.
The restoration lasted five years, but the property remains a work in progress. I hope that means we'll be invited back.
Jane del Monte spent several years in Paris studying French decorative arts. She is the owner of ARTS In PARIS tours, with a focus on French culture and art de vivre. When she's not in Paris, she writes about it.
More in book, book review, chateau, France book, French chateau, Loire Valley, Paris books
---
---