Hotel Verneuil: A Boutique Hotel in the heart of St. Germain des Prés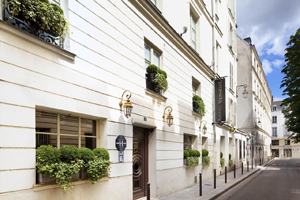 Location, location, location. That's something that the 26-room Hotel Verneuil has in spades. The 17th-century townhouse is situated in the charming St. Germain des Prés. The Musée d'Orsay and the Louvre are stone's throw away, as are numerous cafés, famed macaron shops Ladurée & Pierre Hermé, boutiques, designer shops like Dior and Louis Vuitton, the infamous Le Bon Marché, and many other attractions.
With such a central location, noise can be a concern. Hotel Verneuil, however, avoids this by being situated on a small side street. The French singer-songwriter Serge Gainsbourg once lived on the rue de Verneuil (he died in 1991). Now, a beautiful graffiti of him covers the walls of his old dwelling place, which is just opposite from the hotel.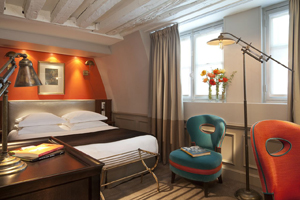 There's no getting around it, the rooms at Hotel Verneuil are intimate. Very intimate.  Still, despite their small size, they do manage to be very comfortable and well appointed. The decor blends 17th-century charm, with more modern, artful touch.
When it comes time to sleep, you're guaranteed a comfortable, tranquil rest.
Although the hotel is quite small and rated at 4 stars, there isn't a lot of pomp and staff are generally friendly and laid-back.
The hotel offers continental breakfast which is served daily in the cellar or in the privacy of your room, if you so choose. Selection is limited, but delicious.
Although often boutique hotels tend to nickel-and-dime for even the smallest things, Hotel Verneuil stands out by offering guests free international calls, wifi, access to a laptop/printer, Ipads for guest usage, and more.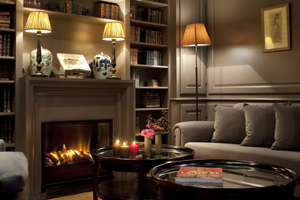 Ultimately, there's more to this little hotel than just location alone. There's an undeniable charm to it. Though, of course, the excellent location certainly doesn't hurt.
More in Authentic Hotels, boutique hotel, Hotels, Left Bank hotels, Paris hotels, st germain, st germain des pres
---
---