Home
Tags
Posts tagged with "Authentic Hotels"
Tag: Authentic Hotels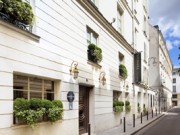 Location, location, location. That's something that the 26-room Hotel Verneuil has in spades. The 17th-century townhouse is situated in the charming St. Germain des...

Saint Tropez based Christophe Vallet founded the Authentic Hotels & Cruises Collection.   His 48-room La Ferme d'Augustin is one of St Tropez's oldest...