BUZZ: Chateau de Berne, Les 3 Nagas & Les Vendanges de Montmartre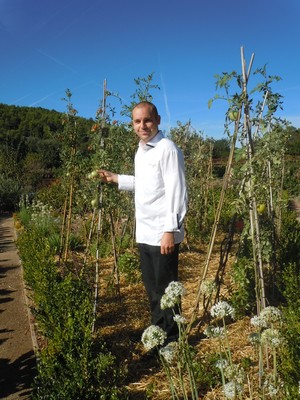 Minutes from Lorgues village, set in 1,500 acres of forest, 5000 olive trees, vineyards, at the end of a long and winding road, the 18th century Château de Berne, has been brought into the 21st century by British businessman, Mark Dixon, CEO and founder of Regus.
"We offer relaxation and a glimpse of a unique lifestyle around the themes, Provence and Wine Tourism", explains Château de Berne's manager, Mme Christine Monteil, working in close collaboration with a dedicated and enthusiastic team.
There are programmes for everyone who wants to be organised, to maybe discover wine-tourism. But there's no pressure, some just visit to check out the newly face-lifted spa using, during the grape harvest season, warm organic grapeseed oil products, lavender extracts, thyme, rosemary.
Or, choose, say, a few days of Scents & Flavours, get up close and personal with the talent of young chef Czapliki (ex-Park Hyatt Le Pur with Jean-Franҫois Rouquette). Stay for 2/3 or 5 nights and dig up seasonal vegetables which chef'll show you how to cook for lunch or dinner, in his sun-drenched organic potager. Chef will take you to the Lorgues Tuesday market, the olive mill and other spots of interest.
Czapliki's dishes are a taste of the bounty of Provence. He chalks his lunch menu at the last minute and it's never the same. "I like to match the Berne wines with my food, wine making has been the Château's main activity since 1750! Vines have been grown in the Château grounds since Roman times. Situated on the Aurelian Way a Roman road formerly linking Italy and Spain, the vineyard was also a trading post for wines", he adds.
Go to Les Vignobles de Berne.  And your favourite chef? "I am a fan of the whites, I find them very seductive" he admits.
"Conventional cooking doesn't interest me", continues Czapliki. "I begin with a product, let it take me from there, I cook what I'd like to eat in a restaurant. So far, since I've been in the region, I haven't found anywhere exceptional to eat!" He sites Rouquette, Anne-Sophie Pic, Eric Guerin, Alexandre Gauthier and Pascal Barbot as chefs he admires.
So, give us an example of Chef Czapliki's inspirations: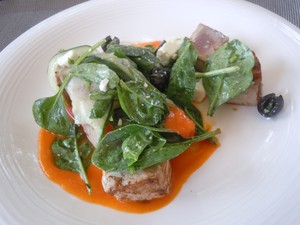 OK. Last Friday at lunch, paired with Château de Berne's Viognier, poured from the radical chic square bottle, the starter was : Salade de chou fleur rôti, raisins sec, pomelos et crème de chou fleur au lait d'amandes. The main: thick Steak de Pasteque (yes, water melon!) served rare! A la plancha, paired with sauté de thon minute aux olives, concombre, feta and coriander. A triumph and a play on so many South of France/Italian references. Chevre de Haut Var and then Crumble de Melon de Provence, a drizzle of mint honey and goat's cheese sorbet.   Pure bliss!
Château de Berne has three restaurants, take time to test them all. L'Orangerie, open for dinner. La Bouscarelle Grill at lunch, sit under the shade of olive trees on the terrace of the former cellar. And Le Bistrot for daylong snacking.
Take time to tour the wine cellars with exceptional rosé, red and white wines. Berne's wine specialists will patiently explain, offer tastes and help you appreciate the aromas, the robe and tannins, the cépages.  Stock up with goodies from the fabulous boutique. The Château's 15-year commitment to minimizing the use of chemical fertilizers has earned it the "Agriculture Raisonnée" label, awarded to environmentally-friendly growers.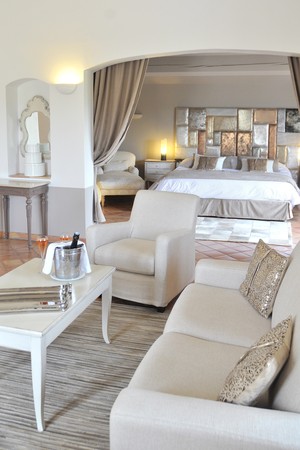 The country house chic décor for all the rooms, including the six new, is signed by talented Aix based interior designer Nathalie Vingot Mei.
The new rooms, in the middle of the vineyards, set in a Bastide, are named Figue, Bleuet, Cannelle, Jasmin, Eglantine and Cigale. Ms Vingot Mei uses Provence flea market finds, furniture by Comptoirs du Sud, Blanc d'Ivoire and Du bout du Monde; fabrics are soft and natural, walls throughout the Château punctuated with stunning pieces by local artists.
Note that there are concerts and festivals, in the mini outside amphitheatre, throughout the year. 22nd September celebrates the Wine Harvest with tours, tastings and lunch. There's just time to hop in the helicopter to get there. Or, book the 13th October for "Journée Autour de l'Italie". Feeling romantic? Privatise the little chapel on the edge of the potager, for lunch, brunch, to get wed.
See you there!
Château de Berne,
Restaurants L'Orangerie: La Bouscarelle: Le Bistrot
Boutique
Ecole de Cuisine
Relais&Chateaux
Route de Salernes, Lorgue,
T: 04 94 60 43 60
Free Wi-Fi
25 Rooms & one Suite from about 175-760€ + breakfast 26€
Spa: Fitness: Heated infinity Pool: Tennis: Quadbike: Mountain Bike etc.
Helipad – Free Parking
Access: Toulon Airport – 20 minutes from Les-Arcs-Draguignan Station via Gare de Lyon
Meanwhile back in Paris:
Diary Date for the 80th edition of Les Vendanges de Montmartre with Nolwenn Leroy and Thomas Dutronc, the theme is "amour" – 9-13 October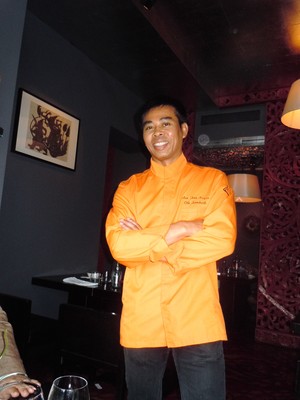 Remember Oth Sombath? His sumptuous rue Saint Honoré restaurant was decorated by Patrick Jouin? He's no longer there and fans are asking, what's become of Oth and his interesting Thai based fusion cuisine?
Look no further than Les 3 Nagas, Passy, just below the metro, opposite the Seine. Yes, he's back, looking fit and slim, serving your favourites: Yan Huab Hin (salmon salad and thai spices) Filet de boeuf au curry orange. Saint Jacques, roasted with orange and Thai spices. Pia Yang, daurade grilled and wrapped in a banana leaf. Kai Neung, cabbage stuffed with chicken, pineapple sauce. Tasty chicken, beef, crevette curries, wash down with Singha Beer or Grave Blanc: Chateau Ferrande (35€) Deserts include Ta Ko: Crème de coco aux water-chestnuts: Banana and chocolate nems: coffee ice cream with wine and ginger sauce.
Aux Trois Nagas Avec Oth Sombath,
18 avenue du President Kennedy, 16th
M: Passy
Shut Sunday
T: 01 42 88 2795
Lunch Plateau 19€ with water and fruit juice
Tasting Menu 70€
A La Carte about 65€
Valet parking at night
Leave a reply
Your email address will not be published. Required fields are marked *