Alain Ducasse Lifetime Achievement Award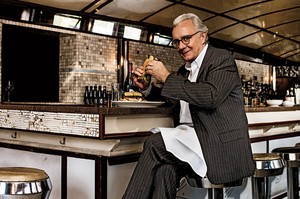 Since being awarded three Michelin stars at the tender age of 33 for his 33-month old Le Louis XV at the Hôtel de Paris in Monaco, Alain Ducasse has become one of the world's most decorated chefs, the first to have been awarded three Michelin stars in three different cities. Since its creation, he has scored 14 positions on The World's 50 Best Restaurants list, more than any other chef.
An international chef in every sense, his efforts to promote 'glocal' thinking, a vision of what's going on globally but operating locally, sees each of Ducasse's restaurants having a local sensibility with its own story. "In each of my restaurants the chef is the conduit between nature and culture.  The question of the intelligent use of the planet's resources is essential to me," Monsieur Ducasse explains.
Today, the Alain Ducasse Entreprise comprises more than 20 restaurants around the world, three inns in Europe, an independent hotel association, a culinary publishing house, an international education division, with a cooking school for all, in Paris as well as a pastry school for professionals and amateurs alike and a culinary training centre for pro-chefs. And the recently launched Manufacture de Chocolat, Bastille.
Though not all of the chefs on The World's 50 Best Restaurants which is sponsored by S.Pellegrino & Acqua Panna, have worked directly for Monsieur Ducasse, they all acknowledge his impact. From Noma's Rene Redzepi, who grew up reading Ducasse's cookbooks to Massimo Bottura of Osteria Francescana, who paid homage to his former mentor in a now signature dish – Compression of Pasta and Beans.
For those affectionately referred to as "Génération Ducasse", his influence is omnipotent. For Alain Ducasse the future of cuisine lies in diversity. "Each chef has his own specific emotional territory of expression, different from the others. It is this difference that makes the wealth of the ensemble."
Last year, for the 25th anniversary of the Le Louis XV Monaco, and probably the best illustration of how much Ducasse values cuisine's multiple expressions today, he gathered together 240 chefs-among them more than 20 chefs featuring on the World's 50 Best Restaurants list- from 25 countries representing 5 continents and 300 Michelin stars. As French Academy chairperson for The World's 50 Best Restaurants, Andrea Petrini, commented, "He is the crown prince of French gastronomy. No other individual could have brought such a breathtaking array of culinary talent together in one place."
William Drew, Editor of Restaurant magazine, organisers of The World's 50 Best Restaurants, said:
"We are delighted that this prestigious accolade is going to one of the greatest chefs in France, and indeed the world. The Lifetime Achievement Award is voted for by industry experts from across the globe – chefs, restaurateurs, food writers and critics and well-travelled gourmets – and as such this is an acknowledgement from the restaurant world itself of Chef Ducasse's achievements and positive influence."
Alain Ducasse accepted the award with humility by paying credit to his forebears:
"My first thought goes to Paul Bocuse, this award's very first recipient. Through him, I also think of the generations of chefs who have preceded me and to whom I feel the heir and successor. At the same time, I still feel like a young man and remain much more interested by the work to be done than by that already accomplished."
Lifetime Achievement Award sponsored by Diners Club International®
This prestigious award is voted for by the 936 strong international voting panel who comprise the The Diners Club® World's 50 Best Restaurants Academy. Past winners include Thomas Keller, Juan Mari Arzak, Joël Robuchon, Gualtiero Marchesi, Paul Bocuse, Albert and Michel Roux, Eckart Witzigmann and Alice Waters.
Leave a reply
Your email address will not be published. Required fields are marked *