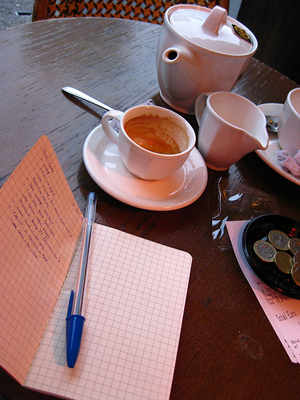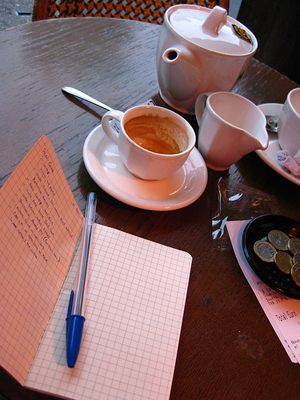 If you want to write a novel, go to Paris — alone. Even if you don't have a lot of time, even if your French is rusty, and you have no friends there, and you're really not sure what you're doing. Go anyway. Go especially, because the air supports creative work; it has for centuries and it does, still. The Muses take their ease in Paris; it's one of those rare places on earth they are readily found, and generally in a mood to please. They extract their due, it's true; you might find yourself required to give them a book about Paris – at least one – you might find yourself falling in love with the place and needing to return, and return, until you've pleased yourself, won their favor, or both.
My own Parisian writing adventures began in very much this way, years ago in a shabby, friendly hotel near the rue Mouffetard — the trip on which I discovered the unique pleasures of dining alone, and found myself, early one misty morning over a café au lait, making a somewhat mystical vow of commitment…if only to my senses, my curiosity, and my notebook. Then, a few years later, unable to let the dream ebb away, I located a flat on the Ile St Louis, around the corner from the courtyard studio where the sculptor Camille Claudel once worked. On that trip, still timid but intrepid nonetheless, I looked to tiny museums for inspiration. The Musée de la Préfecture de Police, for example, contains enough narrative material to keep a troop of novelists scribbling; and even the modestly imaginative might find, as I did, that the Musée de L'Assistance Publique offers up a full store of literary riches. Finally, some years later — in the throes of revision of an actual novel – I found myself in an airy little balconied apartment on the tiny rue des Vertus in the Marais.
The "Street of Virtue" was so named, according to local lore, because it is very narrow — like the path of the chaste — and was once a notorious enclave of women of "small virtue." I hadn't known that fact when I booked, but it seemed a serendipitous signal, a blessing from the Muses, as I was writing about just such a woman. And though Vertus was quiet and well-behaved in its 21st century incarnation, it was easy to imagine these denizens calling to one another from their windows across the cobbled lane, sharing jokes and miseries over a pichet at a miniature café with tables the size of dinner plates.  To see their dusty hems swishing down the streets.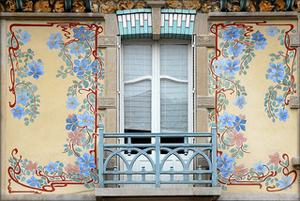 Each morning, I ventured out to the Marché des Enfants Rouges around the corner, the oldest market in Paris, named for the orphanage that once stood on the site, and the uniforms of its young wards (another coincidental connection). There, I practiced my battered French with the forgiving stall holders, filled a basket with breakfast radishes and haricots verts that glowed like bright, dewy jewels; with plums, and fresh chevre, and tulips. Then, I prowled the neighborhood to track down details – to learn how two obscure streets joined up, or figure out if a girl could surreptitiously change her dress in the shadows of the Eglise St. Merri. I paid regards to the Mont de Piété (the municipal pawn shop, still functioning); and to the crust of bread baked during the Siege of Paris, the embalmed Pain de Ferry (named after the mayor) at the Musée Carnavalet. A pause for lunch, or tea, or a bookshop. Then, home to write, long into the night.
In Paris, the novel almost wrote itself. Maybe yours will, too. The muses are generous that way.
Carole DeSanti is the author of the novel The Unruly Passions of Eugénie R. just published in paperback by Mariner/Houghton Mifflin Harcourt.
photo 1 by Rudi Riet [CC BY-SA 2.0], via Flickr
photo 2 by Jean-Pierre DalbéraCC BY 2.0], via Flickr
Leave a reply
Your email address will not be published. Required fields are marked *