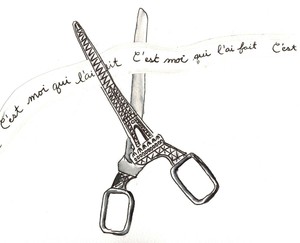 Traveling is not limited to simply seeing a new place. Sights, sounds, and tastes can endure longer than the breathtaking view from the rock-top gazebo at the Buttes Chaumont, stumbling across a brilliant band in a café by chance, or nibbling through a jewel box of macarons for the very first time. But finding something special to create something new at home can re-imagine strong memories of adventures from far away. If any evidence suggests a crafting renaissance in Paris, sewing cafés like The Sweat Shop (13 Rue Lucien Sampaix 75010 Paris) and De fil en Café (87 Rue de Paris 93100 Montreuil) have sprouted up around the city over the past few years. Looking for a practical souvenir to give life to something new at home? Unlike the States, where fabric stores have undergone a drastic over-simplification to Jo-Ann superstores and hole-in-the-wall quilting shops, Paris still has rich haberdasheries with original discoveries to be made.
The fabric Mecca of Paris lies at the feet of Montmartre. Descending from Metro Anvers, avoid the tourists and fiber optic Eiffel Towers by taking a detour though Rue d'Orsel, Rue de Steinkerque, and Rue Seveste. Mom and pop fabric stores line the streets. Don't be alarmed by the metallic clown prints and beaded belly-dancing garb. Venture into these shops to find a varied selection of reasonably priced tissus by the meter. Bartering is often allowed. Don't skip the fabric giants either. Marché Saint Pierre (2 rue Charles Nodier 75018 PARIS) with all of its 2, 500 m² and its 6 floors of discoveries, has been the trusted fabric specialist of fashion designers for over 50 years. No need to tell Jo-Ann Fabric to move over, this is a true fabric superstore.
Tucked into a hidden courtyard amongst a bevy of boutiques in the Marais is a ribbon-lover's dream come true. Entrees des Fournisseurs (8 Rue des Francs-Bourgeois 75003 Paris) hosts walls of luxe ribbons, Liberty of London florals by the meter, and a potential button upgrade for that lonely cardigan in the closet. Knee-deep in wedding preparations, this place was a color-coordinated paradise in search of color and textural inspiration. Once a bride, always a bride; it still inspires me. Additionally, yarn can be found for all persuasions: bamboo, camel, and cashmere. What to do with a little yak yarn? They carry a stock of sweet little baby clothes patterns. Otherwise Entrees des Fournisseurs has a collection of adorable craft books, too. Is your dog in need of a crocheted portrait? There is a book for that, as well. Don't have time to make a trip? Find it in their thoroughly bilingual website.
If in search of aged odds-and-ends, search the crowded stalls of the Marche aux Puces de Saint-Ouen, the ultimate weekend flea market destination just North of Paris. Daniel et Lili, tucked away at stand 128 at the Marche Dauphine is a treasure trove of vintage notions. Wooden bins house boards of meticulously categorized mid-Century fabrics, sunglasses, and belt buckles. With an immense stock of carefully categorized vintage buttons, beads, antique lace, vintage jewelry, and bargain bins of bits and pieces, it is paradise for old souls and vintage enthusiasts alike.
Even if in need of a thread or a bobbin, all of the major department stores in Paris still have a good selection of basic fabrics, ribbons, and original notions with a French twist. How about picking up some Eiffel Tower thread snips for that crafty friend back home? Find them in the discretely chic mercerie section of the third floor of the Bon Marche (24, rue de Sèvres 75007 Paris) along with an impressive assortiment of wool yarn.
Even though globalization has the whole world wearing the same H&M knickers, there are still rare treasures to be found in Paris for crafters and stitching bitches alike. There is no need to be on needles and pins.
Jessie Kanelos is a recent American transplant to Paris. In addition to a background in costume for stage and film, having been thrown into the world's capital of gastronomy, she has recently crossed over to food styling.  She writes a Parisian expat food blog to document her adventures, observations, and recipes, which can be found at: thefrancofly.wordpress.com.  Jessie is also a talented illustrator whose work appears in this article.

Subscribe for
FREE

weekly newsletters.
BonjourParis has been a leading France travel and French lifestyle site since 1995.
Readers' Favorites: Top 100 Books, imports & more at our Amazon store
We update our daily selections, including the newest available with an Amazon.com pre-release discount of 30% or more. Find them by starting here at the back of the Travel section, then work backwards page by page in sections that interest you.
Current favorites, including bestselling Roger&Gallet unisex fragrance Extra Vieielle Jean-Marie Farina….please click on an image for details.
Click on this banner to link to Amazon.com & your purchases support our site….merci!