A Literary Pilgrim Goes to Paris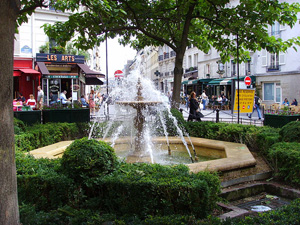 Walking along the boulevards of Paris, becoming a flaneur, is an essential Parisian experience – more so if you have a passion for the literary history of the city. For the 'The Band of Outsiders' Literary Walking tour in Paris, I met the expatriate American writer, David Burke, with my fellow walkers at Place de la Contrescarpe. He began by explaining that just as writers were enriched by living in Paris, our appreciation of their lives and work is heightened by following them from place to place in our imaginations or, even better, in our walking shoes. In spite of the snobbish idea that tourism is not really travel I was hoping, as I arrived in Paris, that it was still possible to have a life-enhancing, even life-changing, experience in a short time away from the humdrum world of daily life. Like everyone else interested in literature I had read that Paris in the first half of the twentieth century was a haven foreign writers and artists, attracted by its great artistic and social freedom. I read Being Geniuses Together 1920-1930, by  Robert McAlmon and Kay Boyle, about expatriate American writers and artists living in Paris, which had inspired me to read Hemingway, Fitzgerald and many others. Gertrude Stein wrote: "Paris was where the twentieth century was." I also had a fascination with the vast series of novels, La Comédie Humaine, by Honoré de Balzac. When I started reading them in my twenties I found it all so different and foreign from anything else I had read. My acquaintance with this city seems to have spanned my whole adult life; in my dreams and in my reading. So, now I stood with David and our group at the centre of the ancient Fauberg Saint Medard, an area which in the Middle Ages lay outside the city walls. He described how wine was cheap and untaxed then and this area teemed with traders and travellers. Francois Villon and later, Rabelais were known to have caroused at the taverns there. In 1922 the young Ernest Hemingway and his wife, Hadley, moved into an apartment around the corner in rue du Cardinal Lemoine. The old building is still there with a plaque indicating their stay there. David reminds us of Hemingway's character, Harry, in The Snows of Kilimanjaro, thinking about this area: "And in that poverty, and in that quarter…he had written the start of all he was to do. There was never another part of Paris that he loved like that." And it is a rich quartier. Down the hill a block from Hemingway's we stopped at Valery Larbaud's apartment where James Joyce finished writing Ulysses.  Then we strolled on through the colourful market street Rue Mouffetard to Rue du Pot-de-Fer where George Orwell once was living a life of poverty that he described in such detail in his first book, Down and Out in Paris and London. It was beginning to rain as we stopped outside the house Balzac used as a model for Mme Vauquer's pension bourgeoise in Le Père Goriot. For shelter we ducked into a nearby art gallery, and David took the opportunity to entertain us with the stories about characters Balzac used in his novels, like the young law student Rastignac and the evil Vautrin. Paris is a tangible mix of the past and present, and the longer we stay in Paris we will come to agree with Balzac when he claimed: "while searching the dead I only see the living." Our walk concluded at the 15th century church of Saint Medard, where Jean Valjean is pursued by the evil Javert in Victor Hugo's Les Miserables. We then adjourned to a nearby café where we relaxed over a glass of wine, un vin rouge, trying to absorb what our afternoon had given us. Later that evening my companions from the walk and I went to La Closerie des Lilas, a café on the Boulevard du Montparnasse where many writers of the 1920s gathered, and where Hemingway wrote sections of his novel, The Sun Also Rises. In the novel, the central characters went there to drink whiskeys. One of them, Lady Brett, as she sits on the café terrace, declares: "One's an ass to leave Paris". We agreed with her as we drank a toast to Paris and to the scholars and enthusiasts such as David Burke who keep the stories of Paris and its writers alive for us. A literary pilgrim searching for his writing heroes can sometimes seem slightly ridiculous but it has sent me back to re-read their stories and their novels. That is where their true legacy lies. David Burke has now developed regular more scheduled walks every Sunday morning from June to September: Literary Ground Zero: Saint Germain-des-Prés – Molière to the "existentialists", Jean-Paul Sartre, Simone de Beauvoir. Others we get to know are Colette, Albert Camus, Jean Genet, Richard Wright, and James Baldwin. Notre-Dame and the Ile Saint-Louis – Our big writers at the cathedral are Rabelais, Victor Hugo and Henry James. We meet Marcel Proust's hero Swann in Swann's Way, Charles Baudelaire. The Great Days of the Marais – In this elegant district the focus is on the emblematic 17th literary figure of Mme. de Sévigné. Victor Hugo, the dominant writer of his era, also lived there. The walks take about two hours and cost 30€/US $40; student rate 20€.  Copies of his book Writers in Paris, Literary Lives in the City of Light, are 20€, on prior request. The groups are small: 10 people maximum. Reserve via
email
. Besides the regular walks, Burke has developed four relatively offbeat literary walks, available on special request: Deathless Writers in Père Lachaise Cemetery "Lost Generation" Montparnasse and Beyond. The Racy Writers of Monceau. Montmartre:…
SUBSCRIBE
ALREADY SUBSCRIBED?
BECOME A BONJOUR PARIS MEMBER

Gain full access to our collection of over 5,000 articles and bring the City of Light into your life. Just 60 USD per year.

Find out why you should become a member here.

Sign in

Fill in your credentials below.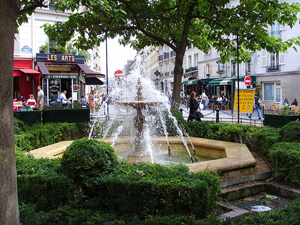 Walking along the boulevards of Paris, becoming a flaneur, is an essential Parisian experience – more so if you have a passion for the literary history of the city. For the 'The Band of Outsiders' Literary Walking tour in Paris, I met the expatriate American writer, David Burke, with my fellow walkers at Place de la Contrescarpe. He began by explaining that just as writers were enriched by living in Paris, our appreciation of their lives and work is heightened by following them from place to place in our imaginations or, even better, in our walking shoes.
In spite of the snobbish idea that tourism is not really travel I was hoping, as I arrived in Paris, that it was still possible to have a life-enhancing, even life-changing, experience in a short time away from the humdrum world of daily life. Like everyone else interested in literature I had read that Paris in the first half of the twentieth century was a haven foreign writers and artists, attracted by its great artistic and social freedom. I read Being Geniuses Together 1920-1930, by  Robert McAlmon and Kay Boyle, about expatriate American writers and artists living in Paris, which had inspired me to read Hemingway, Fitzgerald and many others. Gertrude Stein wrote: "Paris was where the twentieth century was."
I also had a fascination with the vast series of novels, La Comédie Humaine, by Honoré de Balzac. When I started reading them in my twenties I found it all so different and foreign from anything else I had read. My acquaintance with this city seems to have spanned my whole adult life; in my dreams and in my reading.
So, now I stood with David and our group at the centre of the ancient Fauberg Saint Medard, an area which in the Middle Ages lay outside the city walls. He described how wine was cheap and untaxed then and this area teemed with traders and travellers. Francois Villon and later, Rabelais were known to have caroused at the taverns there.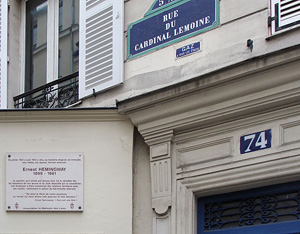 In 1922 the young Ernest Hemingway and his wife, Hadley, moved into an apartment around the corner in rue du Cardinal Lemoine. The old building is still there with a plaque indicating their stay there. David reminds us of Hemingway's character, Harry, in The Snows of Kilimanjaro, thinking about this area: "And in that poverty, and in that quarter…he had written the start of all he was to do. There was never another part of Paris that he loved like that."
And it is a rich quartier. Down the hill a block from Hemingway's we stopped at Valery Larbaud's apartment where James Joyce finished writing Ulysses.  Then we strolled on through the colourful market street Rue Mouffetard to Rue du Pot-de-Fer where George Orwell once was living a life of poverty that he described in such detail in his first book, Down and Out in Paris and London.
It was beginning to rain as we stopped outside the house Balzac used as a model for Mme Vauquer's pension bourgeoise in Le Père Goriot. For shelter we ducked into a nearby art gallery, and David took the opportunity to entertain us with the stories about characters Balzac used in his novels, like the young law student Rastignac and the evil Vautrin. Paris is a tangible mix of the past and present, and the longer we stay in Paris we will come to agree with Balzac when he claimed: "while searching the dead I only see the living."
Our walk concluded at the 15th century church of Saint Medard, where Jean Valjean is pursued by the evil Javert in Victor Hugo's Les Miserables. We then adjourned to a nearby café where we relaxed over a glass of wine, un vin rouge, trying to absorb what our afternoon had given us.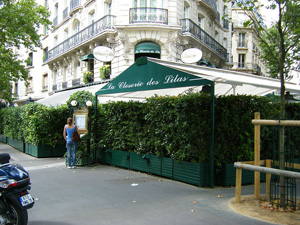 Later that evening my companions from the walk and I went to La Closerie des Lilas, a café on the Boulevard du Montparnasse where many writers of the 1920s gathered, and where Hemingway wrote sections of his novel, The Sun Also Rises. In the novel, the central characters went there to drink whiskeys. One of them, Lady Brett, as she sits on the café terrace, declares: "One's an ass to leave Paris".
We agreed with her as we drank a toast to Paris and to the scholars and enthusiasts such as David Burke who keep the stories of Paris and its writers alive for us. A literary pilgrim searching for his writing heroes can sometimes seem slightly ridiculous but it has sent me back to re-read their stories and their novels. That is where their true legacy lies.
David Burke has now developed regular more scheduled walks every Sunday morning from June to September:
Literary Ground Zero: Saint Germain-des-Prés – Molière to the "existentialists", Jean-Paul Sartre, Simone de Beauvoir. Others we get to know are Colette, Albert Camus, Jean Genet, Richard Wright, and James Baldwin.
Notre-Dame and the Ile Saint-Louis – Our big writers at the cathedral are Rabelais, Victor Hugo and Henry James. We meet Marcel Proust's hero Swann in Swann's Way, Charles Baudelaire.
The Great Days of the Marais – In this elegant district the focus is on the emblematic 17th literary figure of Mme. de Sévigné. Victor Hugo, the dominant writer of his era, also lived there.
The walks take about two hours and cost 30€/US $40; student rate 20€.  Copies of his book Writers in Paris, Literary Lives in the City of Light, are 20€, on prior request. The groups are small: 10 people maximum. Reserve via email.
Besides the regular walks, Burke has developed four relatively offbeat literary walks, available on special request:
Deathless Writers in Père Lachaise Cemetery
"Lost Generation" Montparnasse and Beyond.
The Racy Writers of Monceau.
Montmartre: Writers in Search of the New.
For full descriptions of all these walks email David Burke.
David also offers tailored works by appointment at other times of the year.
Place de la Contrescarpe by Luctor (Own work) [Public domain], via Wikimedia Commons
Hemingway's home by Jebulon (Own work) [GFDL or CC-BY-SA-3.0-2.5-2.0-1.0], via Wikimedia Commons
La Closerie des Lilas by Ricce (Own work) [Public domain], via Wikimedia Commons

Subscribe for
FREE

weekly newsletters.
BonjourParis has been a leading France travel and French lifestyle site since 1995.
Readers' Favorites: Top 100 Books, imports & more at our Amazon store
We update our daily selections, including the newest available with an Amazon.com pre-release discount of 30% or more. Find them by starting here at the back of the Travel section, then work backwards page by page in sections that interest you.
Current favorites, including bestselling Roger&Gallet unisex fragrance Extra Vieielle Jean-Marie Farina….please click on an image for details.
Click on this banner to link to Amazon.com & your purchases support our site….merci!
More in David Burke, Paris walking tours, walking guide, walking tour
---
---