Veni, Vidi, Vélo: Paris by bike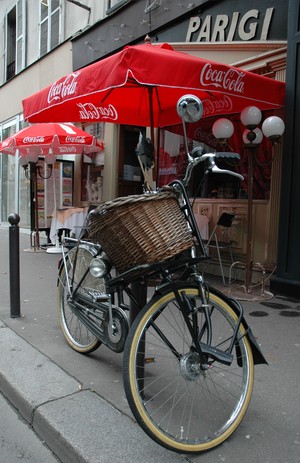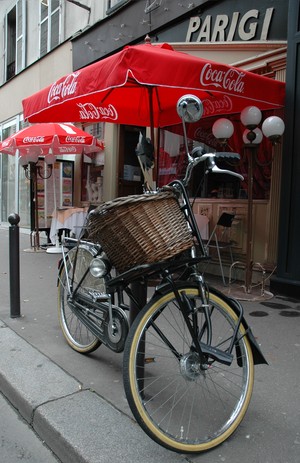 As the Tour de France speeds into its twelfth stage, and bike-sharing scheme Velib' celebrates its fifth year in the capital, Paris brings to our attention the benefits and joys to be had atop a trusty two-wheeler.
Paris is gearing up for its role as final finish town of the Tour de France, the definitive French sporting event. Cycling since the end of June, the colourfully-clad champions of this 99 th competition will be pedalling the last of their 4,397km route down the magisterial sweep of the Champs Elysées on the 22nd July. Founded initially as the money-making initiative of sports newspaper L'Auto in 1903, the Tour de France has since transformed into one of the most important and cherished European sporting events. Circuits originally mapped to trace the perimeters of France have since been expanded to include neighbouring terrain, and are considered the most physiologically demanding within the sport itself. For those not in the saddle the competition is equally stimulating and brings with it a pervasive and infectious strain of "vélo fever."
Luckily Paris has at its disposal abundant facilities to inoculate anyone's bike thirst and prides itself in being a "bike-friendly" capital. One of the best ways to enjoy the city is indisputably by bike at night time. Deserted roads, beautiful architecture revealed by lamplight, the soft whistle of rubber echoing down narrow streets, it is here that the mystery and beauty of Paris is most strongly felt.  Famous monuments are illuminated in dramatic light and you have time to linger and discover new places of interest; you have the city to yourself. On a more practical level, taking a bike in Paris in lieu of a short train ride allows you to avoid a certain trademark Metro scent brought out to nose-crippling strengths in this current wave of humidity.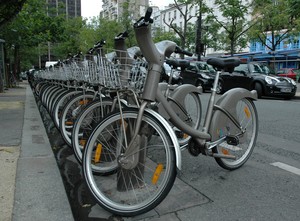 Although numerous bike-hire initiatives are offered throughout the city, the Velib' scheme is the best way to get your wheels. With approximately 18,000 bikes and 1,200 rental stations situated within roughly 300m of each other, Paris has one of the most developed metropolitan bike services in the world, beaten only by those in China. Velib' is almost certainly also the cheapest option, allowing you to hire a bike for 24hours for a mere 1€70. In comparison, guided bike tours will have you cycling a little steeper. Prices fall on average between the 30-50 Euros for a 4 hour tour, meaning you lose a sizeable chunk of cash as well as freedom of your course. If still set on a guided tour then Paris Rando Vélo is probably the most economic option, with free tours running every Friday evening at 9:30pm starting at the Hotel de Ville.
Alternatively, you could try your foot at Aquabiking. A strange fusion of cycling and swimming certain to please sport fashionistas, Aquabiking presents a light but effective form of cardiovascular physical activity with large claims towards enhancing muscles, tackling circulatory problems and reducing cellulite. With a muscle resistance that is apparently 12 times higher than that present in regular exercise biking, Aquabiking does seem revolutionary in its leg-busting credentials. Neither rolling nor swimming, the experience of splashing like a fish half-out of water in a glorified bathtub will, however, set you back on average 40 Euros per half hour. Evidently such quirkiness comes at a price.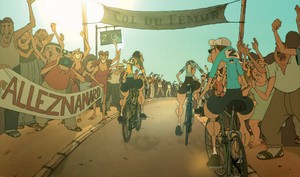 If neither sports fan nor exercise enthusiast, then what better way to share in the general spirit of velophilia than by watching charming bike-themed French comedy The Triplets of Belleville?  Released back in 2003, Sylvian Chomet's The Triplets of Belleville has become an animation classic, only narrowly losing Academy Award fame to mainstream rival Finding Nemo. Following the tale of a Tour de France cyclist abducted by the French mafia, the film masterfully mixes farcical plot-development and tender sentiment without being too indulgent in either. Told largely through song and action, the story is instantly accessible to non-French speakers and proves to be a stimulating artistic alternative to the more physically trying expressions of bike mania.
To cite a sugary old cliché, "happiness is a Bike" and it is one that you most definitely can afford in Paris. On your bike!

Subscribe for
FREE

weekly newsletters.
BonjourParis has been a leading France travel and French lifestyle site since 1995.
Readers' Favorites: Top 100 Books, imports & more at our Amazon store
We update our daily selections, including the newest available with an Amazon.com pre-release discount of 30% or more. Find them by starting here at the back of the Travel section, then work backwards page by page in sections that interest you.
Current favorites, including bestselling Roger&Gallet unisex fragrance Extra Vieielle Jean-Marie Farina….please click on an image for details.
Click on this banner to link to Amazon.com & your purchases support our site….merci!
Leave a reply
Your email address will not be published. Required fields are marked *