Spring Fever: A Selection of Paris Restaurants
"Everybody wants to save the Earth, nobody wants to help Mom with the dishes." — PJ O'Rourke, 1947-2022
Spring has sprung in Paris and with the wonderful weather comes wonderful restaurants. Here are some recommended addresses that we've had the opportunity to check out recently.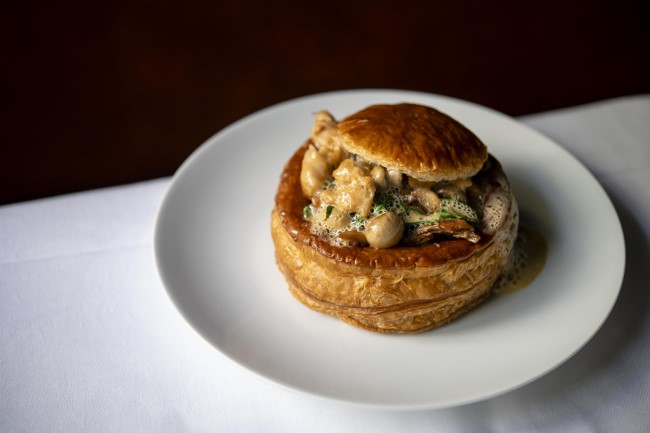 As you know, the famous Café Constant has changed owners. Christian Constant has retired and happily handed over the keys to chef Lignac.
Choose a seat at the zinc bar, on the terrace, in the salon or up on the first floor (which can be privatized). From the first-floor kitchens, Lignac's brigade sends out cuisine rooted in French tradition, highlighting the traditional comfort dishes we love so much.
Café Lignac's menu is an evolution of Christian Constant's concept. The soothing cassoulet is a nod to the spirit of transmission that guides Christian Constant and Cyril Lignac on a daily basis.
On the menu you'll always find the dish of the day (about €22). Depending on the season, there are also dishes like Œufs Mimosa(€8); citrus marinated scallops with hazlenuts (€19); warm goat's cheese salad (€12); Croque-Monsieur & green salad (€14); langoustine ravioli with cabbage and basil cream (€28); cabbage stuffed with scallops, whipped butter, smoked pike eggs (€29); grilled salmon with béarnaise and crushed potatoes (€25); Christian Constant's cassoulet with duck confit and sausage (€28); sweetbread vol-au-vent, mushrooms and Albufera sauce (€38); roast chicken, mashed potatoes (€24); roast beef filet, pan-fried foie gras and pommes Darphin potatoes (€38); and slow-cooked Paleron beef chuck confit with garlic and baby vegetables (€28).
To finish, order the Saint Nectaire cheese (€12) followed by the chocolate soufflé, rum baba with vanilla whipped cream, tarte tatin, crème crue, or Cyril's pâtisseries parisiennes (€10).
Café Lignac is located in the heart of rue Saint-Dominique punctuated with fabulous food shops, jewelers, fashion boutiques, butchers, bakers etc. It's a quick walk to the Eiffel Tower and, in the other direction, rue Cler Street Market.
Chef Lignac is at the helm of a variety of chic restaurants and pâtisseries (Ischia, Aux Prés, Bar des Prés, London, Le Chardenoux). His next project is in St. Tropez.
Stay tuned.
139 rue Saint-Dominique, 7th
Metro: La Tour Maubourg/Invalides
Tel: 01 47 53 73 34
Terrace
Open 7/7 from 7:30 a.m.- 11 p.m.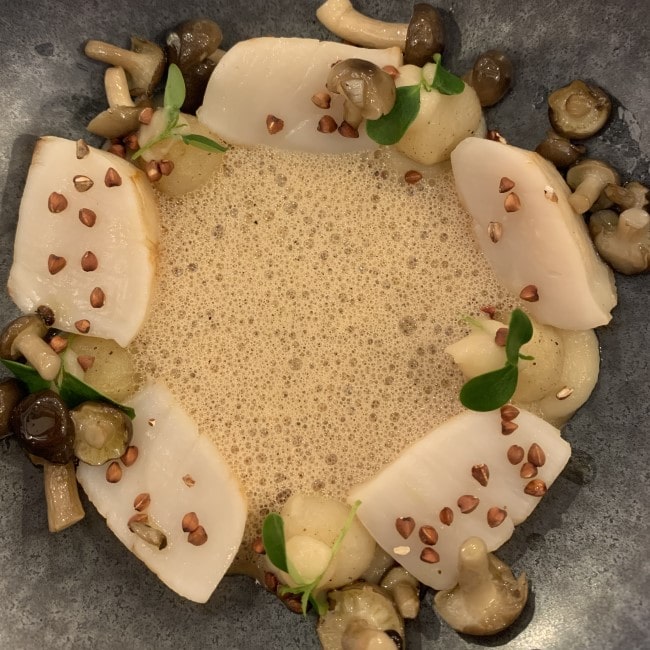 Just 15 minutes from the hustle and bustle of Paris, we discover Ochre, situated on a charming pedestrian alley in the heart of historic Rueil-Malmaison. This is the first restaurant of 30-year-old Baptiste Renouard, baptized with a Michelin star in 2019.
Renouard's impressive CV features Ecole Ferrandi; L'Atelier, Joel Robuchon; Lasserre with Jean Louis Nomicos; Le Meurice with Yannick Alleno; Le Laurent with Alain Pegouret; and Restaurant Jacques Faussat. You watched him on season 10 of M6 Top Chef when he was coached by Jean-François Piège. "This was the perfect experience to challenge my creativity," he recalled recently, emerging from his state-of-the-art kitchens for a quick chat.
Chez Ochre, the chef and sommelier Thétime Dordain create exciting neo-gastronomic food and wine pairings together. The wine card reads well (we were happy to see Henri Giraud Aÿ-Vallée de la Marne Champagne). The young somm, from Brittany, recommends Breton ciders to match the chef's imaginative dishes. André Bruno directs the ballet of the salle with cool elegance.
From amuse-bouches and canapés, here's the playlist, but it'll be different by the time you visit – there's so much creative energy and impressive technique here. We loved the butternut squash cones cooked al dente, with roast pumpkin mousseline, curry and bergamot sabayon, praline tuile, squash seeds and borage. Bread and creamy homemade butter. Young leeks, grilled and deglazed with shrimp juices, sorrel jus with tangy green apple, green mango, fresh bottarga and caviar lemon, borage cress. Grilled scallops, mashed parsnips, parsley roots, Shimeji, scallop juice with Lapsang Souchong smoked black tea, grilled buckwheat drizzled with Iranian black lemon. Stéphane Tauziet's pigeon (from the Landes), roasted with sweet Cévennes onions and braised red cabbage, jus made with cocoa bean shells. Cheese from Maison Jaurel and chocolate dessert, "a souvenir of my childhood."
Well worth the detour!
Menu Signature (€70)
Menu Fable x 5 dishes (€95)
Menu Epopee x 7 dishes (€125)
Or A La Carte
Need to Know:
At the end of the 19th century, Impressionist painters such as Renoir and Manet came to paint the River Seine which crosses the town. Why go? Rueil is famous for the Château de Malmaison, home to Napoleon and his first wife Joséphine. She is buried at the local Saint-Pierre-Saint-Paul church.
Ochre
56, rue du Gué, 92500 Rueil-Malmaison
RER A from Charles de Gaulle Etoile, direction Saint-Germain-en-Laye.
Tel: +33 (0)9 81 20 81 69
Terrace. Closed Sunday-Monday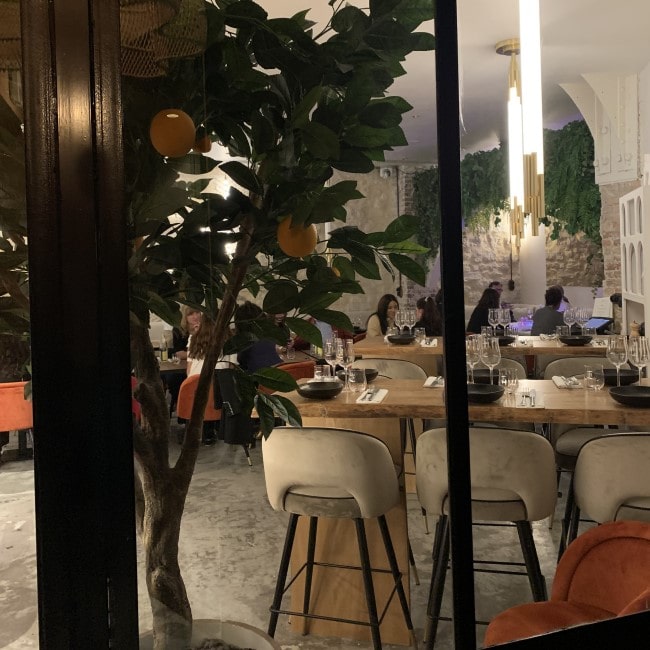 Life at Les Bains du Marais
This iconic address, well loved by savvy Parisians, is referred to as "a temple of well-being," with something for all the family. It's a great place to spend the day en famille when Parisians don't feel like motoring to the country house or flying the PJ to Marrakech. There are spa treatments by Too Fruit for children and parents to share such as "Journée Douceur" and "Everybody au Spa" – priced from €115 and BDuM propose Spa Birthday parties and Cup-Cake Ateliers (price on demand).
And, of course, it's France, so they'll want to eat, and eat well. Les Bains recently launched the restaurant called Life, showcasing healthy, charcoal-style cuisine in a sunny setting combining wood and original stone. The atmosphere's zen, with the possibility of a shoulder massage (and DJ sets) while seated à table!
Begin with an Iron Man Detox Cocktail (€12). Then try the daurade (sea bream) tartare with pomegranate (€18); butternut velouté/smoked oil (€12); or carrots cooked 3 ways (€14). Next, moving on to the mains, order the tuna Saku, soya and endamame beans (€29); black Cod, celery purée (€29); king crab, avocado milk, red pepper extraction (€45); lobster salad (€29); or slow cooked lamb, cauliflower mousse (€20). Desserts (from €10) include strawberry cheesecake, clementine Pavlova, Champagne, Café or Thé Gourmand.
Here's a Good Life Fun Address.
14, rue Saint Fiacre, 2nd
Tel: +33 (0)1 48 87 20 20
Saturday & Sunday Brunch (€39)
Metro: Bonne Nouvelle/Grands Boulevard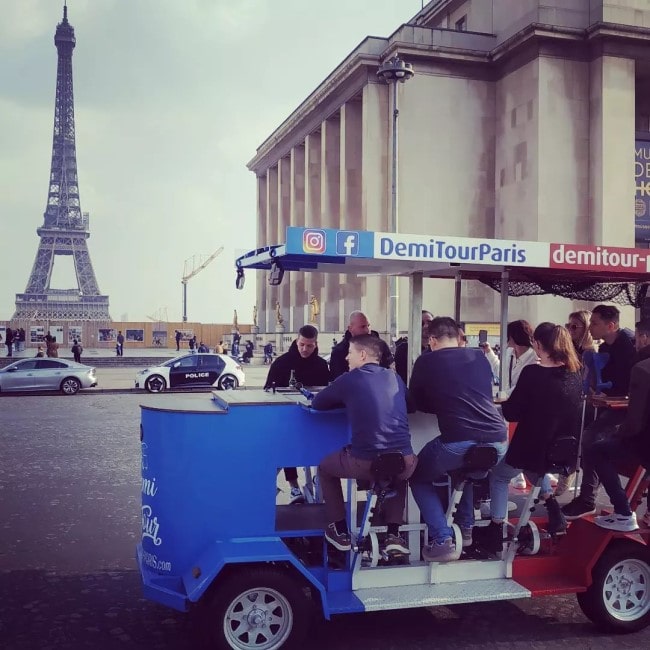 With the mission statement "Pour Avancer il faut pédaler," and apologies to Albert Einstein, here's a brilliant idea to burn calories while discovering our favorite city.
Julien Koch, creator of the concept, tells BP: "In summer 2019, I discovered this type of bike during a weekend in Germany and decided to restyle the Big Bike concept a la manière Française, adding champagne, wine, beers and snacks, bien-sûr."
So, how safe is it? "Safety is provided by our Big Bike Captain – seat belts are available if required," says Julien.
Who are your clients? Hen Parties, stag parties, birthdays, anniversaries, team building etc. "Each circuit is unique," Julien continues.
"Big Bike has 11 places, 6 with pedals, riders change places, as soon as they wish, or when they get tired, and we set the mood with a vibrant sound system. From 7 to 77 everyone's welcome to experience our bike bar – no need to know how to ride a bike! It's convivial around our movable terrace, the captain takes care of serving and driving – ensuring everyone's safety. Big Bikers just have to drink, pedal, enjoy the ride and laugh with friends, colleagues or family!"
From €18
Meeting point – outside 10 rue Pergolese, 16th
On April 30, after the last service, La Tour d'Argent is closing for nine months, the longest pause in its history since 1582. Beloved for the river Seine views, fabulous cuisine, museum, boutique, but, at least the signature ducks will get a holiday
"Collaborating with architect Franklin Azzi, we're gathering the finest artisans, the object, to evolve our rich history with a contemporary vision, bring La Tour d'Argent into the 21st century – while drawing inspiration from its heritage," explains owner André Terrail.
The reopening is scheduled for February 1, 2023. Wish list: pluck a second star for the brilliant neo-classical culinary style of Yannick Franques, heading the cuisines since 2020. In the meantime, there's the excellent La Rôtisserie de l'Argent and Le Boulanger de la Tour.
15-17 Quai de la Tournelle, 5th
Metro: Cardinal Lemoine/Pont Marie
Tel: 01 43 54 23 31
Lead photo credit : André Terrail, Franklin Azzi, Yannick Franques. © Gilles Pudlowski/ Tour d'Argent
More in Paris restaurants, restaurant news, where to eat in Paris
---
---